Broccoli Cheddar Soup
A simple, everyday broccoli soup made special with crusty, mustardy croutons and cheddar. Perfect for those days when you need some extra nutritional punch.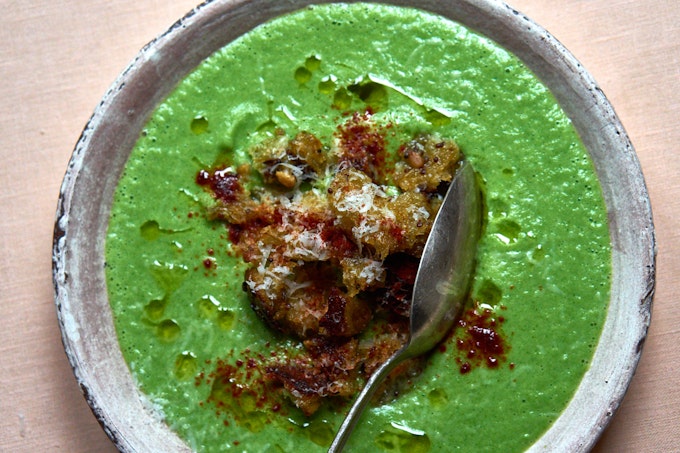 I'm going to argue that this is the type of soup that needs to be made to order. While many soups and stews get more complex and enticing after a day or so in the refrigerator, I don't find that to be true when it comes to soup of the broccoli variety. Am I alone here?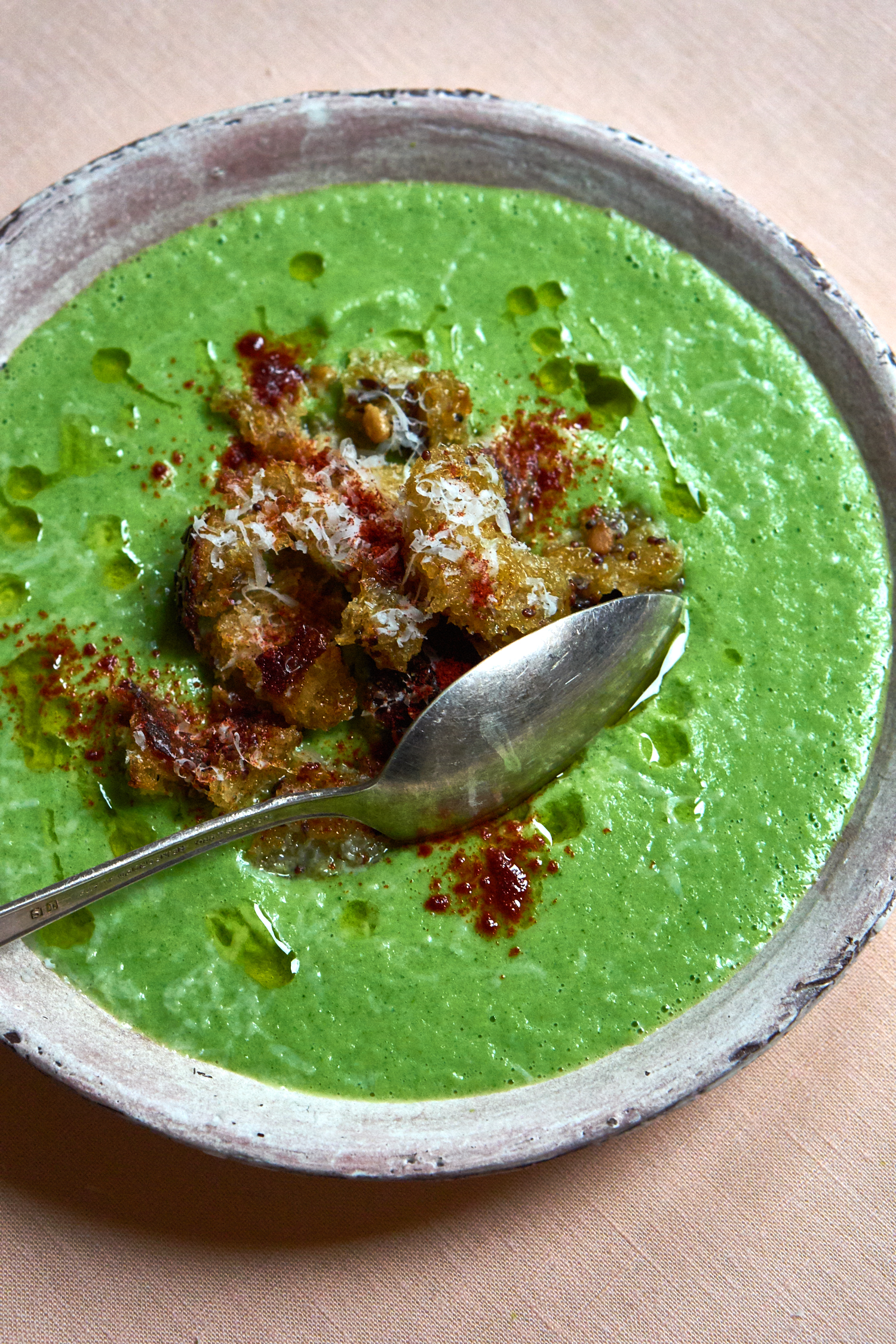 Day-old broccoli soup always smells very strong (and not in a good way) and tastes overcooked, as if from a can. The good news is this version couldn't be simpler to make, and it's perfect for those times when I feel like I need something with a serious nutritional punch. I give the soup a bit of an unexpected twist by topping it with golden, crunchy, mustardy croutons. Which you can skip, but I wouldn't.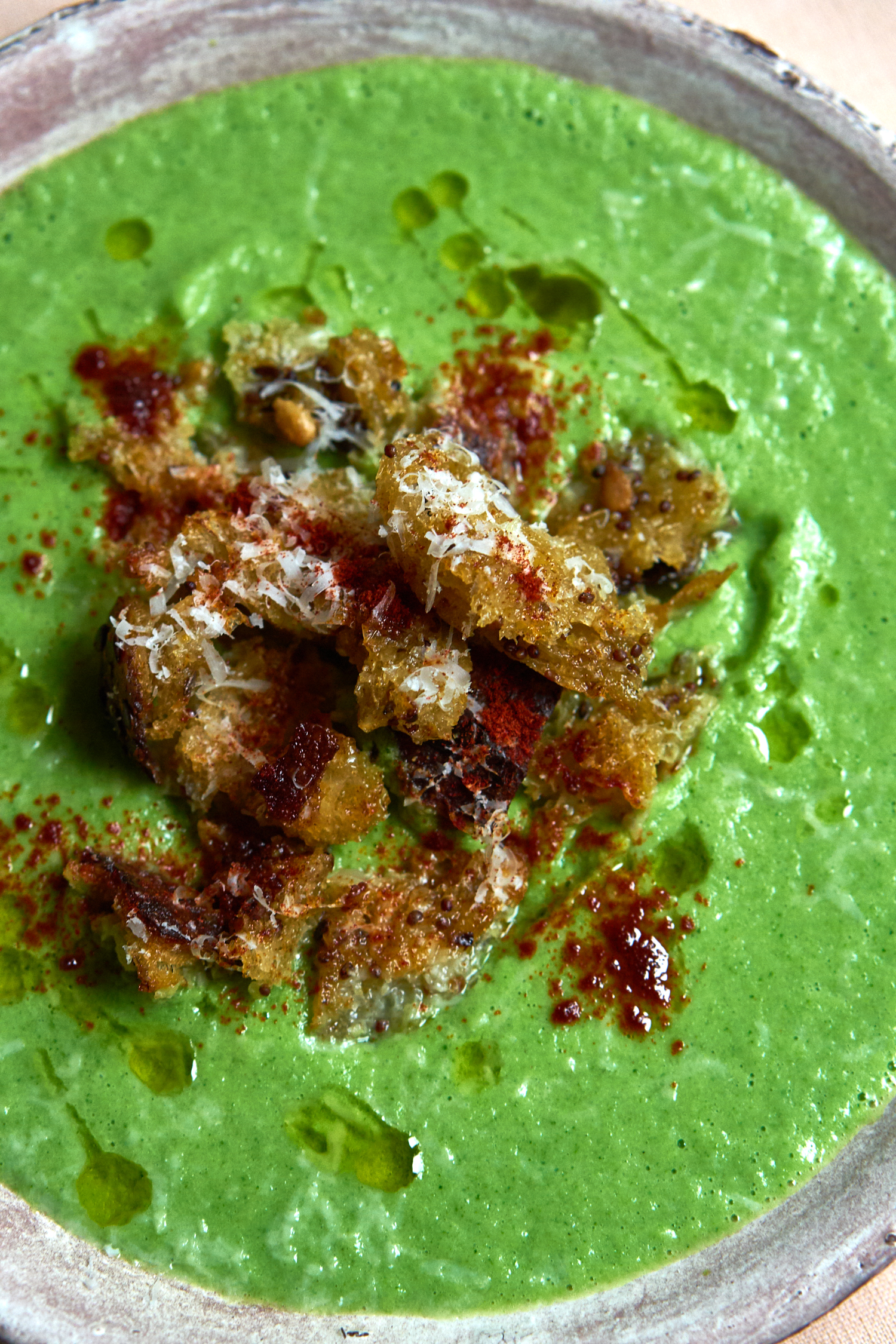 Topping Ideas
Aside from the croutons, this soup likes crusty, toasted walnut bread, or olive bread. It likes a good sheep feta in place of cheddar if that's what you happen to have on hand, or a kiss of harissa whisked into a bit of olive oil. I know people like to pair broccoli with blue cheese. Personally, I find that to be over-powering, but if you really love blue cheese, that might be another direction to explore. If you have any other ideas, let me hear them - I make this soup often enough that I need fresh angles to work!
Broccoli Cheddar Soup
Look for deeply green, tight heads of broccoli. I typically avoid any heads that have yellowing florets or seem died out. If you like a slightly creamier soup, stir in a generous dollop of creme fraiche after pureeing. You can easily make this soup vegan by using olive oil and omitting the cheese/creme fraiche, and you can make it gluten-free by doing something in place of the croutons.
Ingredients
croutons
5-6

ounce

chunk of artisan whole wheat bread, torn into little pieces (less than 1-inch), roughly 3 cups total

1/4

cup

melted butter or olive oil (I like 1/2 and 1/2)

1 1/2

tablespoons

whole grain mustard

1/4

teaspoon

fine grain sea salt
soup:
2

tablespoons

unsalted butter or olive oil

1

shallot, chopped

1

medium onion, chopped

1

large potato, peeled and cut into 1/4-inch cubes (1 1/2 cups)

2

cloves

garlic, finely chopped

3 1/2

cups

light, good-tasting vegetable broth

1

large head of broccoli (12 ounces or 3/4 lb.), cut into small florets

2/3

cup

freshly grated aged Cheddar, plus more for topping

1 - 3

teaspoons

whole grain mustard, to taste

smoked paprika, more olive oil, creme fraiche (optional)
Instructions
Preheat your oven to 350F degrees and place the torn bread in a large bowl. In a small saucepan heat the butter until it has melted. Whisk the mustard and salt into the butter and pour the mixture over the bread. Toss well, then turn the bread onto a baking sheet and bake for 10 - 15 minutes, or until the croutons are golden and crunchy. Toss them once or twice with a metal spatula along the way.

While the croutons are toasting, melt the butter (or olive oil) in a large saucepan over medium-high heat. Stir in the shallots, onion, and a big pinch of salt. Saute for a couple minutes. Stir in the potatoes, cover, and cook for about four minutes, just long enough for them to soften up a bit. Uncover, stir in the garlic, then the broth. Bring to a boil, taste to make sure the potatoes are tender, and if they are stir in the broccoli. Simmer just long enough for the broccoli to get tender throughout, 2 - 4 minutes.

Immediately remove the soup from heat and puree with an immersion blender. Add half the cheddar cheese and the mustard (a little bit a a time). If you are going to add any creme fraiche, this would be the time to do it. Now add more water or broth if you feel the need to thin out the soup at all. Taste and add more salt if needed.

Serve sprinkled with croutons, the remaining cheese, a drizzle of olive oil, and a tiny pinch of smoked paprika.
Related Recipes
More Recipes
Popular Ingredients