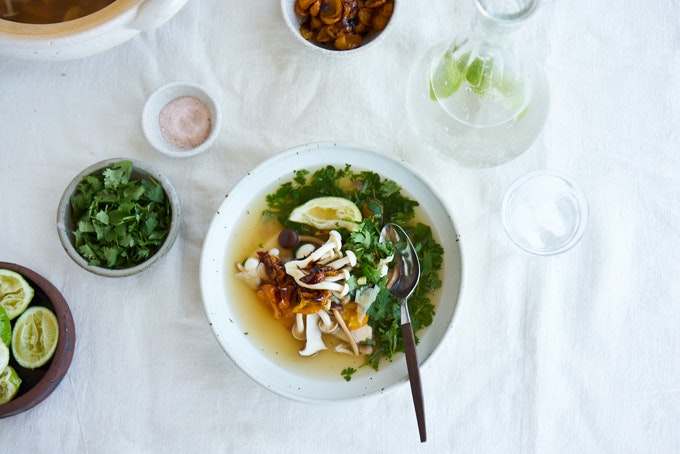 This soup is a distant relative of the vibrant, brothy tom yum soup you likely know from many Thai restaurants. Part of its magic is the way (a good version) plays sweet off sour, balancing herbaceousness, feisty heat, and just the right amount of saltiness. There are infinite interpretations of it, but this is how I make it in my (California) kitchen. It has evolved over the years, and this version is vegetarian / vegan, made with a fresh tom yum paste, highlighting whatever seasonal produce is on hand. It evolves with with the seasons, and I like to use any leftover to the next day to add dimension to rice bowls, or as egg poaching liquid, or as the broth in a breakfast congee. Be sure to read the headnotes before you dive into this one. Enjoy! -h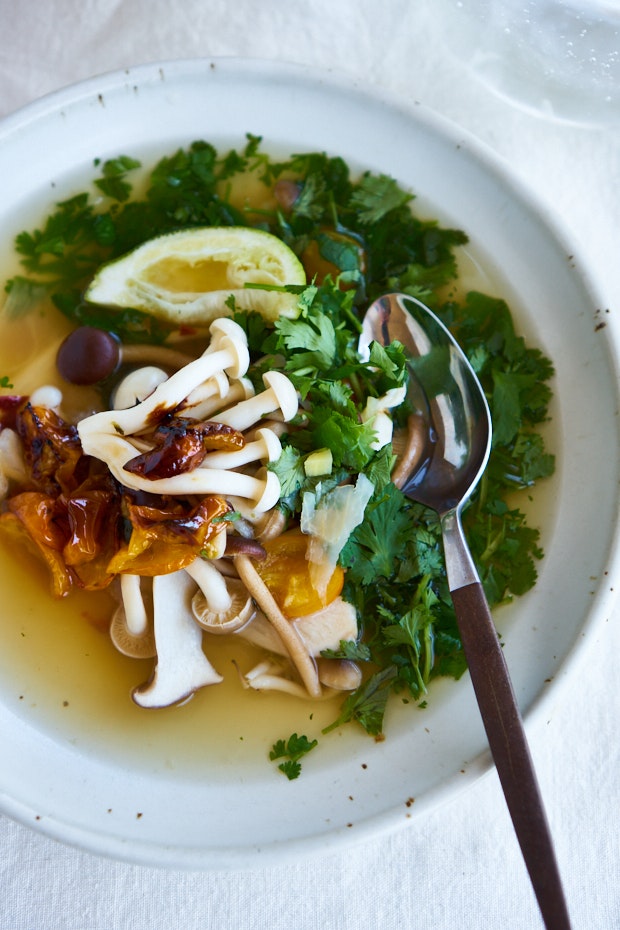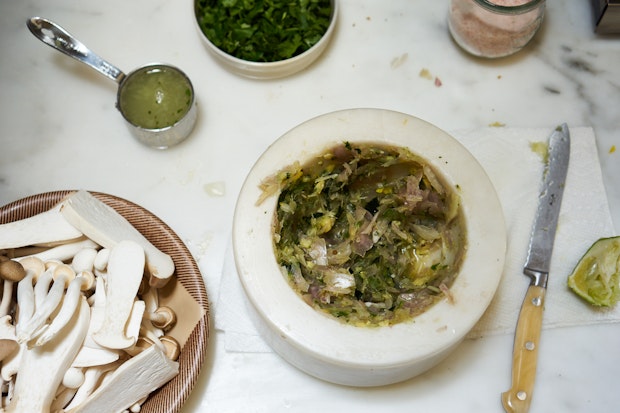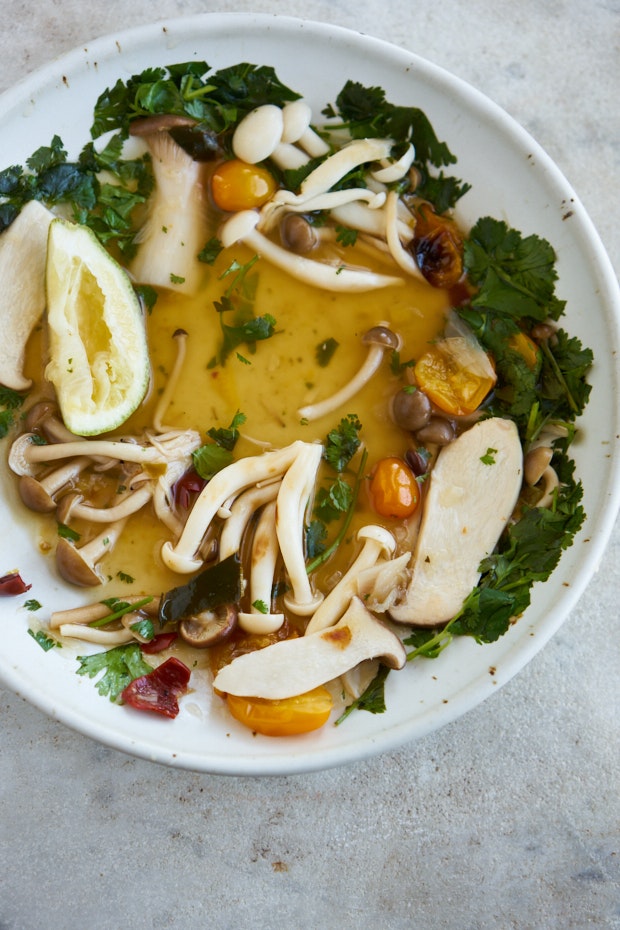 California Tom Yum Soup
This actually comes together very quickly once you have everything chopped, so be sure to have everything chopped and prepped before you start cooking.
Ingredients
8

cups

of water

2

large roma tomato (cut in 1/6ths), or 20 cherry tomatoes (halved), or mix

2

dried guajillo chile peppers, coarsely chopped

1 1/2

tablespoons

palm, muscovado or brown sugar

1

quantity of Tom Yum Paste* (see below)

8 - 12

ounces

mixed mushrooms (nameko, oyster, etc)

splash of shoyu or soy sauce, to taste

1/3

cup

fresh lime juice, or to taste

1/4

cup

chopped cilantro in each bowl, for serving

To serve: Serve on its own with lime wedges, or with steamed rice, and warm tofu. Bonus points for a drizzle of lemon olive oil, or lime oil for serving, and roasted cherry tomatoes.
Instructions
Bring the water to a boil in a medium saucepan, add the raw tomato, guajillo chile, and sugar. Simmer for a few minutes, until the tomato softens a bit, add the Tom Yum Paste*.

Allow to simmer for a minute or two, before adding the mushrooms. Simmer until tender, just a minute or two. Add a small splash of shoyu or soy sauce, and about half of the lime juice. Taste, and adjust with more of either, if needed. Place 1/4 cup of chopped cilantro in the base of each bowl, and top with the soup.
California Tom Yum Paste (Vegan)
I make the tom yum paste and keep it on hand (or frozen) for quick weeknight meals. It is also great slathered inside spring rolls, dolloped on flatbreads, whisked into yogurt, etc.
Ingredients
4

medium shallots, peeled

3

stalks of lemongrass, tender centers roughly chopped

2

serrano chile peppers, deseeded

2

slices

ginger, peeled and roughly chopped

4

makrut lime leaves (or 3 makrut lime + 2 Meyer lemon), torn and smashed

zest of one Meyer lemon (optional)

1/2

teaspoon

fine grain sea salt
Instructions
Using a mortar and pestle, smash the shallots, lemongrass, serrano chiles, ginger, lime leaves, lemon zest, and salt into a very rough paste. Set aside. If your mortar and pestle is on the small size, work in batches.
Notes
Makes ~2/3 cup or enough for one Tom Yum soup recipe (above).
Related Recipes
More Recipes
Popular Ingredients