Chocolate Almond Swirl Cake
A fun swirl cake made with a beautiful yellow olive oil cake paired with classic chocolate buttercream frosting that has been bolstered with an entire tablespoon of almond extract.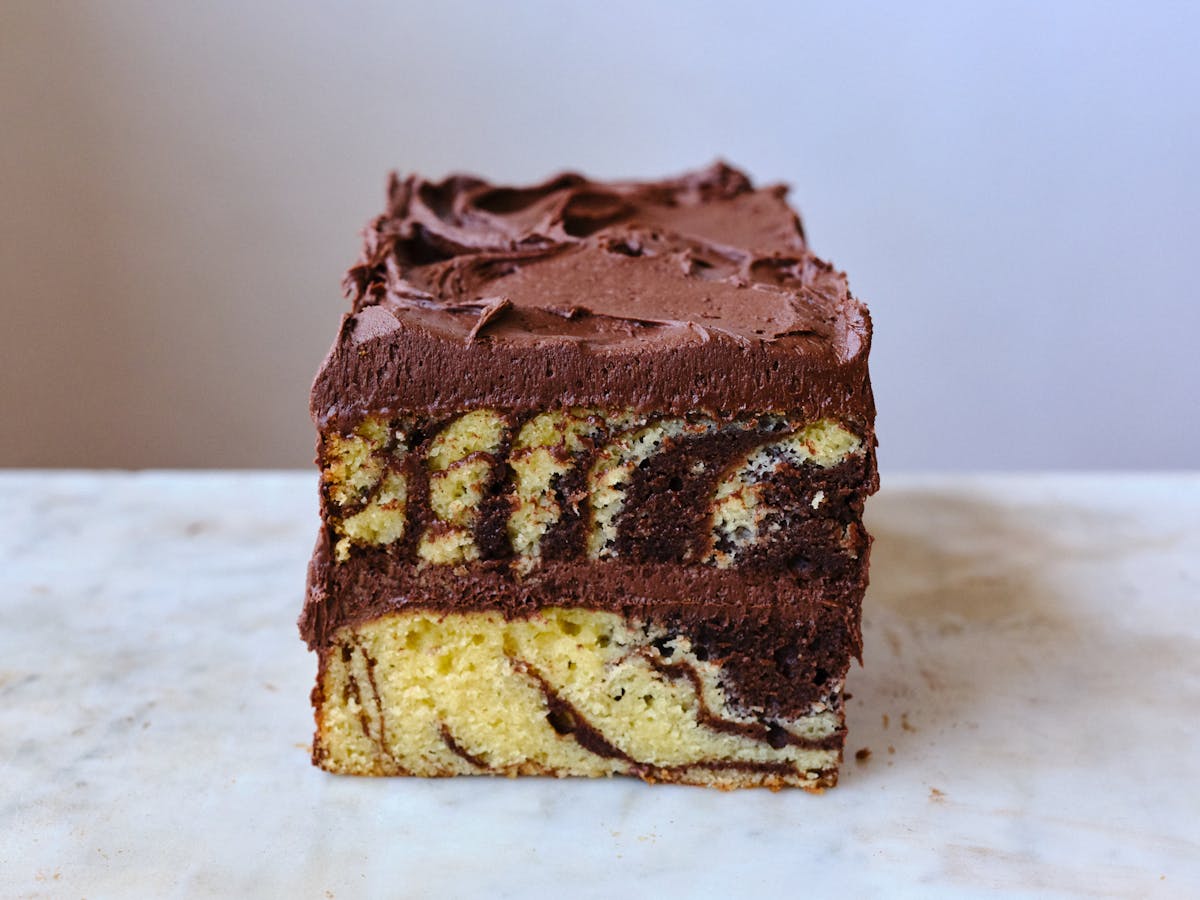 Buckle up everyone! I'm going to counter all the recent bean recipes with a birthday cake. It was Wayne's birthday this week and I felt like a special cake was in order. I wanted to make something that looked classic from the outside, with a surprise when you slice into it. I also wanted to combine all the flavors he loves - chocolate, olive oil, almond, and a good kiss of salt to balance the sweet. He's always showing me photos of crazy cakes, so I thought it'd be fun to bake him some sort of a swirl cake.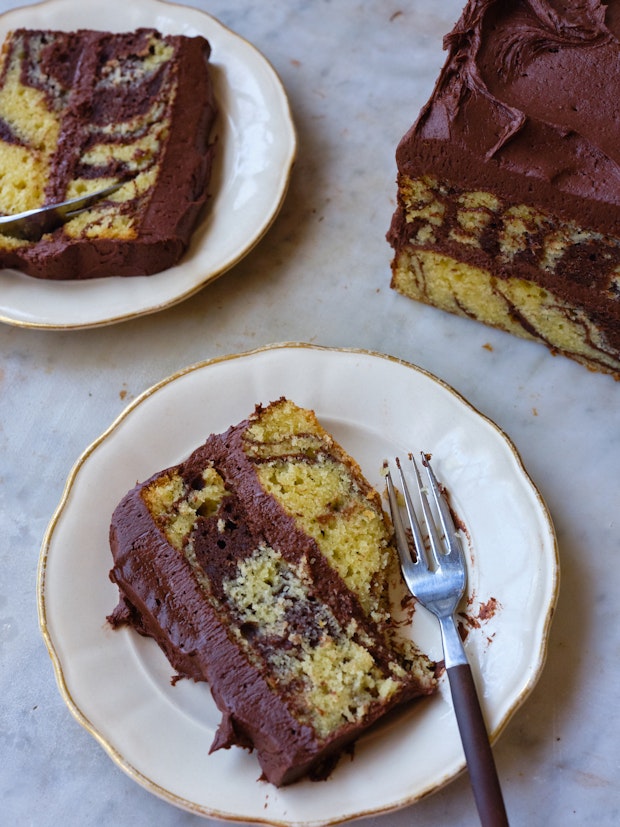 The Swirl Cake Game Plan
Swirl cakes, zebra cakes, and tiger cakes all have three main components: the base cake, the swirl, and the frosting or icing. For this version I made an incredibly moist and fragrant olive oil cake to use for the base and swirl. It's a favorite made with yogurt which helps keep things tender. The tangy note of the yogurt nicely balances out the sweetness as well. And then there's the frosting. The frosting here is classic chocolate buttercream bolstered with an entire tablespoon of almond extract. On the swirl front I ended up doing two versions to see which one I liked better - one I envisioned with a hot pink dragonfruit or raspberry swirl (I had such high hopes!!), and another with classic chocolate.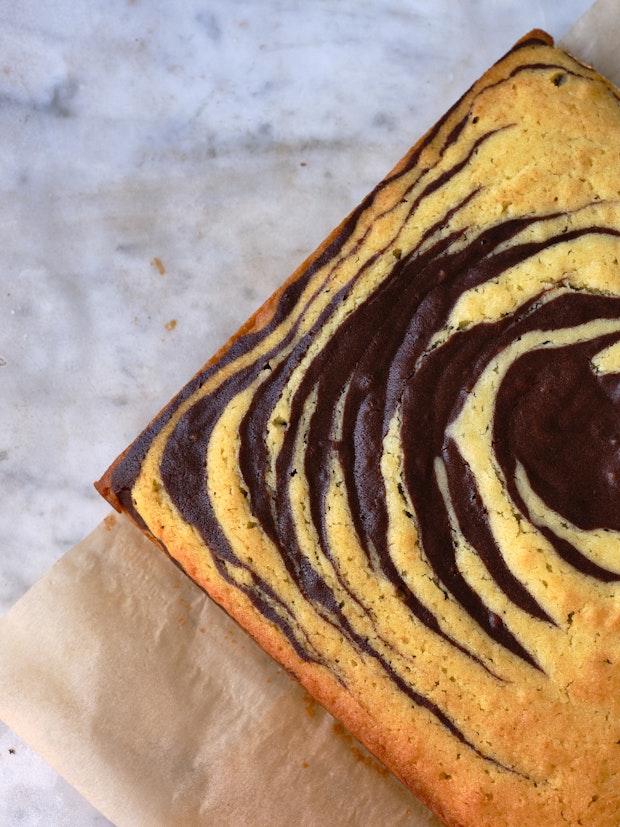 How to Assemble a Swirl Cake
This is what a swirl cake looks like (above) just out of the oven. When you slice into it you get beautiful striping and swirls depending on how you layer or swirl the batter. For a cake like this I use a ratio of about 2 parts yellow cake batter to 1 part chocolate cake batter. You do 2 big spoonfuls of batter into the center bulls-eye of your prepared cake pan, and then top it with one spoonful of chocolate. Repeat until all the batter is gone. Always placing the batter onto the bulls-eye.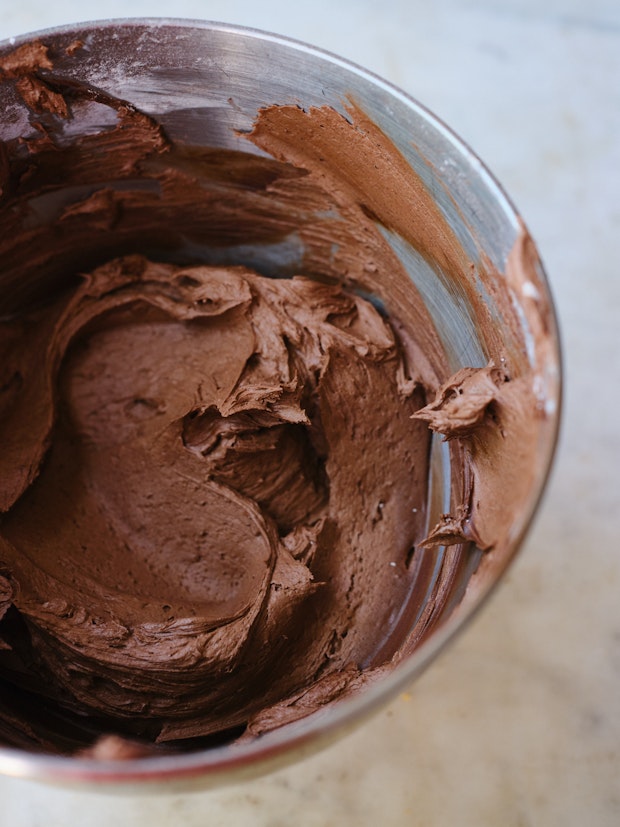 The Frosting
Before we get to the details, just a reminder to let your cake cool completely before you attempt to frost it. And before you go to mix up your buttercream, make sure your buttercream is at a nice, mild, room temperature. Not too warm, not too cool. You want it to whip up nice and billowy. If your kitchen is too warm, and your butter is starting to get a little sweaty looking as you mix it (or at any point, really). Just give it a few minutes in the refrigerator.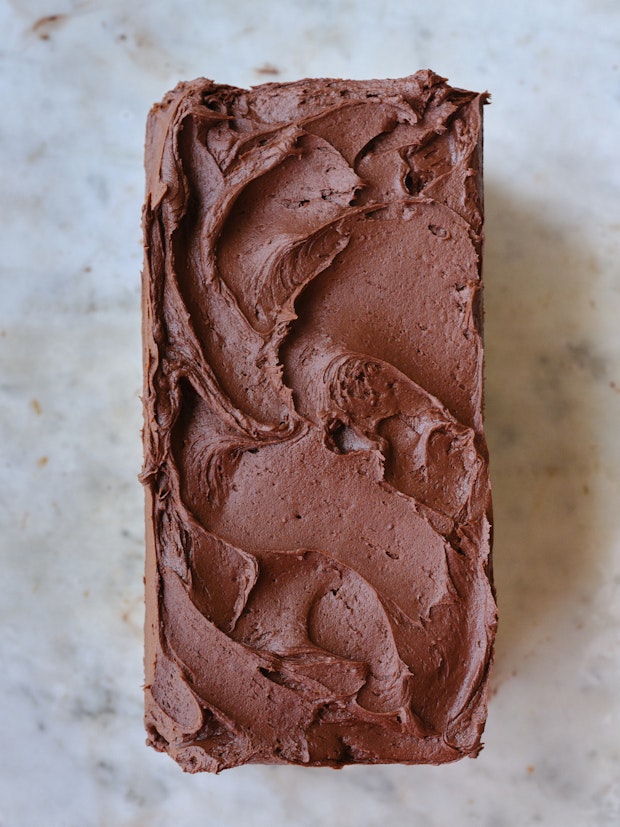 To make this shape cut a square cake in half, and stack.
A Tasty Fail
You can see a couple of in-process shots (below) of the version of the swirl cake made with dragon fruit puree. You know those smoothie packets? I pureed one of those. And it looked incredibly promising all through the bake. The disappointment came when you sliced into the cake. If you were expecting bold stripes, no dice. But if you were expecting a really delicious cake, we're still in business. If you want to make this version - do it for the flavor, not the visual. Mix 1/4 cup of the puree into about half of the yellow cake batter, and skip the cocoa.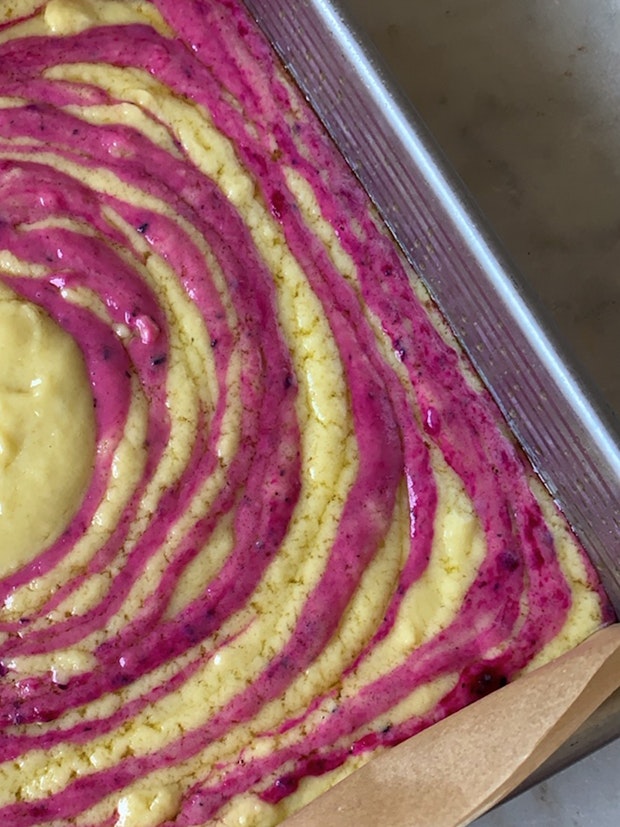 Before the bake (above), after the bake (below).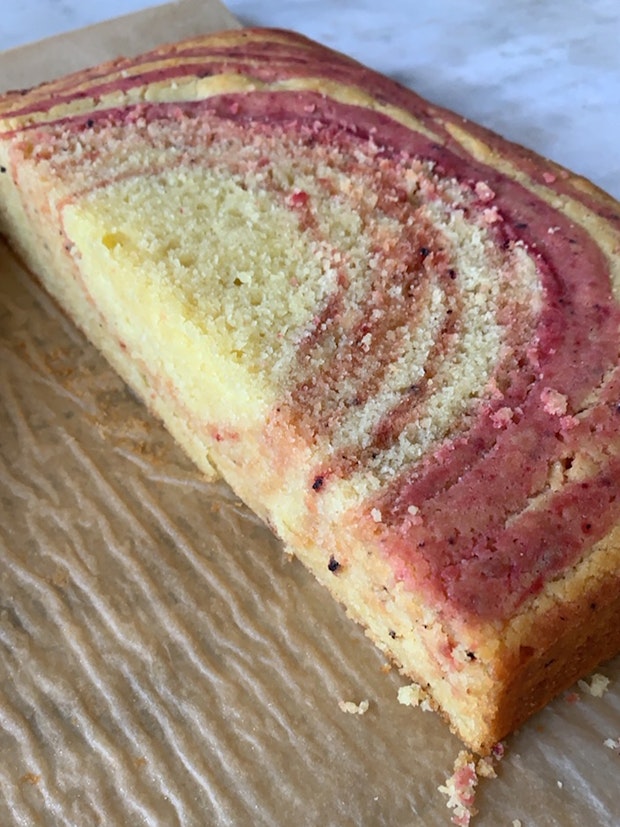 Swirl cakes are a lot of fun. And you can play around with all the different components of your cake if you have another frosting you like, favorite base cake recipe, or even the shape. 
Or, if swirl cakes aren't your thing but you still want to make something sweet and tasty try this favorite flourless chocolate cake, these brownies, this Devil's Food Cake, this popular chocolate cake, or skip the cake altogether, and churn up some berry swirl ice cream.
Chocolate Almond Swirl Cake
Resist the urge to substitute Greek yogurt here. I tested it, and it made batter too dense. Or! if it's all you have, thin it out a bit, to the consistency of plain yogurt. I haven't tested this, but suspect it will work better than straight Greek yogurt.
Ingredients
3

cups

/ 13.5 ounces all-purpose flour

2

teaspoon

baking powder

1/2

teaspoon

fine grain sea salt

1 1/2

cups

/ 9.75 oz sugar

2

teaspoons

almond extract

3

eggs

1 1/2

cups

/ 12 ounces full-fat plain yogurt

1 1/3

cups

/ 10.5 ounces extra virgin olive oil

2

tablespoons

unsweetened cocoa powder
Chocolate Almond Buttercream Frosting
1 1/4

cup

/ 285g unsalted butter, room temperature

4 1/3

cup

/ 525g powdered sugar

3/4

cup

/ 70g cocoa powder

2

tablespoons

milk, cream, or coconut milk

1/2

teaspoon

fine grain sea salt

1

tablespoon

almond extract
Instructions
Preheat your oven to 325F with a rack in the center. Oil and line a 9-inch square cake pan with parchment paper.

Sift the flour, baking powder, and salt into a medium bowl.

Stir the sugar and almond extract together in a large mixing bowl. Whisk in the eggs, and keep going for a minute or two, until the mixture is light in color and billowy. Stir in most of the yogurt (reserve 2 tablespoons), and then beat in the olive oil until uniform and creamy. Add the flour mixture and fold until barely combined, avoid over-mixing.

Scoop 1 cup of the batter into a separate bowl, add the cocoa powder and the reserved 2 tablespoons of yogurt and stir to combine. Now you have a yellow batter and a chocolate batter.

Place two large spoonfuls of the yellow batter in the middle of the prepared cake pan. Top with one spoonful of the chocolate batter. Alternate this way, 2 spoonfuls yellow batter and one chocolate, directly on top of each other in the center of the pan until all the batter has been used. Very gently rap the pan on the counter to level out the cake.

Bake for 45-55 minutes or until the sides pull away from the pan a bit and the middle has firmed. Cool in the pan for 20 minutes, and then transfer to a cooling rack to cool completely.
Make the Frosting:
Use a mixer to beat the butter on medium speed until creamy. Add the powdered sugar, cocoa powder, milk, salt, and almond extract. Stir by hand with a spoon to incorporate all the powdery ingredients (so you don't make a mess), and then beat on medium speed for another minute or so. If you want your frosting a bit thicker, add more powdered sugar. If you want it a bit thinner, add more milk a tablespoon at a time. Covered tightly, you can keep the frosting refrigerated for up to a week, longer in the freezer. Bring to room temperature to use.
Frost the Cake:
If your cake is a bit domed, use a serrated knife to level it out. Cut the cake exactly in half. Scoop a generous amount of frosting onto one half and spread evenly. Top with the other half, if you have the patience to do a crumb layer and refrigerate go for it, or simply slather on the frosting and refrigerate. Bring to room temperature to serve.
Related Recipes
More Recipes
Popular Ingredients