Pluot Summer Salad
A pluot-centric fruit salad with toasted ginger, garlic, and shallots. It is drizzled with a simple lime soy sauce dressing, and is generously flecked with herbs - in this case, mint, basil, and cilantro.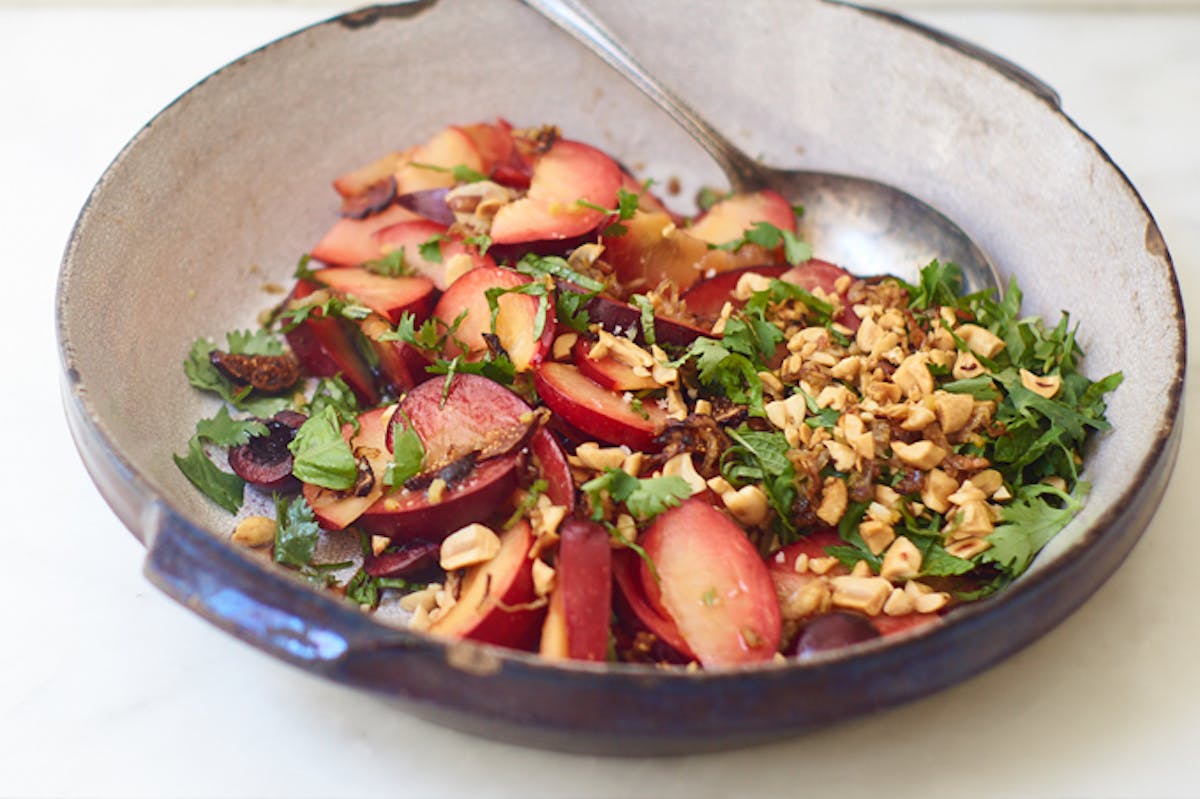 Fruit salad this time of year is often sweet. Juicy, ripe, fragrant fruit tossed with sweet dressings. It's summer salad bliss, bite after bite. That said, I often feel compelled to snap these fruit salads out of dessert-land and lead them over to the savory side of the neighborhood. And that's what we're doing today.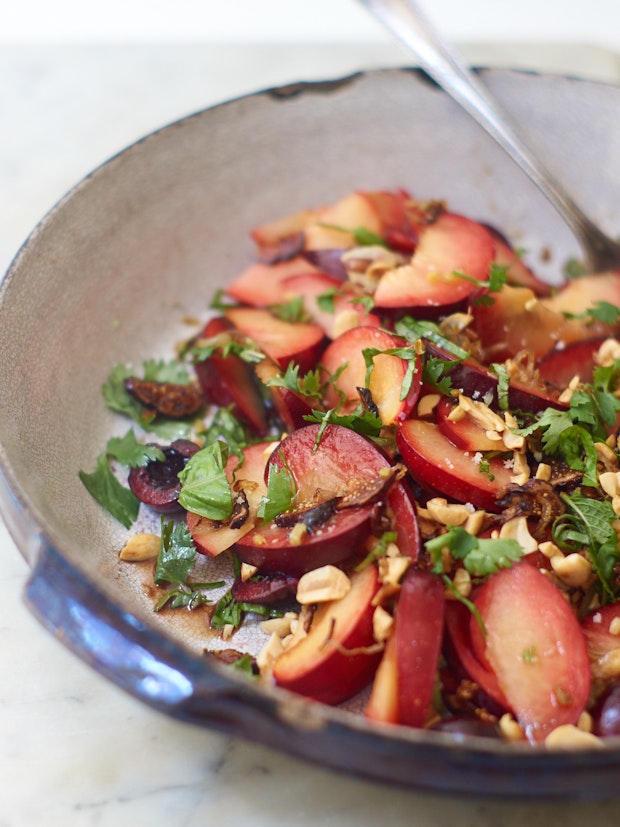 Savory, Fruity Summer Fruit Salads
One of the more popular examples of this genre of salad is the (always popular) combination of watermelon, feta, and mint. You probably know it well. You get sweetness from the melon, salt from the feta, and the tingly herbaceous-ness of the mint. That's one example, but there are many other ways to explore this realm. And there are many ways to accent and play off the soft sweetness of summer fruit. I thought we might work through some other ideas on the path to today's recipe. Let's brainstorm!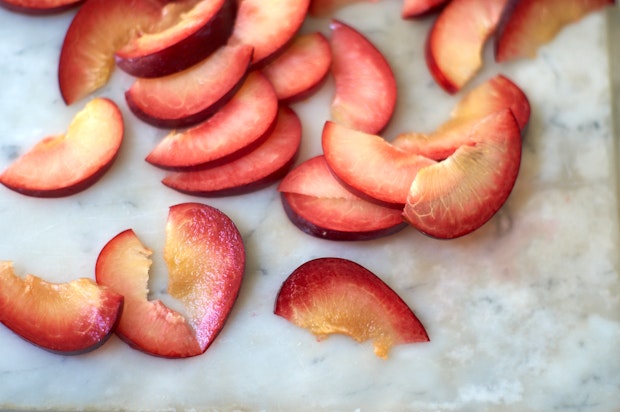 Summer fruits are often tender, so bringing crunch and texture to a preparation can be good. You might use fried onions, shallot, or toasted nuts. I think we can agree, few things aren't improved by introducing deeply caramelized shallots - they're a favorite component in this salad (or many salads, really). Beyond that, the introduction of a medley of green notes is often welcome and you can use a wide range of herbs, sprouts, or salad greens.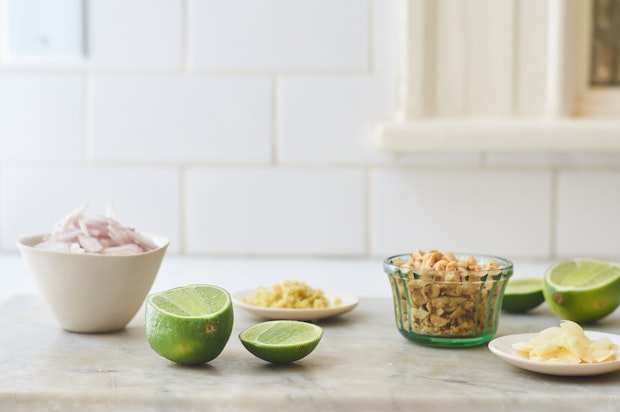 Today's Pluot Summer Salad
This salad is all about the pluots. They are peak in the markets right now, so this recipe centers around them. If you can't find great pluots, you might try a version with another stone fruit, or a blend of them. Plums, cherries, nectarines and the like are fair game. Here the fruit is set off with toasted ginger, garlic, and shallots. It is drizzled with a simple lime soy sauce dressing, and is generously flecked with herbs - mint, basil, and cilantro. Also, lots of toasted peanuts.
It's also super adaptable. Bri noted in the comments below, "...right now, asian pears, persimmons, and pomegranates are in season, but no pluots or plums. I made a substitution with those three, minus the dried fruit, and it turned out wonderfully..."
A Couple of Notes
Make an effort to source good ginger. I can often find organic Hawaiian ginger, or locally grown ginger, and tend to stock up on that.
The recipe below features a soy sauce/shoyu dressing here, and I love it, but you can make the dressing substituting salt instead. The flavor of the fruit will come through more directly. It's just a slightly simpler take. In that case, add the honey to the lime juice, as called for, then whisk in sea salt until the dressing tastes balanced and delicious to you.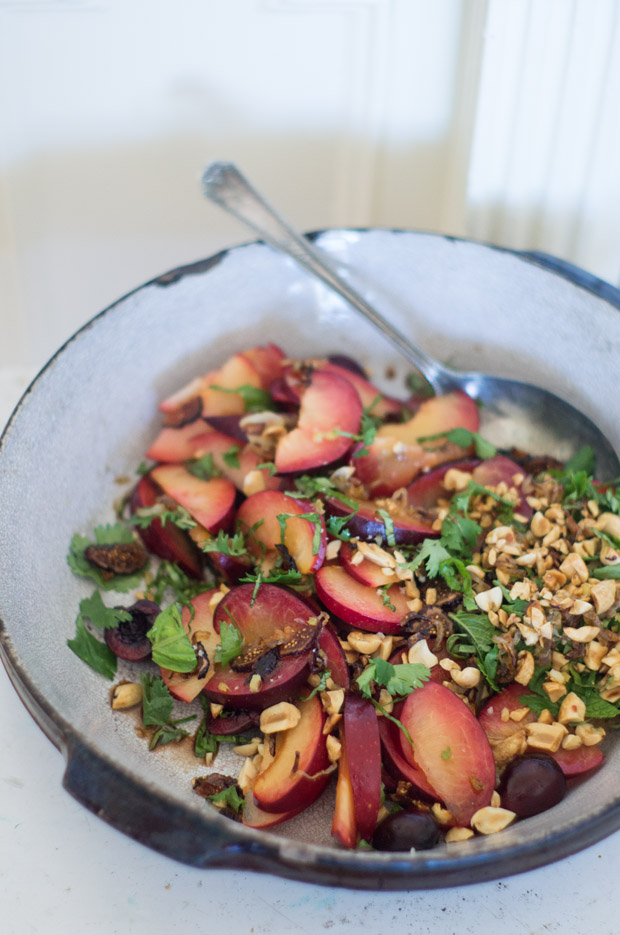 Here's where you can find more salad recipes. On the summer salad front, be sure to check out the Summer Melon Salad and forever these Slushie Cocktails!
More Summer Fruit Recipes
Pluot Summer Salad
This is the sort of preparation that can be easily simplified if needed. You can certainly use a single fruit instead of the blend of pluots, cherries, and dried figs called for. And a single herb, in place of the trio. Really, what you want to do is source the best fruit you can, and start there. Most of the battle with a recipe like this is won or lost at the market. I used Flavor King Pluots here, but go for what tastes best. Start with room temperature fruit. It will allow for the greatest expression of flavor.
Ingredients
2

tablespoons

clarified butter or extra-virgin coconut oil

4

medium shallots, peeled and thinly sliced

3

medium garlic cloves, very thinly sliced

a 1/2-inch chunk of ginger, peeled and finely minced

1 1/2

T

fresh lime juice

2

teaspoons

soy sauce / shoyu

2

teaspoons

runny honey

5

ripe pluots, pitted and torn

1

cup

pitted cherries, torn in half

4

dried figs, stemmed and thinly sliced

1/2

cup

toasted peanuts, chopped

a small handful of each, chopped - fresh basil, mint, and cilantro
Instructions
Heat the butter or oil in a large skillet, and cook the shallots, stirring regularly, until they take on a good amount of color. Stir in the garlic cloves, allow to cook another minute or two, and then stir in the ginger for the final minute. Set aside.

Whisk together the lime juice, soy sauce, and honey in a small bowl, until the honey dissolves completely. Taste and adjust if needed.

Arrange the pluots, cherries, and figs in a serving bowl. Drizzle with half of the soy dressing, and toss very gently. Add the shallot mixture, most of the peanuts, and most of the herbs. Toss gently to distribute everything evenly. Taste, decide if you want to add more dressing, and serving sprinkled with the remaining peanuts and herbs.
Related Recipes
More Recipes
Popular Ingredients