Vegetable Noodle Soup
This vegetable noodle soup is as simple, direct, and delicious as it gets. If you're vegetarian or vegan looking for an alternative to chicken noodle soup, try this!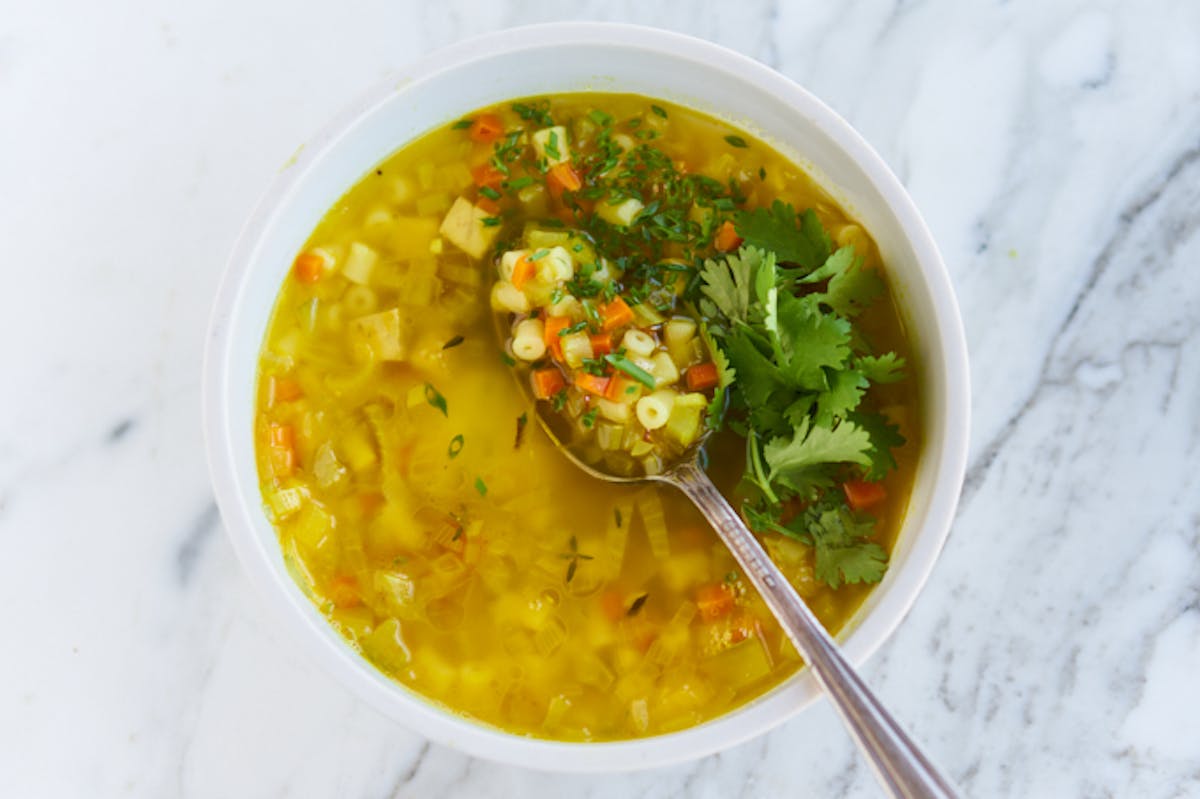 This vegetable noodle soup is as simple, direct, and delicious as it gets. Served extra hot and plump with pasta noodles, it's the kind of soup that comforts minds and bolsters spirits. If you're vegetarian or vegan looking for an alternative to chicken noodle soup, this should be in your wheelhouse.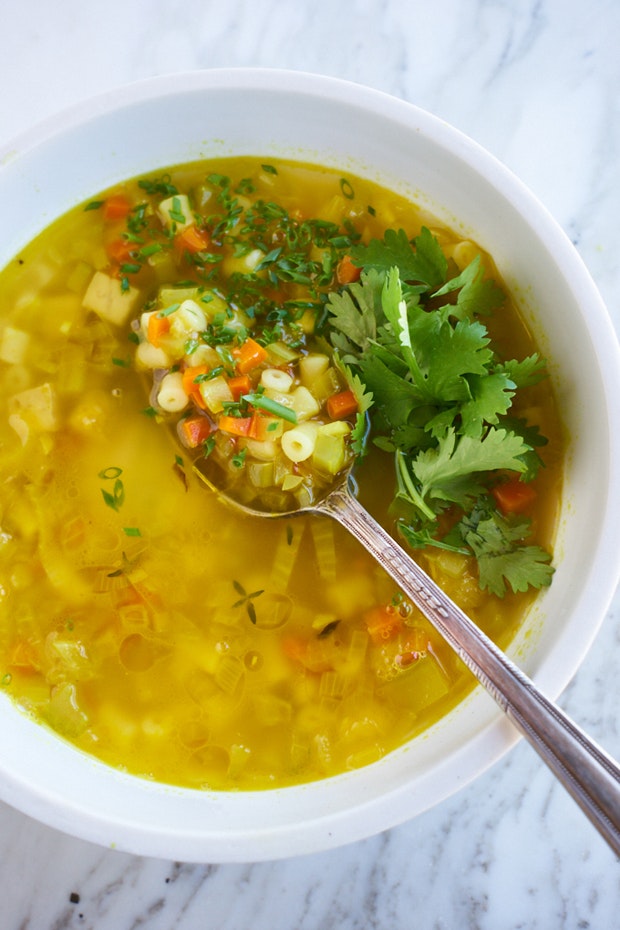 I mention it in the recipe, but any short pasta will work here.  If there is a short shape that is easy for you to find. Or a shape you love, swap it in!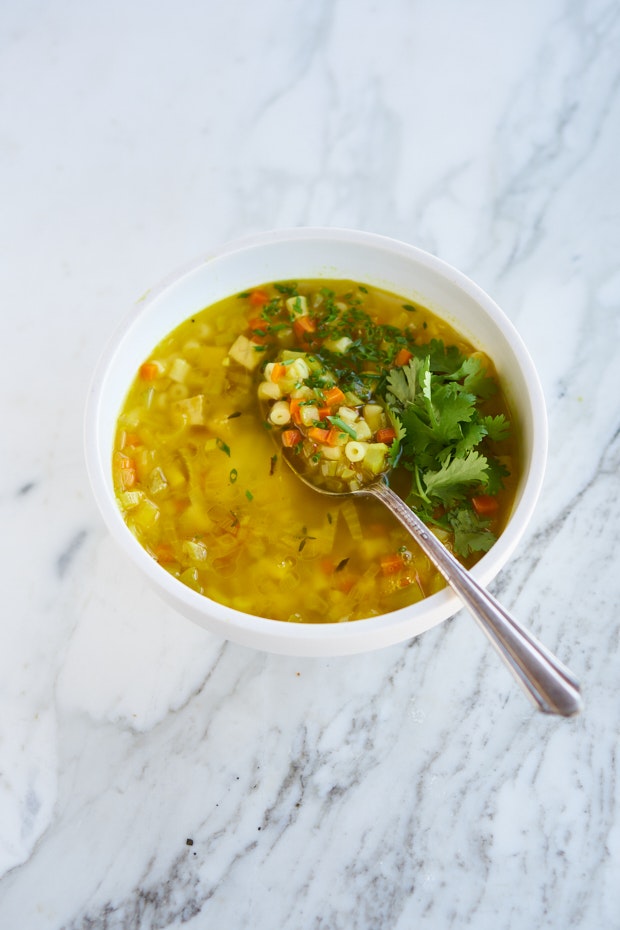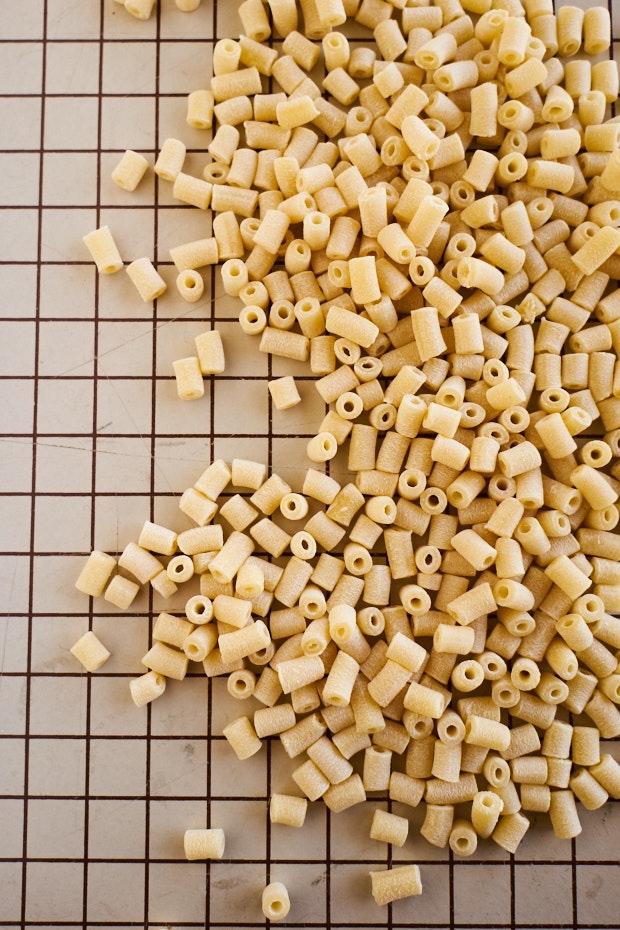 Noodle Soup Variations
There are a host of things you can use in place of the pasta noodles here. For example, you can serve the broth over leftover rice, cooked farro, or pearl barley. Or make a ravioli version! You can also stir any of the following into individual bowls of soup to take things in slightly different directions - toasted sesame oil, lemon olive oil, sriracha sauce, miso, or curry paste. Noodle soup is super adaptable, use this as a jumping off point!
Vegetable Noodle Soup
Use whatever short pasta you like here. Alternately, you can uses angel hair pasta broken into short segments, or long chubby udon noodles. Hard to go wrong. If you don't have nutritional yeast on hand (and don't mind a bit of cheese), you can grate some Parmesan over each bowl.
Ingredients
12

ounces

extra-firm tofu, pat dry with paper towels, cut into 1/4-inch cubes

1 1/2

tablespoons

extra-virgin olive oil

4

cloves

garlic, chopped

1

medium onion, finely chopped

1

cup

carrots, finely chopped

2

cups

celery, finely chopped

1/4

teaspoon

dried turmeric

1

tablespoon

thyme leaves (fresh or dried)

1

teaspoon

oregano (fresh or dried)

1

bay leaf

salt and pepper to taste

1 1/2

tablespoons

nutritional yeast (or see headnotes)

8

cups

water

12

ounces

dried pasta, cooked per package instructions

To serve: fresh cilantro, chopped kale, chopped chives
Instructions
Heat the oven to 375F, toss the tofu with 1/2 tablespoon of the olive oil, place on a parchment lined baking sheet, and bake 15 minutes, or until slightly golden in color. Transfer the tofu to a bowl, and set aside.

Heat the remaining 1 tablespoon of olive oil in a large soup pot over medium high heat. Add the garlic, onion, carrots, and celery, and sauté for 10 minutes or so, just until the onions start to take on a bit of color. Add the turmeric, thyme, oregano, bay leaf, 1 teaspoon of salt, nutritional yeast, and some freshly ground pepper. Add the water and bring to a simmer. Taste the broth and add more salt and pepper, don't under salt or the soup will taste sad and flat.

I like to cook the pasta separately (it just keeps the broth cleaner and brighter), but you can certainly cook it in the broth*. Either way, add the pasta at this point. If you haven't pre-cooked the noodles, simmer until cooked through. Stir in the tofu, and serve the noodle soup extra hot, in individual bowls, topped with lots of fresh cilantro or chives, or chopped kale for added greens.
Notes
*If you cook the pasta with the rest of the soup, you may need to add extra water and re-season.
Related Recipes
More Recipes
Popular Ingredients