Lemongrass Turmeric Curry Paste Recipe
A bit about this favorite curry paste - it's vibrant, electric yellow in color, and intensely flavored. Made with a shallot base coupled with ginger, and garlic, turmeric, and serrano chiles, it's the sort of thing you can use to make a broth, or flare out simple preparations like scrambled eggs or fried rice.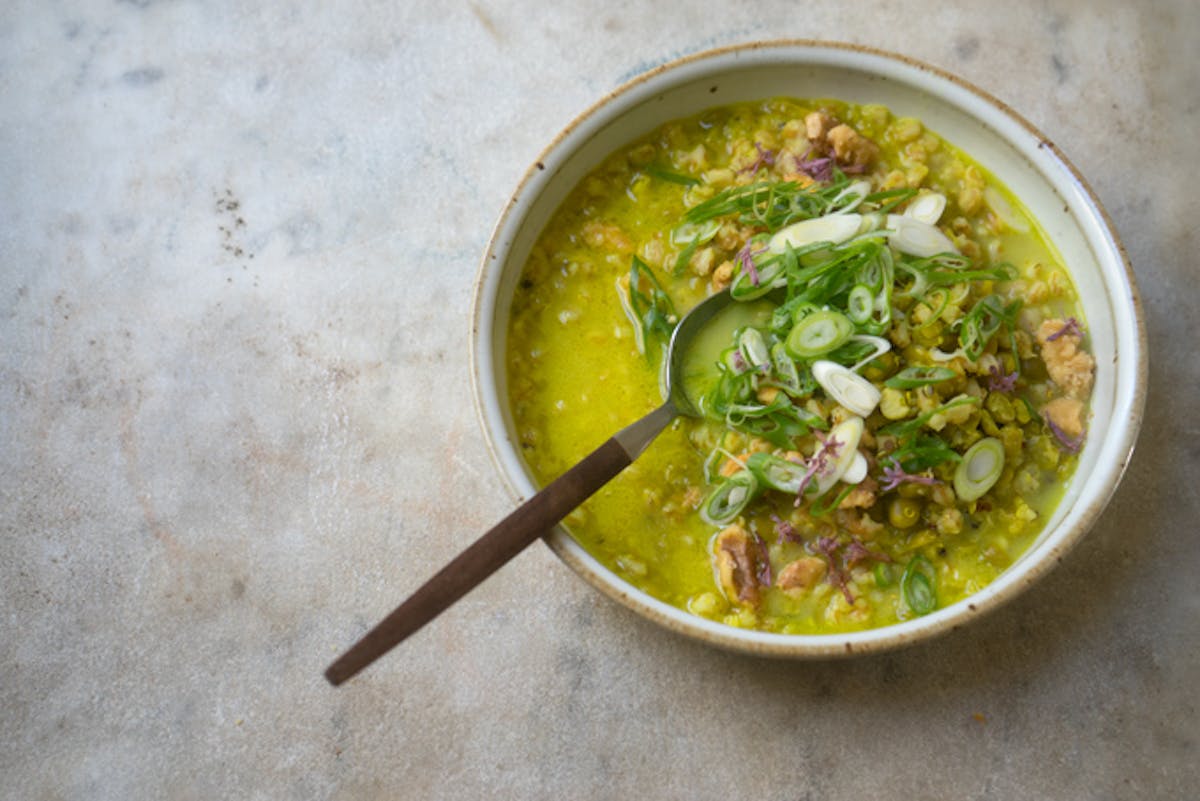 I thought I'd share a recipe that I find myself making in increasingly large batches. It's a favorite curry paste, and I keep a small container of it, fresh, in my refrigerator. I keep backup containers in the freezer. And, I make extra to hand off to pals. Actually, let me back up a bit. Those of you who are regular readers know I tend to share a good amount of curry recipes - both here and in my books, and I often call for you to use whatever favorite curry paste you have on hand. Even if you have a favorite, I encourage you to entertain this as an option.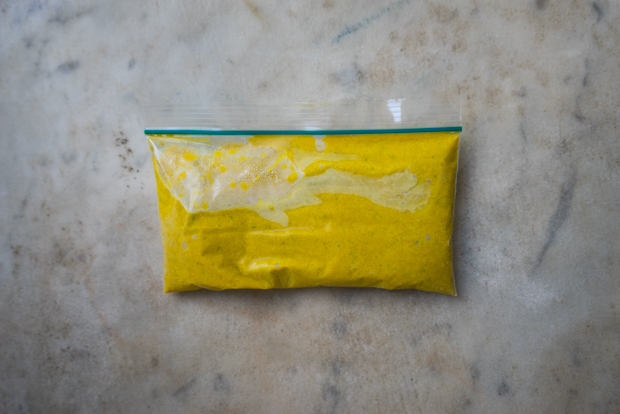 A Favorite Curry Paste
This curry paste - it's vibrant, electric yellow in color, and intensely flavored. I tend to wing it a bit when it comes to pastes - throwing whatever I have on hand in the mortar and pestle (or, if I'm feeling lazier, the food processor), but I love a generous shallot base - and that's what you see here. To the shallot base I add lots of ginger, and garlic, turmeric, and serrano chiles. The color is amazing, and the flavor is equally vibrant. In addition, I thought it might be helpful if I share a few of the different ways I use this curry particular paste over the course of a week, so you'll see that below too. -xo h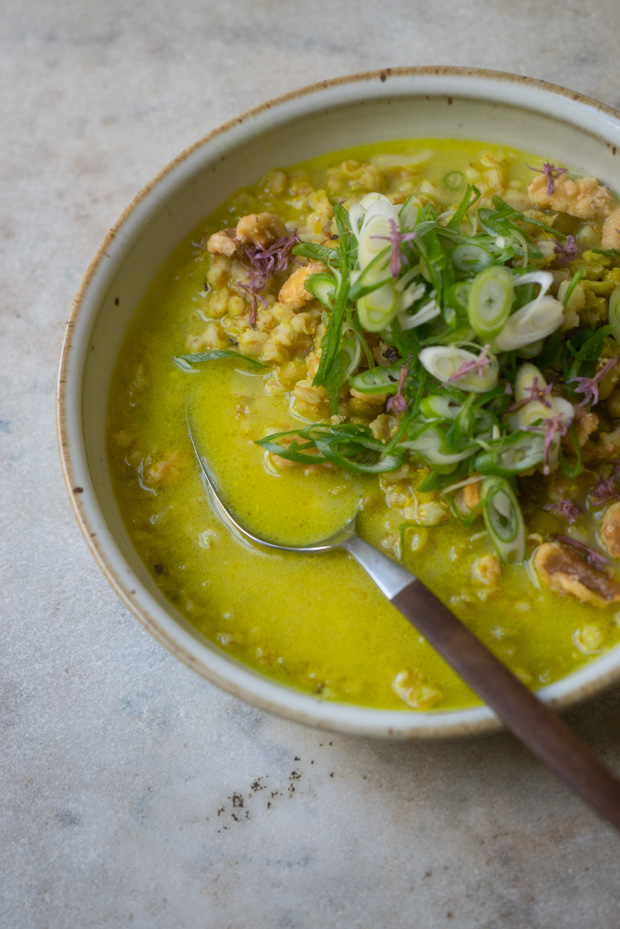 Use Some & Freeze Some
After making a batch, the first thing I do is figure out the amount of paste I might use in the coming days. I keep that portion in a jar, and then freeze the rest. You'll love being able to grab for the frozen packet a week or two out. A quick thaw and you're good.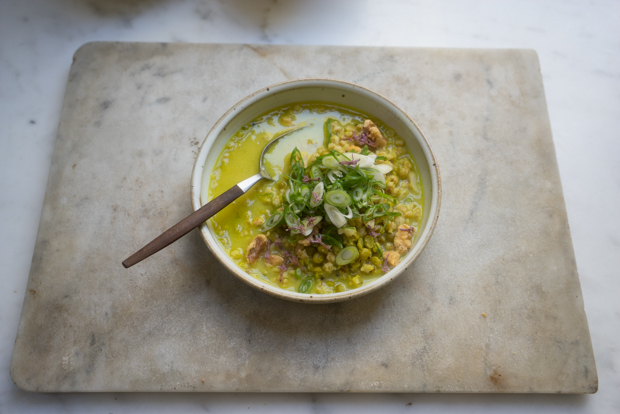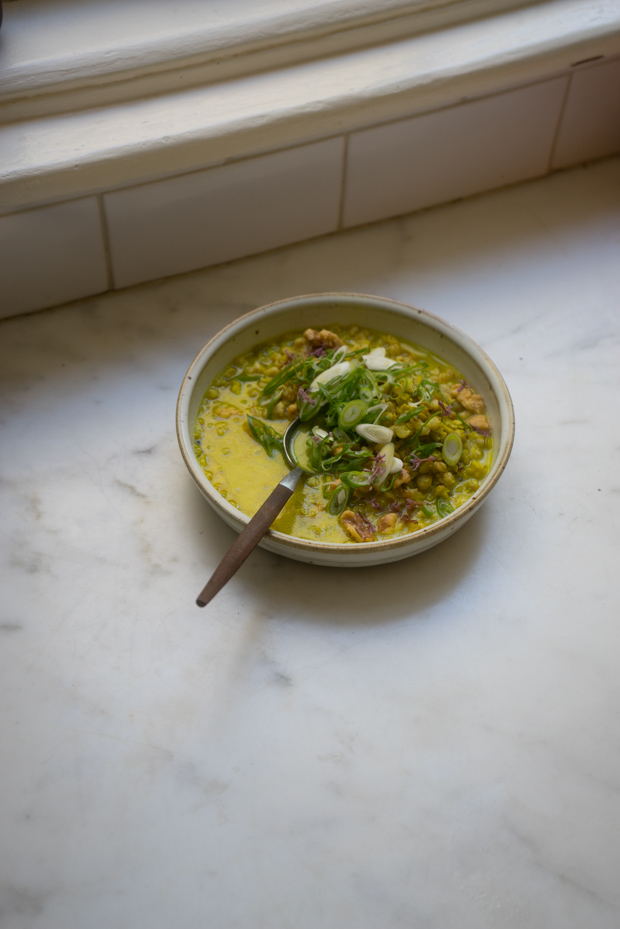 How much curry paste?
As far as usage goes, I think people tend to look to recipes for the exact amount of curry paste they're supposed to use in their cooking. I'd encourage you to trust yourself, and use your taste buds to guide you. When it come to curry paste, there's such a range in strength, spiciness, and flavor. The great thing about making your own, is that you can tweak and adjust over time, developing pastes that you really know and love.
More Ideas:
Use as pictured ladled over a cooked farro, split green pea, and tri-color quinoa blend. Or other grain blend! Finished with a sprinkling of toasted walnuts, slivered green onions, and dried chive blossoms.
Whisk into eggs before making a scramble or omelette.
Stir a bit into thick yogurt with a little salt as a soup topping.
Use as the base for a simple broth - add to that noodles, seasonal vegetables, etc.
Other favorite turmeric-rich recipes to try! This Dynamite Cold Tonic, this Instant Pot Congee with Brown Rice and Turmeric, my favorite Pad Thai, Turmeric Popcorn, Turmeric Cashews (so good!), Pickled Turmeric Eggs, and these Turmeric Soaked Chickpeas. There's also a whole directory of recipes using turmeric.
Lemongrass Turmeric Curry Paste
If you're not sure how to prepare lemongrass, just keep in mind that you're after the tender center part in the center of each stalk. Peel the fibrous layers back, and discard. Trim any tough parts at the top and tail, and reserve just the tender center for chopping. If you think your turmeric might be on the bitter side, start with less, and add more to taste.
Ingredients
4

lemongrass stalks, trimmed, tender center part only

6

medium garlic cloves, peeled

6

medium shallots, peeled

3

medium serrano chiles, stemmed

3-

inch

piece of ginger, peeled

1 1/2

teaspoons

ground cumin

2

teaspoons

ground turmeric

1/4

cup

good extra-virgin coconut, sunflower or olive oil

a drizzle of lime oil or zest of one lime, optional
Instructions
If you're making the curry paste in a mortar and pestle, start by smashing the lemongrass, and add each ingredient from there. If you're using a food processor or blender, combine the lemongrass, garlic, shallots, chiles, ginger, cumin, and turmeric, and pulse until the ingredients start to come together.

You can add the oil at this point, and blend again. Stir in the lime oil or zest. The paste will keep in the refrigerator for about a week. Freeze any paste you wont use for future use.
Related Recipes
More Recipes
Popular Ingredients