Simple Butternut Squash Tart Recipe
Puff pastry serves as the foundation for this simple yet eye-popping butternut squash tart. The golden crust supports a ricotta cheese slather, caramelized onions, thin slices of bright orange squash, and goat cheese.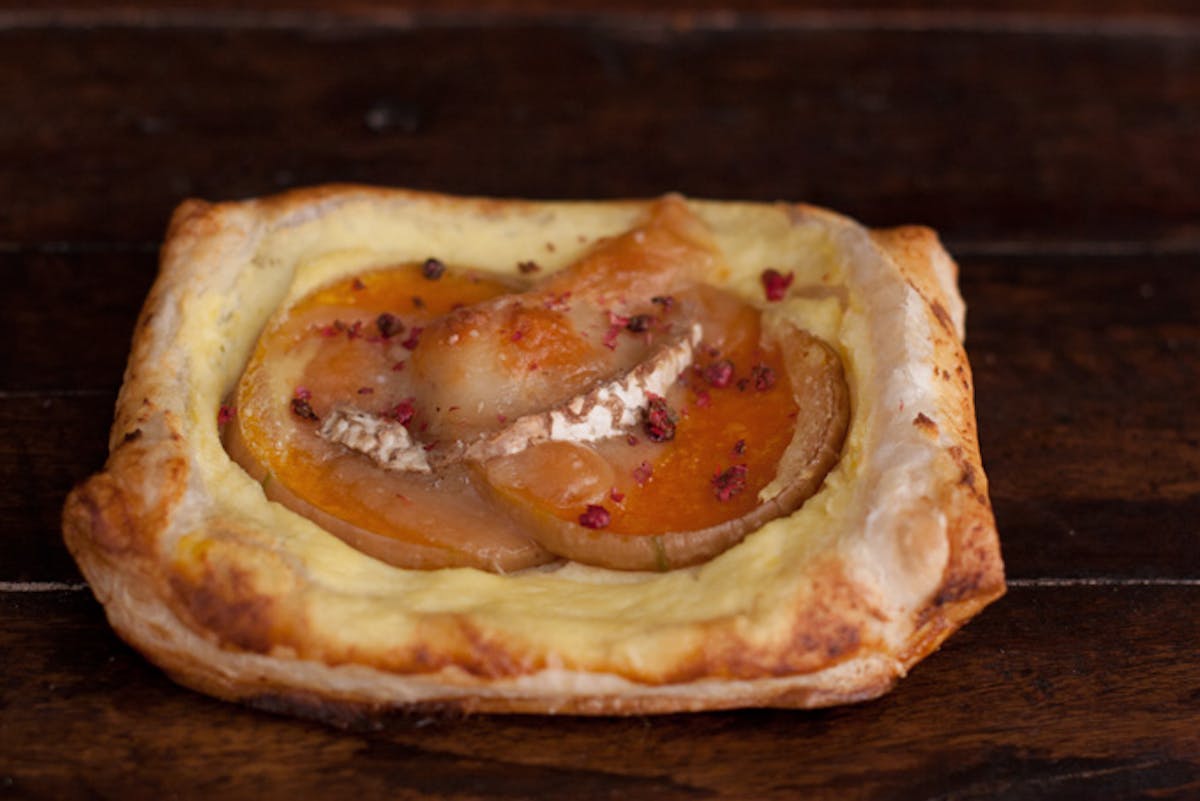 This simple, vibrantly colored butternut squash tart recipe provides a nice amount of payoff for the minimal amount of effort that goes into it. I get invited to a lot of potlucks, at least one or two per month, so I've been trying to develop a repertoire of quick but delicious recipes for these occasions. Let me talk up the potluck concept a bit more. In addition to sampling a wide range of dishes prepared by your friends, they are also great for workshopping new ideas and trading recipes (cooking club get-togethers are fun too). That being said, if I don't have a solid game plan, I end up spending an entire day thinking about what I want to make, shopping and locating the ingredients, all before I get down to the actual cooking and party-going.
For a while I was hooked on "big bowls." You know, family-style vessels that contain all the necessary components of a dish. For example, this Lemon-scented Quinoa Salad, or this Otsu, or one of my favorites...Golden, Crispy Gnocchi. You get all the grains, vegetables, cheese, pasta, dressing, seasoning, whatever - all in every scoop, no fussy condiments to dunk or dip or slather. It can function as a one-dish meal for those times you aren't into the other offerings on the table, alternately this sort of thing can make a nice side dish if you are a chronic sampler. Bases are covered.
I had to pull something together the other night for a potluck get-together with some of my girlfriends, and my aim was to break the big bowl rut.
While I was in New Zealand my friend Hadley (the one who was nice enough to provide food and shelter for us during the post-camper van portion of our NZ trip), whipped up a delicious savory tart one night in no time flat. A simple slather of ricotta (and a bit of egg) topped with tomato and basil on a golden, puff pastry platform. She said it was a Bill Granger staple, came together in a snap, and never fails to be a crowd-pleaser.
Bill Granger is huge in New Zealand. You see cookbooks by the Sydney-based restaurateur in every book store. You find his tanned face and bright smile beaming from the pages of magazine after magazine. His recipes are simple and straightforward, the photography (by Petrina Tinsley) always clean, informative, and inspiring.
Because it isn't exactly tomato season on this side of the globe, I decided to do a winter remix of the tart we ate at Hadley's. I peppered the ricotta base with flecks of caramelized onions and topped it with thin cross-sections of butternut squash and artisan goat cheese - both with rind intact for a more rustic look. You could do individual versions of these (see pic) as well.
Before posting the recipe I'd like to welcome any new readers coming from Food & Wine magazine! For those of you who are interested in getting a sneak peek at a few recipes from Super Natural Cooking before it comes out (3/1), you can find them along side a profile in Food & Wine this month (Feb/2007) - on the website as well. The article is titled, How to be a Natural Cook.
Lastly, thanks to everyone who voted for 101 Cookbooks in the Best Food Blog - Recipes category. I promise to keep at it.
Simple Butternut Squash Tart
You can make this in a pan or free form, one big one, or multiple smaller ones. I had caramelized onions left over from a previous recipe so I used them in the ricotta - don't be afraid to experiment with seasonal ingredients. You could even sweeten up the ricotta a bit when summer comes around and do a stone fruit or berry version. I very rarely use puff pastry, but when I do, I look for Dufour, it is made with real butter and is outrageously delicious. Other brands are made with shortening/partially hydrogenated vegetable oil.
It is easy to scale the ricotta filling in this recipe for use in different sized pans or multiple tarts. Use 1 cup ricotta to 1 egg.
1 package of puff pastry dough
zest of one lemon

1 cup ricotta cheese
1 egg plus one egg yolk
1/2 cup caramelized onions
1/4 teaspoon sea salt

10 very thin (1/8-inch) slices of butternut squash (I cut rounds from the neck of the squash), pre-cook them in a bit of olive oil in a covered pan for 2-3 minutes before using them on the tart

6 - 10 very thin slices of goat cheese
pepper
Preheat oven to 375.
Thaw the puff pastry dough. Put it out on a lightly floured counter top and roll it out a bit thinner - roughly 1/8-inch. Be sure to roll it to fit your tart pan if you are using one (again, you can make this tart free form w/ no pan if you like). Leave about an inch worth of edges draped over the pan (you will need to fold this back in over the filling later. Prick the dough in the middle of the tart a few times with the tines of a fork, and sprinkle most of the lemon zest right onto the rolled-out dough.
In a small bowl mix the ricotta, one egg, onions and salt together. Spread the ricotta mixture onto the base of the tart. Don't go quite all the way to the edge, it makes it hard to fold the edges over later. Arrange the slices of squash on top, and the slices of goat cheese on top of the squash.
Fold the edges of the pastry back in toward the filling (an inch or so). Brush the pastry with the egg yolk and bake for 30-35 minutes or until tart shell is golden and the filling has set.
Serve warm, cut into small slices (it is quite rich) sprinkled with any remaining lemon zest and a bit of pepper (I used red peppercorns this time around).

This will make one six/seven-inch square tart or multiple smaller tarts.