Grown-up Fig Cookies Recipe
A grown-up twist on the figgy classic. This filling for this fig cookie recipe is dried figs that are marinated overnight in port and pomegranate juice and then pureed. They also happen to be gluten-free.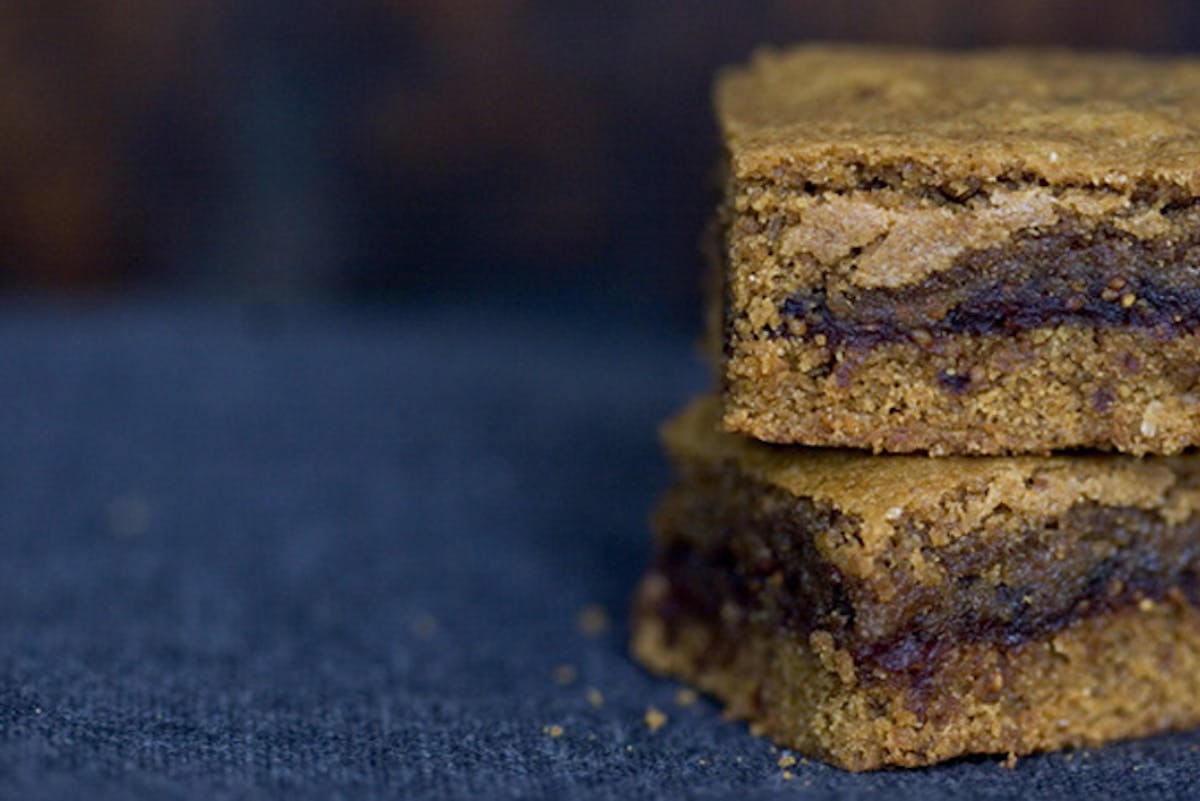 If I told you Fig Newtons were a favorite cookie of mine as a child, I'd be lying. In my mind they were only slightly better than nothing. Nothing on the other hand was better than the sugar-free hard candies that lived in a bowl on our kitchen countertop for a year or so before someone finally threw them out. When Fig Newtons were in-stock (pantry, top shelf) I would occasionally get a duo of them in my lunch box. This wasn't anything I looked forward to really, I could barely give them away let alone barter them for something I actually coveted. What kid is willing to swap a Fig Newton for a Ho Ho? Anyways, that was many, many years ago and thankfully my tastes have evolved quite a bit since then. I was excited to see a grown-up twist on the figgy classic in my friend Shauna's new cookbook. The filling is what really caught my attention - it is made from dried figs marinated overnight in port and pomegranate juice and then pureed...
Before I get too far ahead of myself, I'll tell you a bit about Shauna. Many of you are familiar with her through Gluten-free Girl - her deliciously enthusiastic website. She writes about life and cooking from a gluten-free perspective and in the process has educated many of us about what it is like to need to live gluten-free (an issue for an increasing number of people). Let me say upfront, I'm not going to try to talk all of you into running all over town looking for numerous gluten-free flours to make these cookies. I can imagine this or this (minus the chocolate chips) would work beautifully as alternate doughs to go with the port-fig filling.
I always point people to Shauna's site as a fantastic resource, and like I said when I did a blurb for the back of her book - her writing is always heartfelt, inspiring, and informational - a tough balance to strike. Even though I'm not allergic to gluten (which is in all sorts of places you would never think of btw), there is much overlap in our cooking. We both like to explore a wide and sometimes esoteric range of whole grains. We both gravitate toward whole foods. And we both typically use what looks best at our local farmer's markets as the inspiration for what we are cooking on any given day. The most common questions I got when I was out doing signings for my own book were about gluten-free cooking - a real eye opener.
Needless to say, I have a lot to learn about being gluten-free in the kitchen, particularly when it comes to baking. And I'm curious about it, because it is a way to get to know little used flours and learn about their unique properties. So off I went to stock up on tapioca flour, sorghum flour, brown rice, flour, and the like to see if her grown-up fig cookies were good enough to pass on their own merit. I wasn't planning on labeling them gluten-free or anything like that - they would need to stand up on there own as delicious first, and the fact that they happened to be gluten-free would be a footnote. Similar to the way I think about cooking vegetarian.
The verdict? Sooo good - moist and flavorful. The spicy undertones in the dough played against the liquored up figs wonderfully. I'll tell Wayne to weigh in on the comments, but I know he liked them because he ate most of them. We fought over the crunchier edge pieces.
Congratulations on the book Shauna! For any readers here who get down about having to eat gluten-free (or have friends or family members struggling with Celiac disease), Shauna's book (and her website) are refreshing looks from the bright side.
Grown-up Fig Cookies
These cookies are gluten-free, and use gluten-free flours and ingredients. If you don't want to seek out these types of flours you can use a more traditional cookie dough like the one here or here (minus the chocolate chips) to use in conjunction with the delicious port-fig spread. The spread on its own would make a lovely sweet tapenade to go with a dessert cheese platter.
Fig Spread (start 24 hours in advance of the cookies)
1/2 pound dried figs
1/2 cup pomegranate juice
1/2 cup port
1/4 cup meyer (or regular) lemon juice
To prepare the fig spread chop the figs into quarters, removing any knobby stems that might remain. Put the pieces in a medium bowl or Mason jar and cover with the liquids. Soak the figs for 24 hours, or at least overnight. Abefore you make the cookies, drain the figs of the liquid, except for a few tablespoons. Put the figs and remaining liquid in a food processor and blend to make a thick paste, somewhat like a tapenade consistency.
Fig Cookie Dough
1 cup brown rice flour
1 cup sorghum flour
1/2 cup tapioca flour
1/2 teaspoon baking soda
1 teaspoon baking powder
1/2 teaspoon xantham gum
scant 1 teaspoon salt
1 teaspoon freshly ground nutmeg
1/2 cup packed brown sugar
1/2 cup unsalted butter, room temperature
1/2 cup organic cane sugar
1 large egg
1 teaspoon vanilla
2 tablespoons molasses
Preheat the oven to 350F degrees.
Mix all the dry ingredients in a medium-size bowl. Set aside.
Put the softened butter into a mixer. Add the brown sugar and cane sugar to the butter and cream together. Cream until well blended, scraping down the sides of the bowl a few times if needed.
Add the egg, vanilla, and molasses. Mix until blended. Add the dry ingredients (I did this in three parts), and mix until blended. Split the dough into two pieces, wrap each in plastic and then refrigerate the dough for at least one hour. This is key with gluten-free doughs.
After you've chilled the dough, roll out half the dough to 1/4-inch thickness on a Silpat or piece of parchment paper. Slather the fig spread over the surface of the dough, stopping just shy of the edges. Roll out the second half of dough to roughly the same size as the first. Lay it over the fig spread. Crimp the edges with a fork to seal in the fig spread.
Slide the baking sheet into the oven for 15 minutes, checking occasionally to make sure the dough isn't browning too much. Remove when the edges are just starting to get nice and golden. Let cool for 10 minutes. When the cookies have cooled, cut the edges off to make straight lines. Slice the giant cookie into small squares.

Makes about 3 dozen cookies.