Roasted Strawberries Recipe
This is a recipe I tucked into the final pages of a cookbook I wrote five years ago. You'd likely miss it if you tend to skip the little recipes that tend to find their way to the miscellaneous or accompaniment section at the back of many cookbooks. It might seem a bit of a shame to take a basket of the season's sweetest, most fragrant strawberries and roast them. But this is an alternative I love. There are few things better slathered on a flaky buttered biscuit, hot crepe, or piece of toast. We had them over good vanilla ice cream last night. A little bit of special magic.
When it comes to roasting these strawberries, you know you're on the right track when the juices from the roasting berries seep out onto the baking sheet and combine with the maple syrup to form a thick and sticky, just-sweet-enough-syrup. At the same time, the flavor of the berries cooks down and concentrates. The port adds a surprise hint of booziness, and the balsamic delivers a dark bass note. The recipe can be doubled or tripled, just be mindful not to crowd the baking sheet.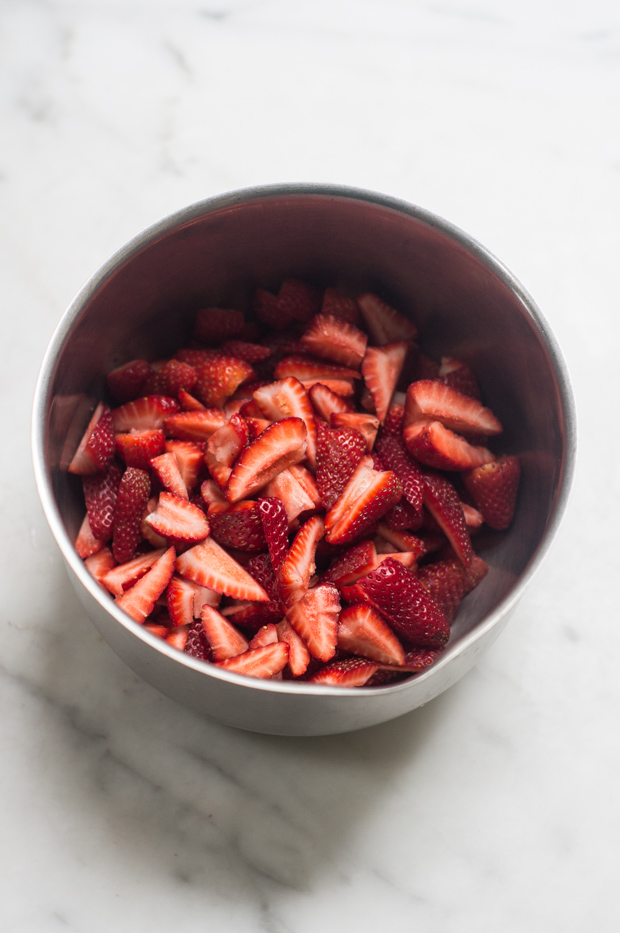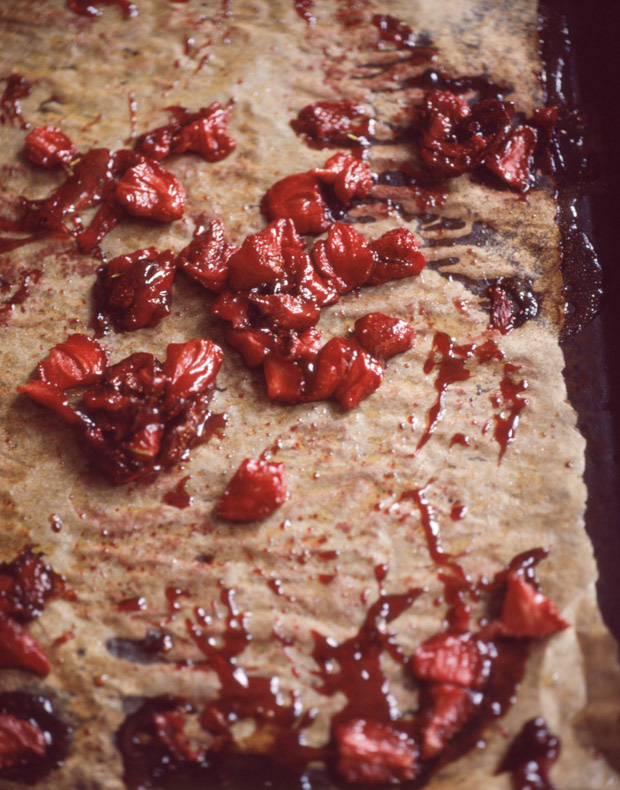 Roasted Strawberries
8 ounces / 225 g small to medium strawberries, hulled

2 tablespoons maple syrup

1 tablespoon extra-virgin olive oil

1/4 teaspoon fine-grain sea salt

1 tablespoon port wine

A few drops balsamic vinegar
Preheat the oven to 350F / 180C with a rack in the middle of the oven.
It is important to use a rimmed baking sheet or large baking dish for this recipe--you don't want the juices running off the sheet onto the floor of your oven. If you are using a baking sheet, line it with parchment paper.
Cut each strawberry in half. If your strawberries are on the large side, cut them into quarters or sixths. Add the berries to a mixing bowl. In a separate small bowl, whisk together the maple syrup, olive oil, and salt. Pour this over the strawberries and very gently toss to coat the berries. Arrange the strawberries in a single layer on the prepared baking sheet.
Roast for about 40 minutes, just long enough for the berry juices to thicken, but not long enough for the juices to burn. Watch the edges of the pan in particular.
While still warm, scrape the berries and juices from the pan into a small bowl. Stir in the port and balsamic vinegar. Use immediately or let cool and store in the refrigerator for up to a week.
Makes about 1/2 cup / 5 oz / 140 g.
Reprinted with permission from Super Natural Every Day: Well-Loved Recipes from My Natural Foods Kitchen by Heidi Swanson, copyright © 2011. Published by Ten Speed Press, a division of Random House, Inc.
Prep time: 5 minutes - Cook time: 40 minutes