Vibrant Vegan Double Broccoli Buddha Bowl
A favorite Buddha bowl made with seven ingredients on green overdrive. You double up on broccoli through a coconut green curry pesto and florets, then toss with a quinoa base.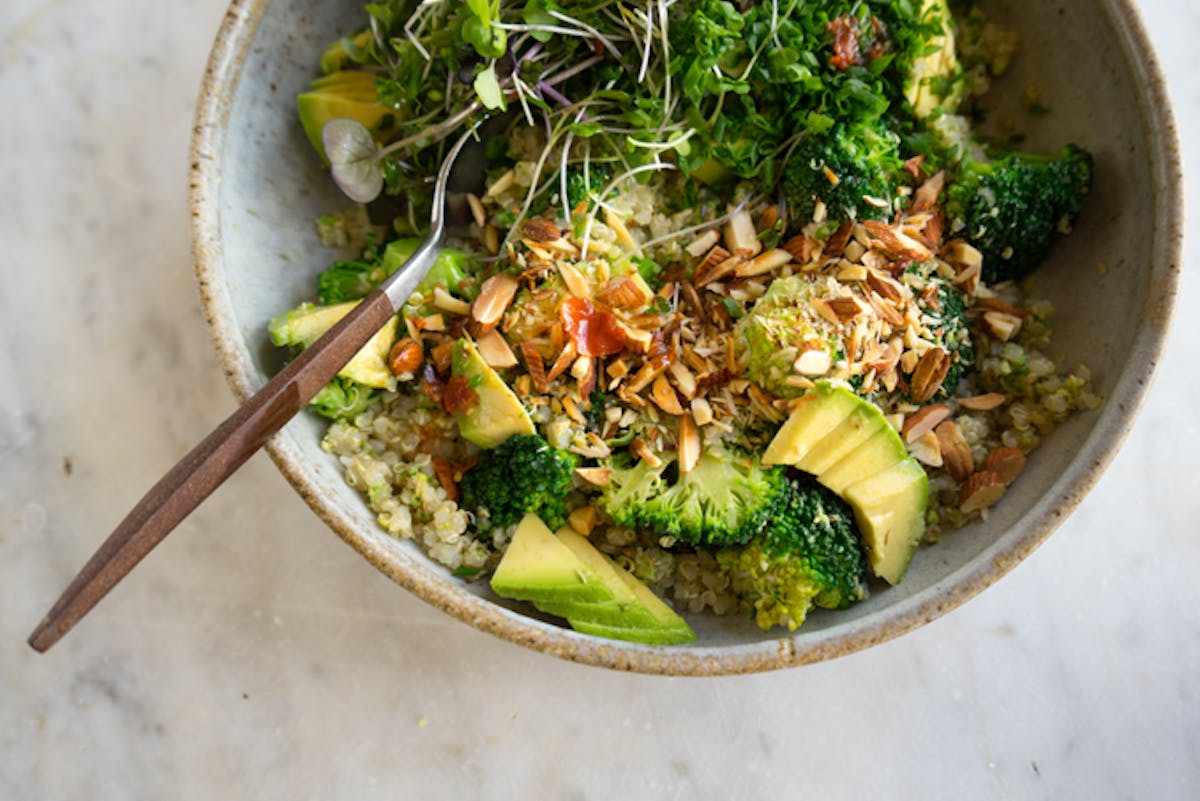 A Buddha bowl is all sorts of healthful goodness piled in abundance in a single bowl. They tend to be very beautiful, and have an ability to make people more appreciative of a meal than usual. Perhaps it's because of the care that is often taken in their preparation and presentation? I'm not sure, but there is something about a bowl like this that re-frames the food at hand, and reminds us just how beneficial, miraculous, and powerful each ingredient we use can be. I think of them as being generally balancing, centering, restorative - vegetarian or vegan. And, I've always thought the term Buddha bowl derived from the the idea that eating out of a single bowl, as I understand the Buddha did -- or, like some of the monks I've seen at dawn gathering food for their daily meals in Thailand and Sri Lanka -- is special.
I've highlighted a favorite Buddha Bowl here. It's strong on a number of points. Green, filing, and fast to pull together, particularly if you have cooked quinoa on hand already. It's a bowl on green overdrive - doubling up on broccoli by using it in a coconut curry pesto and using the florets on their own as well. You toss it all with a quinoa base, and top with whatever else you have around - avocado, micro greens. The base ingredient list is, literally, seven ingredients long, and there is a lot of room for flexibility - part of the charm of a bowl like this.
I'm posting a video of the process here, you can see me pull it together, and you can find the recipe down below as well.
You can certainly do a version of this bowl any number of different ways. I can imagine a yellow curry version with cauliflower and brown rice (or millet) in place of the broccoli. Or a non-curried version with a more traditional pesto.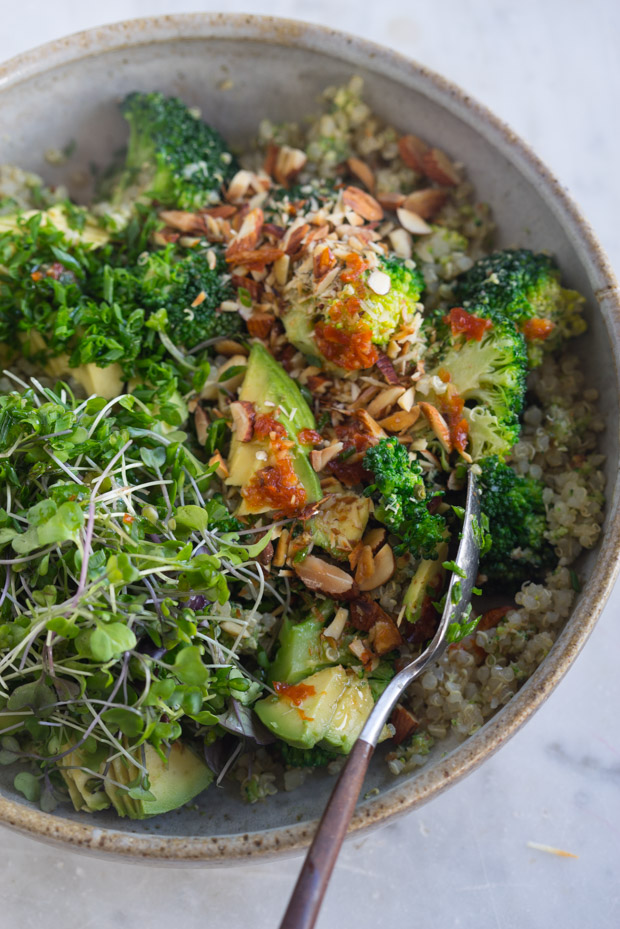 Enjoy!
Vibrant Vegan Double Broccoli Buddha Bowl
3 cups cooked quinoa*
5 cups raw broccoli, cut into small florets and stems

1 tablespoon green curry paste
2 medium garlic cloves
2/3 cup sliced or slivered almonds, toasted
2 big pinches salt
2 tablespoons fresh lemon juice
1/2 cup full-fat coconut milk

Optional toppings: microgreens, hot sauce, sliced avocado
Heat the quinoa and set aside.
Cook the broccoli by pouring 3/4 cup water into a large pot and bringing it to a simmer. Add a big pinch of salt and stir in the broccoli. Cover and cook for a minute, just long enough to take the raw edge off. Transfer the broccoli to a strainer and run under cold water until it stops cooking. Set aside.
To make the broccoli pesto puree two cups of the cooked broccoli, curry paste, garlic, 1/2 cup of the almonds, salt, lemon juice, and coconut milk in a food processor. Pulse until smooth.
Just before serving, toss the quinoa and remaining broccoli florets with about 1/2 of the broccoli pesto. Taste and adjust if needed, you might want to add more of the pesto a bit at a time, or you might want a bit more salt or an added squeeze of lemon juice. Turn out onto a serving platter and top with the remaining almonds, and any other toppings you like - some slices avocado, greens or sprouts, and/or hot sauce are all good fits.
Serves 4 - 6.