Quick Pickled Zucchini
I've been making these coin-shaped zucchini pickles all summer. They're quick to make, great to have on hand, and I don't bother canning them. Delicious on crusty, goat-cheese slathered grilled bread (or just about anything cheesy or crunchy) and simple salads.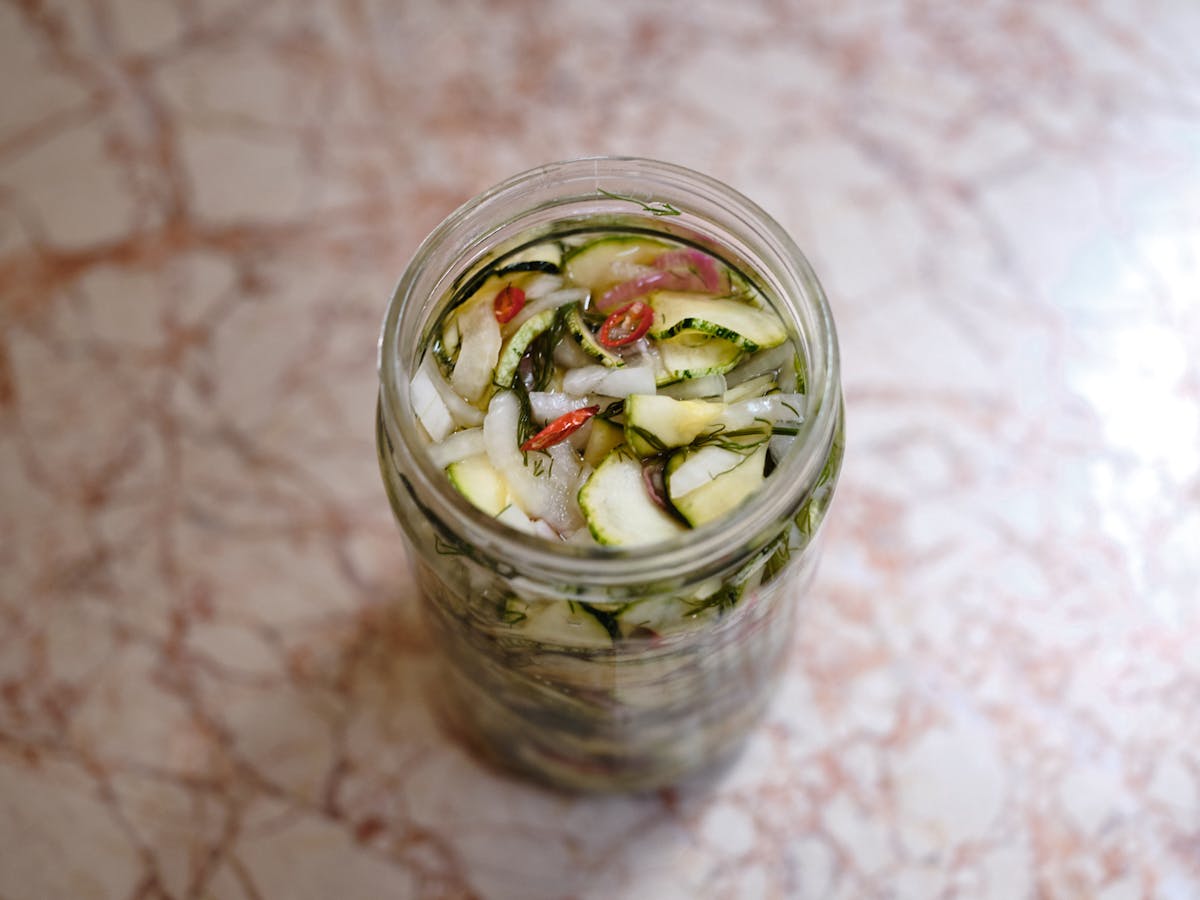 Because we're still trying to put a dent in the zucchini supply, today's recipe? Quick pickled zucchini. It's great to have on hand, and allows you to flare out all sorts of things. We always take a jar camping, and a tangle is always great on a cheese plate or veg platter. They're really good on cheese-slathered crostini or thin garlic bread, see the photo down below! This is the time of year to keep a steady supply at the ready, and bonus points for making extra for friends.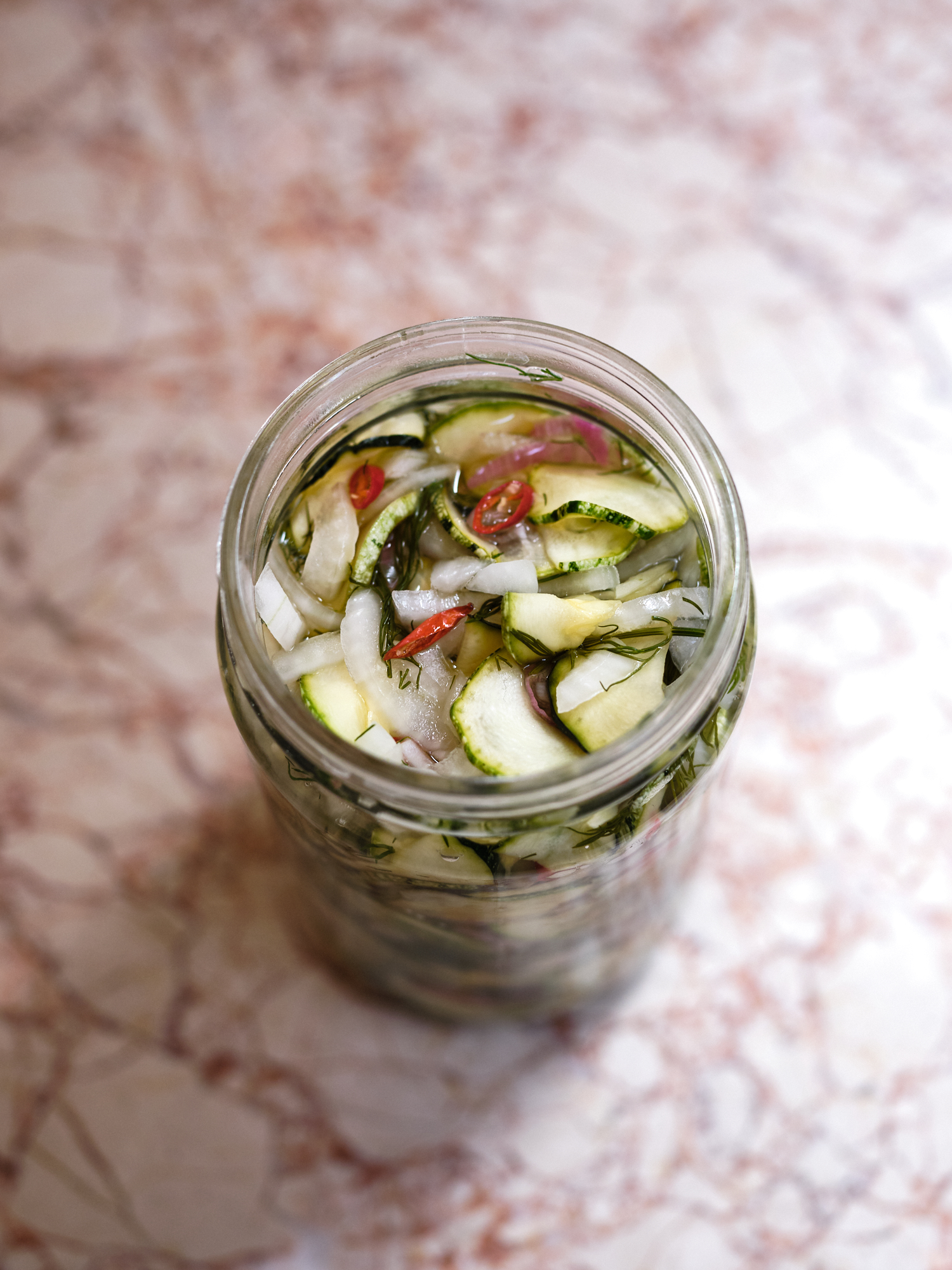 More Ideas
Quick pickled zucchini is A+ on these veggie burgers, on certain tacos, and as part of simple green summer salads. I also like them in place of relish on veggie dogs. If you come up with other ideas for them, let me know.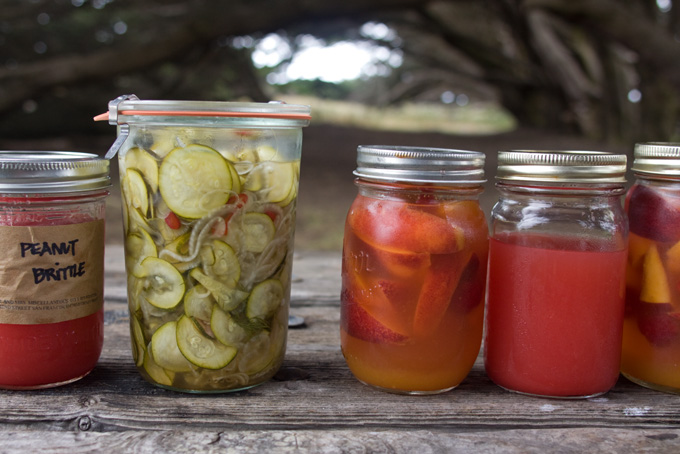 The recipe
The only thing that takes much time here is draining some of the liquid from the zucchini, if you plan ahead a bit, the rest of the process only takes a couple minutes. One thing to be mindful of is how thick your slicing is. It's the sort of detail that changes the preparation quite dramatically. You can see in the photos how thick I like my zucchini to be, but its a variable to play around with. Thicker slices will have more structure.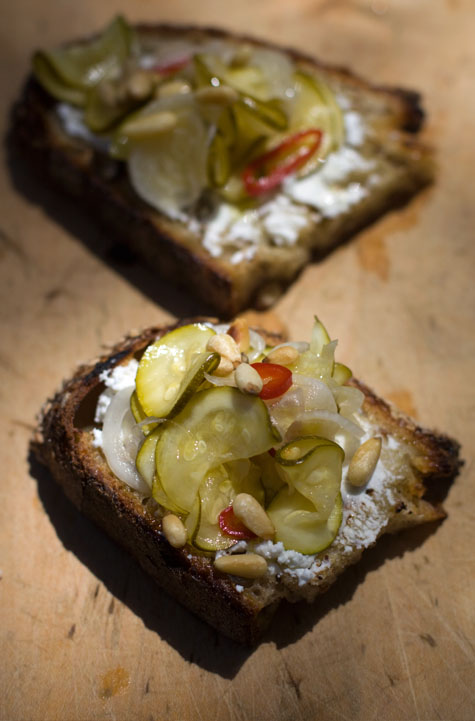 Variations
As far as flavor and seasoning go, this recipe delivers a bit of spicy bite from the mustard seeds and red chile, coupled with a hint of sweet, but not much. If you like a super-sweet pickle, double the sugar, and go from there. Same goes for the spiciness. Use this recipe as a jumping off point!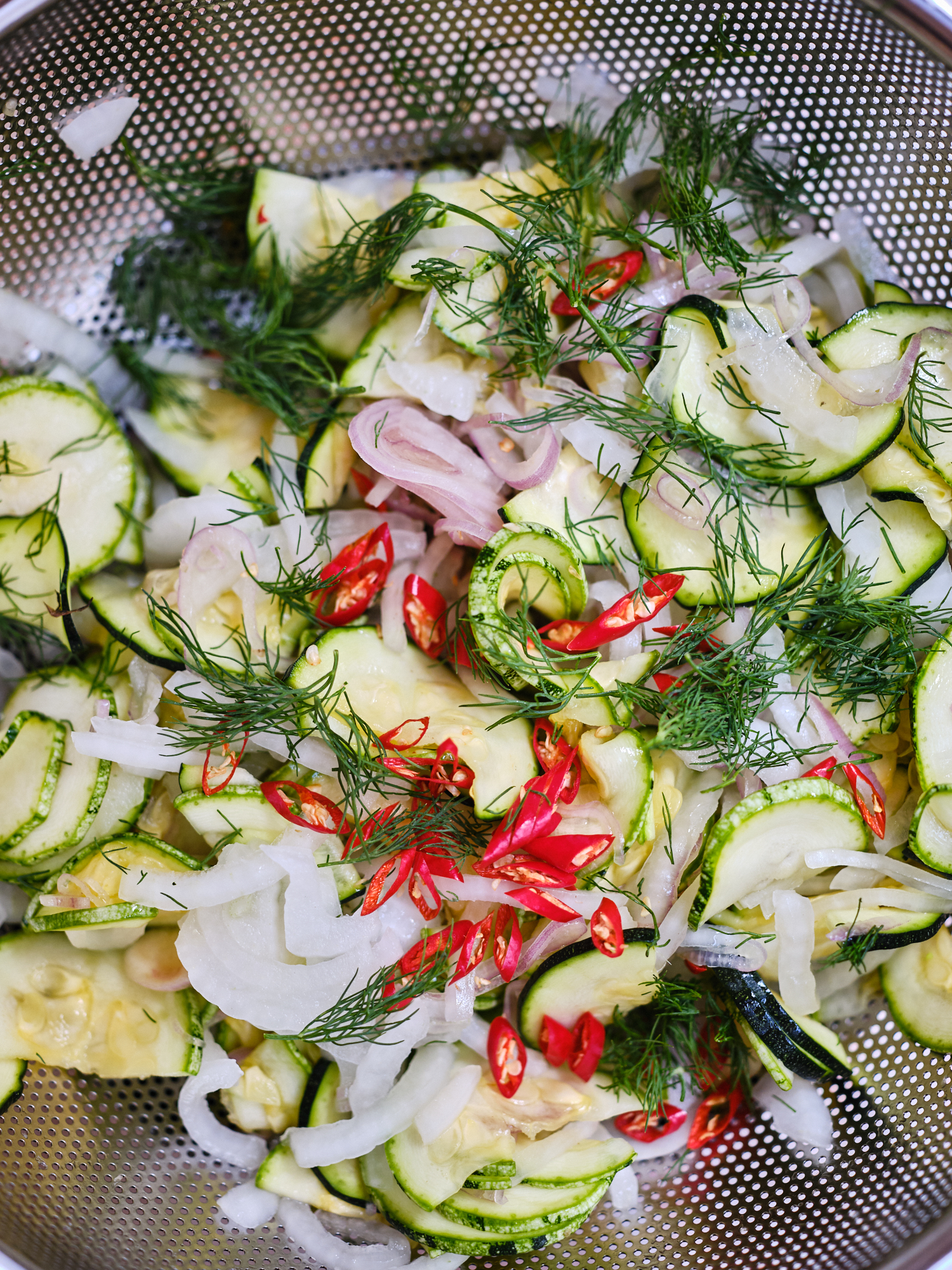 Have fun with the pickles, and if you still need more ideas, here's where I've collected all my favorite zucchini recipes. Enjoy!
Quick Pickled Zucchini
There are quite a number of ways to play around with the personality of these pickles. Sometimes I shave the zucchini paper-thin, resulting in a whispy tangle of pickled zucchini and onions. Other times I want my pickles to have a bit more bite, structure, and definition. In those instances, I slice the zucchini thicker, perhaps 1/8-inch, and let them drain as long as possible, sometimes overnight refrigerated. Also worth noting, when I make them for our personal condiment stash, I used a brown natural cane sugar. It gives the pickle liquid a brownish cast that, quite frankly, weirds people out if they don't know what is causing it. So, if I'm making the pickles to bring to a BBQ or something, I'll make them with regular organic cane sugar - one that is lighter in color.
Ingredients
3

medium zucchini (1 pound / 16 oz / 450 g), thinly sliced

1

medium white onion, thinly sliced

3

shallots, thinly sliced

1 1/2

tablespoons

fine grain sea salt

1/4

cup

(small handful) fresh dill sprigs

1

small fresh red chile pepper, very thinly sliced

1/2

tablespoon

yellow mustard seeds

3/4

cup

/ 180 ml cider vinegar

3/4

cup

/ 180 ml white wine vinegar

1/3

cup

/ 1.75 oz / 50g natural cane sugar
Instructions
Toss the zucchini, onion, shallots, and salt together in a colander and place over a bowl to catch the liquids. Cover the bowl and refrigerate for at least a couple hours. Toss once or twice along the way. You're aiming to get as much liquid out of the zucchini as possible.

When you're finished draining the zucchini, shake off any water. At this point you want the zucchini as dry as possible. Place in a 1 liter / 1 quart jar along with the dill, chile pepper, and mustard seeds. Alternately, you can cram them into a 3/4 liter Weck jar like I do, but it's always a bit snug in the jar.

Combine the ciders and sugar in a small saucepan over medium heat. Bring to a simmer, stirring until the sugar dissolves, and continue to boil for a few minutes. Pour the liquid over the zucchini and seal the jar. Let cool, then refrigerate. The pickles are good for a week or so.
Notes
Makes one large jar.
Related Recipes
More Recipes
Popular Ingredients