Thai Zucchini Soup Recipe
A chunky zucchini soup, beautifully spiced with a thin, bright, assertive coconut-lime curry broth & a lesson in being adaptable.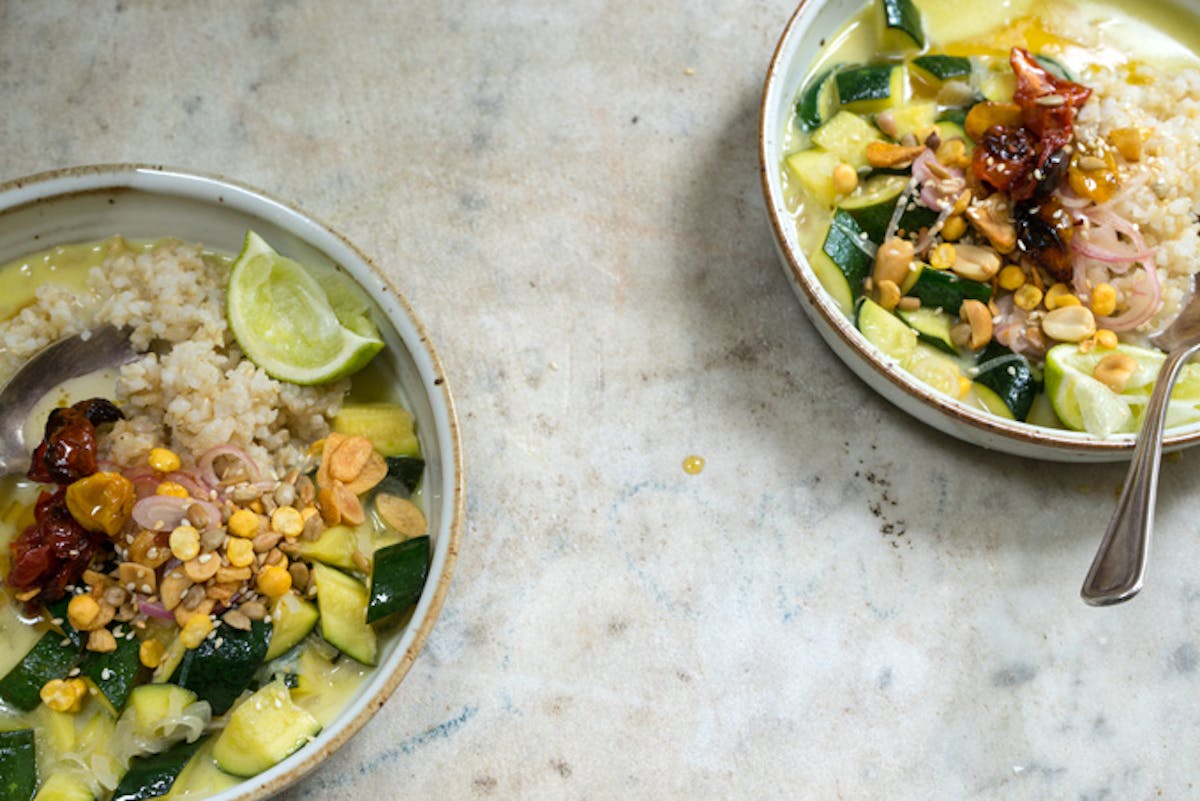 My intent here was to make a chilled, pureed, Thai-spiced curry soup. It would be summery and refreshing, and at the same time, strong with green curry flavor. It would be a fantastic lunch. As you can see from the photos, that is not what happened. Instead, I ended up with a chunky zucchini soup, beautifully spiced with a thin, bright, assertive coconut-lime curry broth. And it was better than the soup I'd originally imagined. Here's why.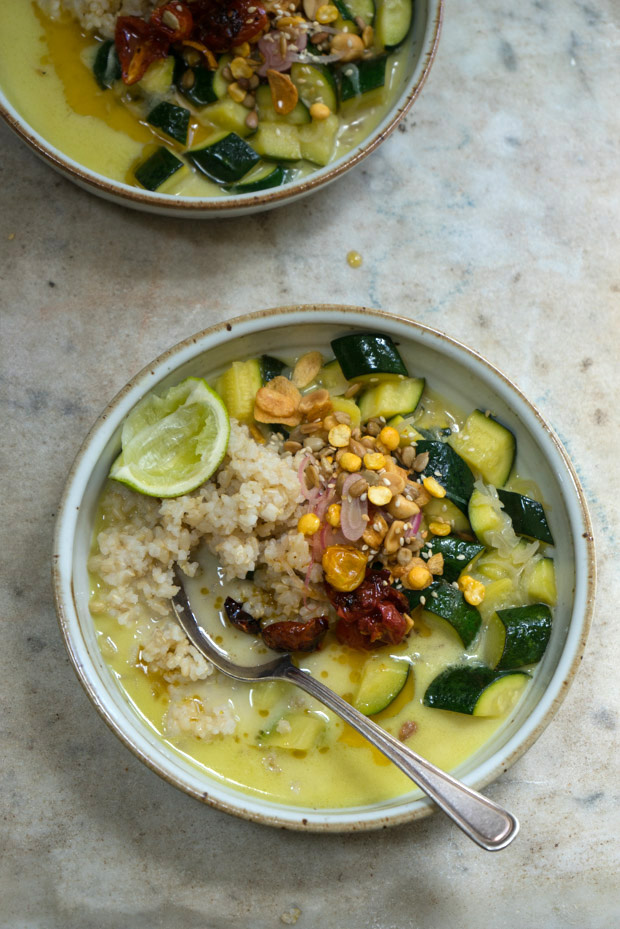 The best cooks I know are flexible, observant, adaptable, and resourceful - qualities I try to bring with me when I enter my own kitchen. I went to make lunch, prepped my shallots, chopped my zucchini, and things began to progress through the initial cooking process - shallots sautéed, green curry added in a quantity that was assertive but (hopefully) not over powering, and on and on. As I got to the point in the process when I would have removed the soup from heat, pureeing it into silky deliciousness, I realized this approach was going to be mistake. I could sense, just by looking, the ingredients in the pot would not yield a vibrant, bright green pot of wonder, but instead, something a sad shade of green-brown.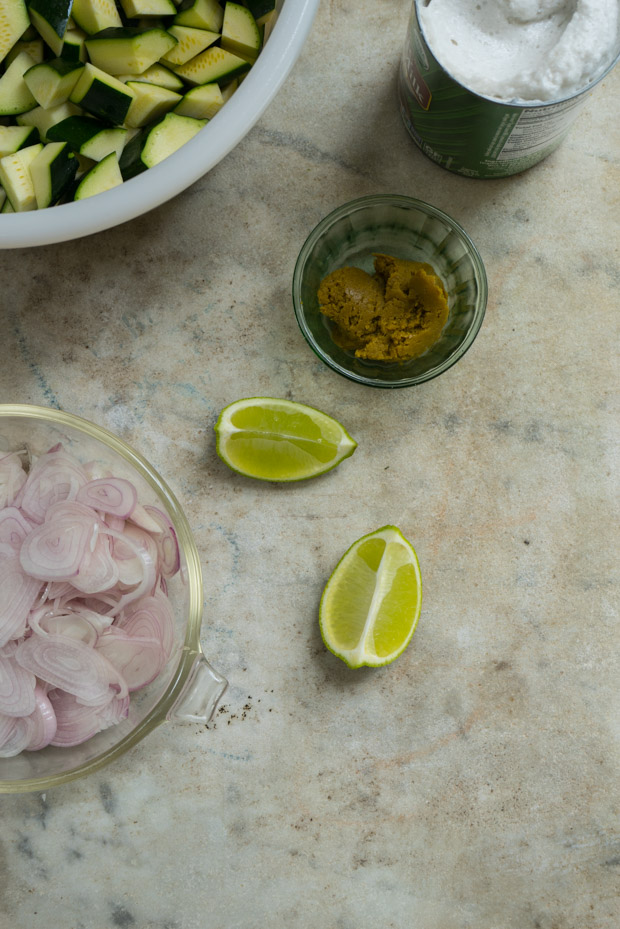 Options: I could either boost the color with a bit of spinach greens (which I didn't have on hand), or come up with another approach. I decided to keep it chunky, thin the broth out, and aggressively bump up the lime so the green curry coconut broth would be light, bright, tangy, and not overly heavy. I served it over some cooked brown rice, and tricked it out with everything within reach at the time: roasted cherry tomatoes, toasted nuts and seeds (just something to bring a contrasting crunch to the zucchini), and some shallots covered in vinegar with a bit of salt for ten minutes at the beginning of the soup making process. So happy things went down this way. For anyone who might try it - this is a super flexible soup, and you might flare it out with a whole other host of things. Leftovers were top notch! We enjoyed them the next day over beautiful egg noodles.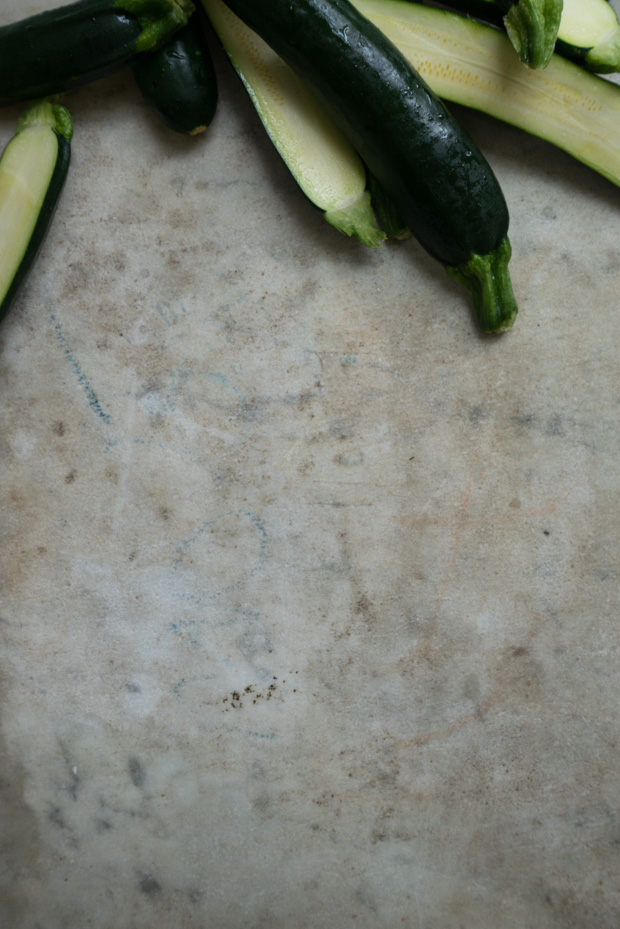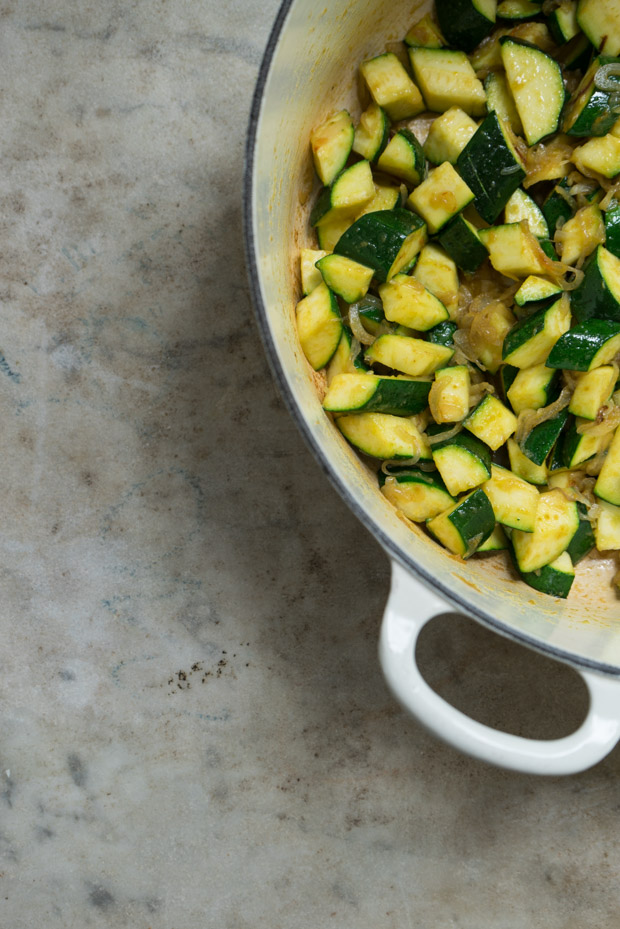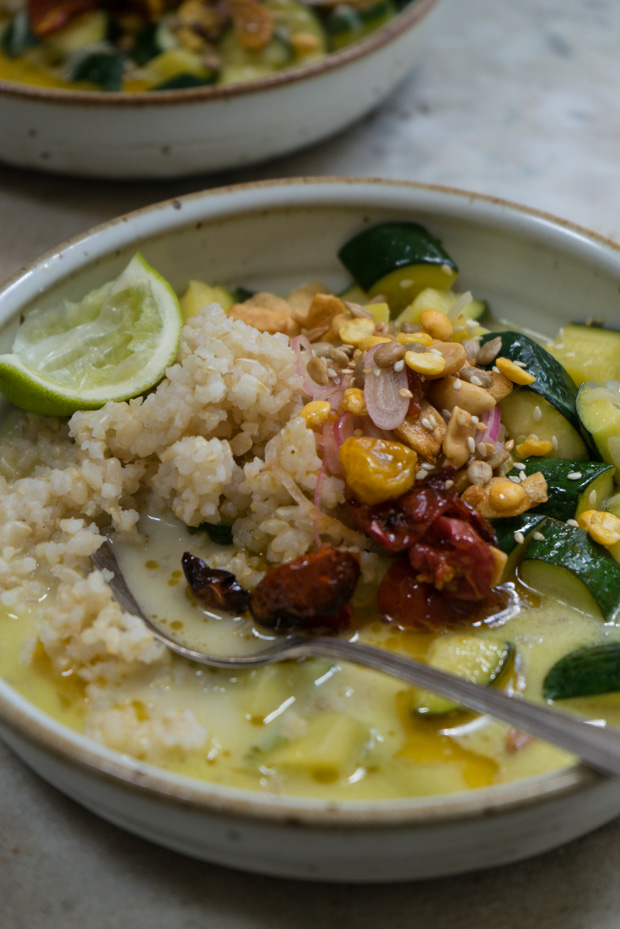 Thai Zucchini Soup
Ingredients
2

tablespoons

coconut oil oil or clarified butter

1

cup

sliced shallots (or onion)

1-2

tablespoons

green curry paste, or to taste

1

can coconut milk (full fat)

6

medium zucchini, loosely chopped (5 cups)

1

cup

water, plus more if needed

juice of one lime

cooked brown rice (or other grain)

topping ideas: basil oil, roasted cherry tomatoes, toasted nuts/seeds, quick pickled shallots, lots of lime, fresh herbs (coriander, basil)
Instructions
Heat the coconut oil in a large saucepan over medium-high heat, stir in the shallots and a couple generous pinches of salt, and sauté until soft. Stir in the green curry paste along with a dollop of cream from the top of the coconut milk. Stir well, and sauté for another minute or so, until fragrant.

Stir in the zucchini with another couple of pinches of salt, and sauté, being careful not to brown, until the zucchini is tender 5-7 minutes, or so. Add the remaining coconut milk and the water, let everything come up to a simmer, and remove from heat. Season the soup with the juice of lime, and salt to taste. It's all about balance here, and the soup should be brothy with strong coconut-lime flavor.

Serve over a scoop of brown rice, topped with any (or all!) of the toppings suggested, or experiment with your own ideas.
Related Recipes
More Recipes
Popular Ingredients