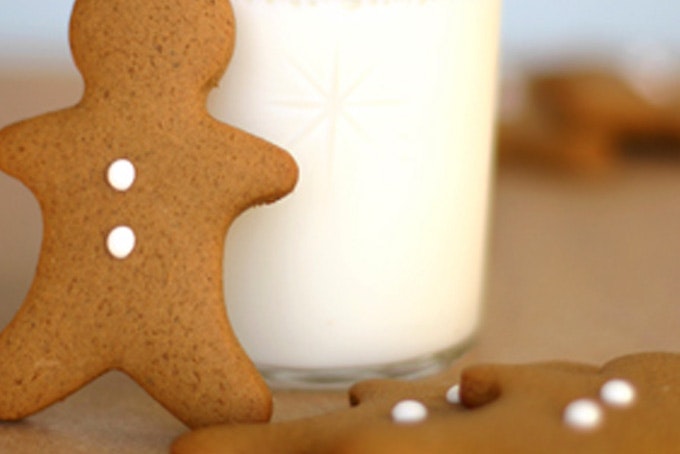 Gingerbread Cookies Recipe
Update: there is a fresh take on gingerbread cookies here.
Gingerbread men are the best. I like to bite their heads off first, then each arm, and then each leg. These are going to be the second cookie I am going to include in my holiday cookie boxes. I vaguely remember making gingerbread men last year, but can't remember which recipe I used.
I have a few opinions on how I like my gingerbread and this recipe fit the bill on every front.
Strength: This is not the time for chewy, moist, or flaky cookies. When you are making gingerbread men it is important to make a cookie that is crisp, sturdy, and a bit on the dry side. This is especially important if you are making large + tall gingerbread men, or using the recipe to create walls for a gingerbread house or structure. You should be able to hold you gingerbread man by one leg and not have the leg crumble or bend off. I'm not talking about making a gingerbread cracker here, but you get my drift. As you can see from the picture my gingerbread boy is standing tall and straight. No one wants a wimpy gingerbread man.
Flavor: I love gingerbread cookies with some kick. No skimping on the spices please. This recipe was great with a generous dose of ground ginger, cinnamon, ground cloves, and pepper. Every bite had a spicy zing to it.
Appearance: I think gingerbread men are a race unto themselves. They should be a deep ginger in color, spotted from head to toe with freckles of spices. The molasses in this recipe along with the generous amount of spices made for a nice, classic gingerbread appearance. I am also picky about the shape and physique of my gingerbread boys and girls -- you have to keep your eyes peeled for the cookie cutter that is just the right shape for you. I don't like them too squat or stubby, but my current cutter (the one I used for these pics) is a _little_ on the lean side.
Designing and decorating the gingerbread cookies....I opted for simplicity here -- two little button dots. I may do a few without the buttons and go for one tiny white heart sprinkled with a touch of red sugar sparkles instead --just for a bit of variety. I would like to use more frosting (because I like to eat more frosting), but the gingerbread cookies with the more elaborate frosting designs sometimes end up looking a little too 'crafty' for my tastes.
Overall, a great recipe for a classic gingerbread dough that could easily be adapted for other gingerbread purposes.
Related Recipes
Comments
Post Your Comment
More Recipes
Popular Ingredients