Blackberry Limeade Recipe
This blackberry limeade is a stunning jeweled-toned refresher, perfect for summer, from the cookbook Screen Doors and Sweet Tea by Martha Hall Foose.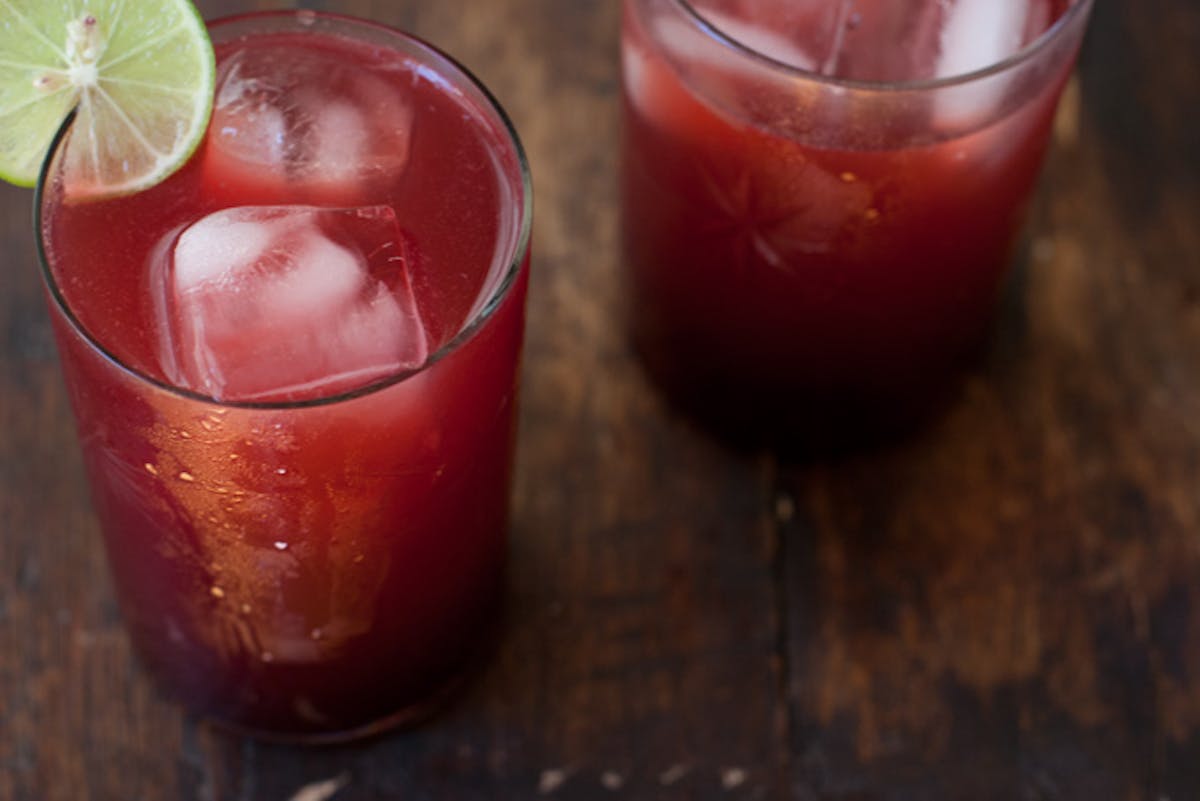 I was waiting for the perfect day to give this blackberry limeade recipe a try. Time and again, bundled in blankets on fog shrouded San Francisco afternoons, I'd whine to Wayne that we should move somewhere with a proper summer. Visions of my hand wrapped around a frosty glass of a jeweled-toned refresher like this occupied a disproportionate amount of my daydreams. No more. With temperatures roaring well past 90 degrees in San Francisco on Friday, I got my perfect summer day - and with a bit of help from Martha Hall Foose (executive chef of the Viking Cooking School), I took full advantage. The recipe is from her eloquently written new cookbook, Screen Doors and Sweet Tea: Recipes and Tales from a Southern Cook.
Cookbooks writers and enthusiasts listen up - Martha is a master of the head note. Hers are some of the most alluring, informative, and transporting lead-ins to recipes I've read. This one precedes the recipe for Cantaloupe Daiquiris...
The hottest I have ever been in my life was at 5:45 P.M., on August 29, 1998, on the no. 923 St. Charles Avenue streetcar in New Orleans. I had been working down in the French Quarter as a pastry chef for Susan Spicer's Bayona. Some days the unique commute felt like the scene in a movie. After rattling down the boulevards, and immediately upon entering our uptown digs, I stripped down and stood in the shower with only cold water running. I could almost hear the sizzle on contact. I really felt as if I had been braised.

The courtyards of New Orleans offer a haven from the heat. Shaded and mossy, planted with sweet-smelling Confederate Jasmine, they're like Mrs. Venable's arboretum in Suddenly Last Summer. She had her trusty secretary deliver a daiquiri every day at five. The musky sweetness of the melon, married to the brightness of the basil and mint, suspended in an icy slurry, will cool an afternoon down to the slow simmer of twilight.
I'd be willing to bet you'd like to try that recipe as well. And that's how it goes with this book - the author skillfully unveiling glimpses of her life (and love) of the South through a lovely collection of recipes.
I know many of you come to my site for inspiration on the natural foods/veg-friendly fronts, so just be aware that this isn't really that kind of book. This is Southern cookbook with all the deep-fried, shortening-packed delicacies you can imagine. Lots of meat, plenty of seafood-based recipes. That being said, there are many great ideas that are easily adaptable. For example, there's a black-eyed pea cake that (minus the bacon) looks like a fresh twist on a veggie burger, a frozen cucumber salad that sounds fascinating, and multiple rice salads that could easily be done with any number of whole grains (or whole grain rice). Plenty to be inspired by.
One of the things I loved about the blackberry limeade recipe was Martha's use of raw sugar - it lends deep, complex level of sweetness that you just don't get with white sugar. It bridges the blackberries, lime, and cardamom wonderfully.
Blackberry Limeade Recipe
Martha's recipe calls for ginger ale as the mixer (delicious!). I don't drink much soda of any sort - it's just too sweet for me, so I did a second batch with sparkling water as the mixer- great for those of you avoiding soft drinks. For some it might make sense to keep the components separate (instead of combining everything in one pitcher - making it easy to mix each drink to order. This way each person can control their own level of flavor/sweetness. Martha also includes a side bar of helpful notes related to this recipe - berries can be pulsed briefly in a food processor and strained. Be careful not to crush the seeds, as this adds a dirty taste to the blackberries. You can freeze blackberries in ice cubes for a nice accessory to the drink. The sugar syrup can be transferred to a metal mixing bowl set in a bowl of ice to cool it down quickly. For a wonderful frozen cocktail, puree ice and a jigger of gin with the blackberry-lime mixture in a blender.
4 cups fresh blackberries, or unsweetened frozen blackberries, thawed, plus extra for garnish

1 cup turbinado sugar, natural cane sugar, or grated palm sugar
1 kaffir lime leaf, crushed, or 1 tablespoon grated lime zest
1 green cardamom pod, lightly crushed
1/2 cup fresh Key lime juice (about 8 -12 limes)
Thin lime slices, for garnish
2 cups ginger ale (hs note: or sparkling water)
Ice cubes
Lay a doubled piece of cheesecloth on a nonporous work area. (As the berries will stain a wide array of cutting surfaces and clothes, this may be best done outside or over newspaper and wearing an apron or smock.) Place the blackberries on top of the cheesecloth and gather into a bundle like a hobo sack. Hold the sack of berries over a glass, stainless steel, plastic, or ceramic bowl. Twist the top of the sack to squeeze the juice from the berries into the receptacle. (This will yield about 1 cup very strong, tart, dark juice.) Refrigerate the juice until needed; discard the purple mash.
In a small saucepan, combine the sugar, 1 cup water, the lime leaf, and the cardamom pod. bring to a boil. Simmer over low heat for 10 minutes, or until the mixture is reduced to a thin syrup. Remove the lime leaf and cardamom. Allow the sugar syrup to cool and then chill it.
In a 1-quart pitcher, combine the blackberry juice, sugar syrup, and lime juice. Stir to combine and then refrigerate until cold.
To serve, stir the ginger ale (or water) into the pitcher, fill glasses with ice, and pour in the blackberry limeade. Garnish with slices of lime.
Serves 8.
Excerpted with permission from Screen Doors and Sweet Tea by Martha Hall Foose (Clarkson Potter, a division of Random House, Inc. 2008)