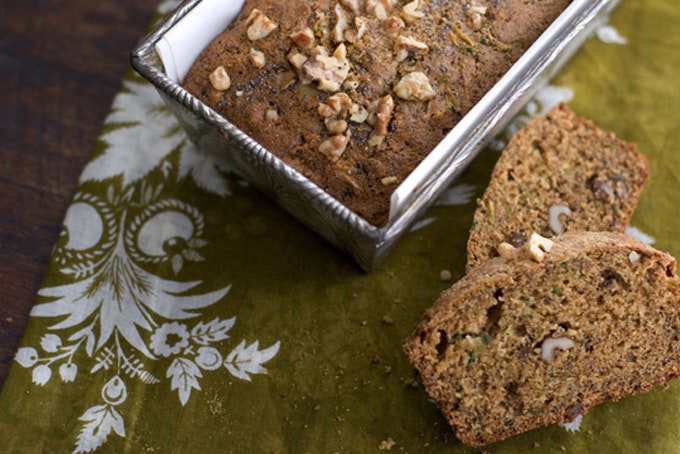 My Special Zucchini Bread Recipe Recipe
I knew I was onto something delicious as I folded the last few ingredients into my zucchini bread batter this afternoon. Sometimes you just know. The thick and creamy batter was flecked with hundreds of green-lined strands of shredded zucchini nestled alongside the occasional flare of yellow lemon zest. The poppy seeds quickly spread themselves into an impossible network of connect-the dots, and at the same time, one of my favorite curry powders was sending notes of coriander, cumin, and clove up from the mixing bowl to tease my nose. There are many zucchini bread recipes out there, plenty of them tried and true, but this time around I wanted to bring my own take to this seasonal classic.
In many places zucchini season has arrived. It's flooding out of your gardens, gobbling up real estate at farmers markets, and taking center stage at grocery stores. Zucchini bread is one of the most popular vehicles for this prolific summer crop because it is delicious, portable, easy to share, it involves baking, and most importantly - it gets rid of zucchini. You'll no doubt notice that most zucchini bread recipes you come across yield two loaves. Why? Because if you were to only make one, you wouldn't put a respectable dent in the zucchini supply. For example, if I were to cut my zucchini recipe in half, I would only get rid of 1 1/2 cups of grated zucchini - the equivalent of one large zucchini? No good.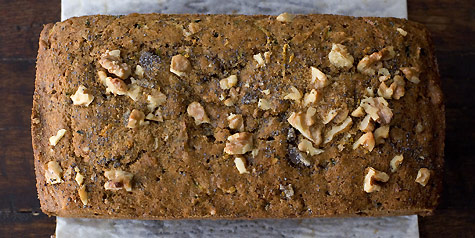 What else should you know about today's recipe? I thought about doing a more Thai-inspired version, using coconut oil in place of the butter, beating in a small dollop of Thai-curry paste at the beginning (omitting the curry powder later on), using chopped toasted peanuts, adding some grated coconut, etc. There are infinite versions you can try here using different nut and spice combinations. Or, you can strip out all the noted optional ingredients, and you have yourself more of a classic, traditional zucchini bread. Feel free to throw out your ideas in the comments, I love to hear them.
My Special Zucchini Bread Recipe
A time-saving tip: if you have a food processor with the grating attachment, use it to shred the zucchini. It will perfectly shred three zucchini in about five seconds. On the flour front, this recipe calls for whole wheat pastry flour, it lends a nice, tender crumb to the zucchini bread - feel free to swap in unbleached all-purpose flour if it is more convenient or happens to be your flour of choice. Also, this recipe calls for curry powder, I also did a delicious version with a Raz el Hanout spice blend from one of my favorite local spice blend producers, highly recommended! Just swap in 1 tablespoon of the Raz el Hanout in place of the curry powder.
1 1/2 cups chopped walnuts, plus a few to sprinkle on top
1/3 cup poppy seeds (optional)
zest of two lemons (optional)
1/2 cup crystallized ginger, finely chopped (optional)

1/2 cup unsalted butter
1 cup sugar
1/2 cup fine grain natural cane sugar or brown sugar, lightly packed
3 large eggs
2 teaspoons vanilla extract

3 cups grated zucchini (about 3 medium), skins on, squeeze some of the moisture out and then fluff it up again before using

3 cups whole wheat pastry flour (or all-purpose flour)
1 1/2 teaspoons baking soda
1/2 teaspoon baking powder
1 teaspoon salt
1 teaspoon cinnamon
1 tablespoon curry powder (optional)

Special equipment: two 1 pound loaf pans (5 x 9 inches)
Preheat your oven to 350°F. Butter the two loaf pans, dust them with a bit of flour and set aside. Alternately, you can line the pans with a sheet of parchment. If you leave a couple inches hanging over the pan, it makes for easy removal after baking. Just grab the parchment "handles" and lift the zucchini bread right out.
In a small bowl combine the walnuts, poppy seeds, lemon zest, and ginger. Set aside.
In a mixer, beat the butter until fluffy. Add the sugars and beat again until mixture comes together and is no longer crumbly. Add the eggs one at a time mixing well and scraping down the sides of the bowl between each addition. Stir in the vanilla and then the zucchini (low speed if you are using a mixer).
In a separate bowl, combine the whole wheat pastry flour, baking soda, baking powder, salt, cinnamon, and curry powder. Add these dry ingredients to the wet ingredients in two batches, stirring between each addition.
By hand, fold in the walnut, poppy seed, lemon zest, and crystalized ginger mixture. Save a bit of this to sprinkle on the tops of the zucchini loaves before baking for a bit of texture. Avoid over mixing the batter, it should be thick and moist, not unlike a butter cream frosting.
Divide the batter equally between the two loaf pans. Make sure it is level in the pans, by running a spatula over the top of each loaf. Bake for about 40-45 minutes on a middle oven rack. I like to under bake my zucchini bread ever so slightly to ensure it stays moist. Keep in mind it will continue to cook even after it is removed from the oven as it is cooling. Remove from the oven and cool the zucchini bread in pan for about ten minutes. Turn out onto wire racks to finish cooling - if you leave them in their pans, they will get sweaty and moist (not in a good way) as they cool.
Makes 2 loaves.