Pine Nut Rosemary Shortbread Recipe
A twist on the shortbread recipe I included in my book -perfectly golden pine nuts and just enough rosemary and lemon zest to infuse the buttery sweet dough with fragrance and flavor.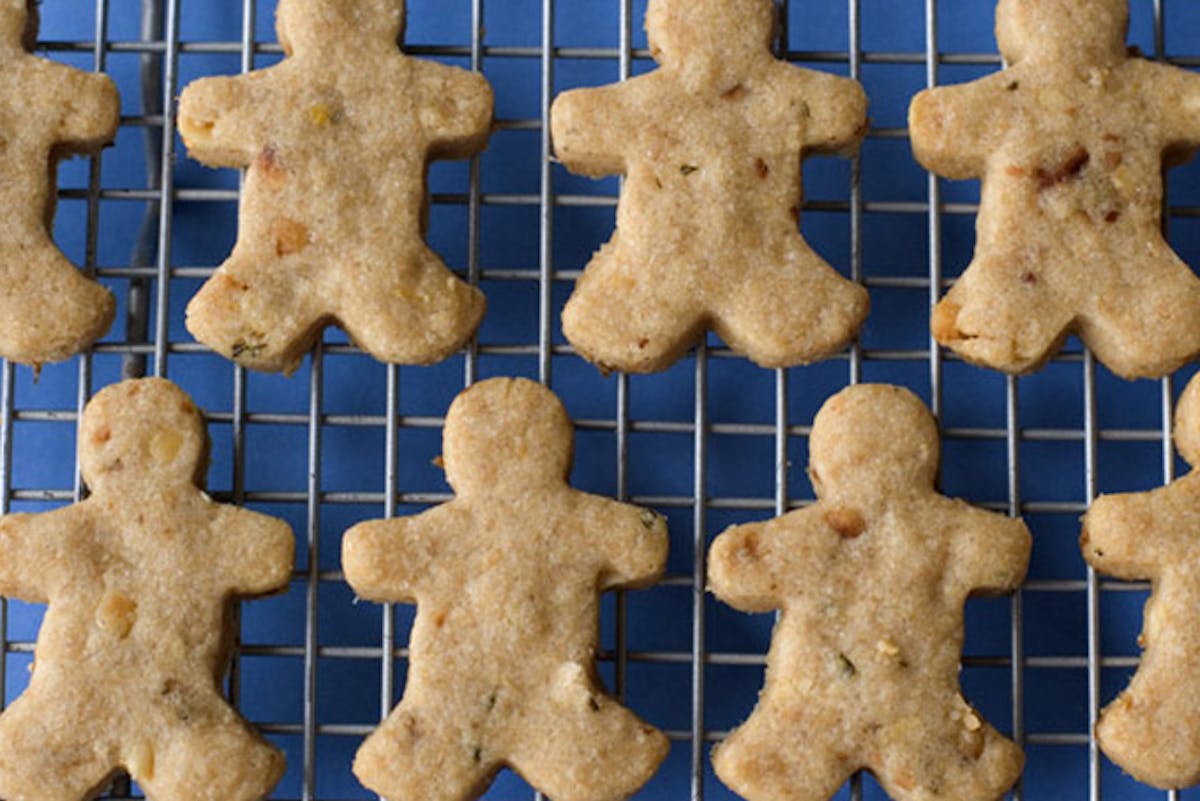 As promised, here is the pine nut & rosemary shortbread recipe I used for my latest batch of holiday cookies. Shortbread dough - a simple blend of butter, sugar, flour and salt is a wonderful canvas on which to explore different flavor combinations. I included a chunky, ginger version in Super Natural Cooking. This version is a bit different, it incorporates perfectly golden, slightly chopped pine nuts and just enough rosemary and lemon zest to infuse the buttery sweet dough with their fragrance and flavor.
Don't get me wrong, I love plain, simple, straight-forward shortbread cookies (ever-so-slightly over baked), but I also can't help adding a pinch of this and a dash of that to my cookie dough. I want to bake an ever so subtle lavender sea salt version at some point, I was also thinking a saffron-scented shortbread would be lovely as well.
In case shortbread isn't your thing here is a list of other holiday cookies:

- Peppermint Bark Cookies
- Triple Chocolate Espresso Bean Cookies
- Chocolate Peppermint Bark Cookies
- Minty Chocolate Christmas Cookies
- Gingerbread Cookies
Off to wrap some presents, hope you're all having a wonderful holiday season. Try to stay warm, I know many of you are experiencing terrible weather. If you're after a recipe for classic shortbread cookies, this is a hard to beat. And there are dozens of cookie recipes to explore beyond that! Happy baking all.
Pine Nut Rosemary Shortbread Recipe
2 cups white whole-wheat flour (or unbleached all-purpose flour)
scant teaspoon fine-grain sea salt
1 cup unsalted butter, at room temperature
2/3 cup (natural cane) sugar
zest of one lemon
2/3 cup pine nuts, toasted and loosely chopped
1 1/4 teaspoons fresh rosemary, finely chopped
Combine flour and salt in a small bowl and whisk to combine.
In a separate large bowl or stand mixer cream the butter until light and fluffy. Add the sugar and lemon zest and mix again, then add the flour mixture, nuts, and rosemary and mix until the dough goes just past the crumbly stage, and begins to really clump together (you don't want to over mix, but under mixing will make the dough seem a bit dry, which can make it difficult to handle). Turn the dough out onto a floured work surface. Knead the dough just once or twice to bring it together, then divide it into a ball and flatten into a disk 1 inch thick. Wrap in plastic wrap and refrigerate for 15 minutes.
Preheat the oven to 350F degrees and line a baking sheet with parchment paper of a Silpat mat. Roll the dough out to 1/4 inch thickness on a lightly floured surface. Cut into whatever shapes you desire, and place on the prepared baking sheet. Sometimes I chill the dough in the freezer for another 10 minutes, it seems to help the cookies hold their shape - but you don't have to. Bake for about 10 minutes, or until the cookies are beginning to brown on the bottom. The baking time will vary depending on the size of the cookies, taking less time for smaller cookies.
Makes about 2 dozen small cookies.
Variation: use chopped raw or toasted walnuts and 1 tablespoon coarsely ground coffee in place of the lemon, pine nuts, and rosemary.