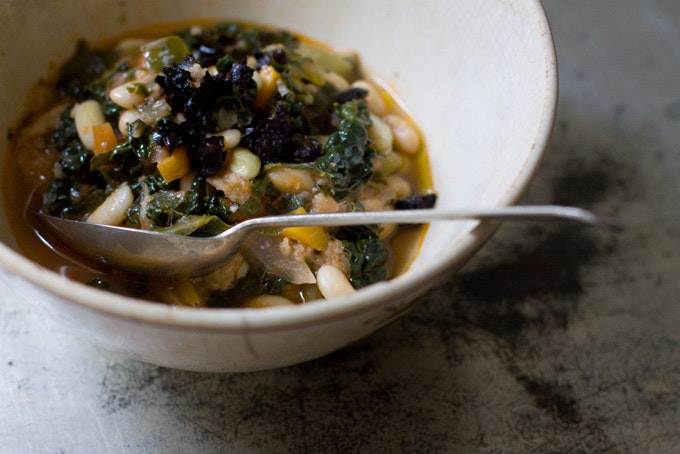 Ribollita is a thick Tuscan stew - dark greens, lots of beans, vegetables, olive oil, thickened with day-old bread. And there are certain occasions that simply call for it. There was a moment last week when I looked in the freezer, then closed the door. Looked again, winced, then reached a hand into the frosted landscape and extracted a petrified bag of eight Parmesan rinds. Back in for more, next came the stack of frozen rye crepes, one pack of Sambazon acai juice (expiration date 9/2004), gallon-sized freezer bags of cherries from my sister's tree, and pound after pound of frozen heirloom beans. By the time the excavation was complete I'd regained a square foot or so of freezer space, and had the inspiration for a hearty pot of ribollita defrosting in front of me.
For those of you who are curious, I made note of everything in my freezer: five types of chili powder; three serrano chile peppers; kaffir lime leaves; white popcorn kernels; cooked chickpeas, mung beans, flageolets, and marrow beans; lots of Massa brown rice; pasta sheets; unidentified cookie dough #1; unidentified cookie dough #2; cooked posole in one bag, red sauce in another (for this); 2 pounds wild huckleberries; 1 sweet whole wheat pastry tart shell, round; 1 sweet whole wheat pastry tart shell, rectangle; 6 small spelt-semolina tart shells; small bag of ginger juice; 2 pounds Straus European-style butter; plenty of this green soup - I puree it and make a tart filling; one pack of three-grain tempeh; a stack of frozen rye crepes; cooked farro, pound of green beans; pack of expired acai juice; 8 Parmesan rinds, and roughly five pounds of cherries from my sister's tree.
Phew. So after deciding to put some of those beans to use, I made this ribollita. I should mention, it's one of those things where there are as many ways to make it as there are cooks. I normally use whole canned tomatoes this time of year - torn up. But had crushed tomatoes onhand, and they worked out nicely. As far as guidelines go? Your ribollita should be thick - eventually. The photo up above is a little deceptive. It was shot just after I made the ribollita, five minutes after I turned off the heat. Things hadn't finished thickening up entirely. You can see it is quite brothy around the edges. This changed substantially in the hours to follow, and this morning a glance at the leftovers told me I might be able to stand a fork up in it. I add a bit of lemon zest at the end for a bit of brightness, and because I can't help myself. And I like the saltiness of the olives alongside the kale, so that's a little bonus as well.

Ribollita
I had a number of beans in my freezer and used a few of them here. Yes, you can even see some flageolets in there. But when starting from scratch, I usually opt for cannellini. On the bread front, I used a loaf of two-day-old whole wheat bread, but have at times opted for ciabatta. Canned beans can be used here, the equivalent is roughly two 15-ounce cans. Look for cavolo nero - a craggy evergreen-hued kale that might also be labeled lacinato or Tuscan kale.
3 tablespoons extra-virgin olive oil, plus more for drizzling
4 celery stalks, chopped
3 medium cloves garlic, chopped
2 medium carrots or equiv. winter squash, chopped
1 medium red onion, chopped
1 14-ounce / 400 ml can crushed tomatoes
1/2 teaspoon crushed red pepper flakes

1 pound / 16 ounces / 450g cavolo nero (lacinato kale, Tuscan kale), stems trimmed off and leaves well chopped

4 cups / 22 oz / 620g cooked white beans
1/2 pound / 8 oz / 225g crustless loaf of bread
1 1/2+ teaspoons fine grain sea salt
zest of one lemon
lots of well-chopped oily black olives
In your largest thick-bottomed pot over medium heat combine the olive oil, celery, garlic, carrot, and red onion. Cook for 10 -15 minutes sweating the vegetables, but avoid any browning. Stir in the tomatoes and red pepper flakes, and simmer for another 10 minutes or so, long enough for the tomatoes to thicken up a bit. Stir in the cavolo nero, 3 cups of the beans, and 8 cups / 2 liters water. Bring to a boil, reduce the heat, and simmer until the greens are tender, about 15 minutes.
In the meantime, mash or puree the remaining beans with a generous splash of water - until smooth. Tear the bread into bite-sized chunks. Stir both the beans and bread into the soup. Simmer, stirring occasionally, until the bread breaks down and the soup thickens, 20 - 30 minutes. Stir in the salt, taste and add more if needed. Stir in the lemon zest.
Serve immediately, or cool and refrigerate overnight. Serve reheated, or "ribollita" meaning reboiled, the next day ladled into bowls. Finish each serving with a drizzle of olive oil and some chopped olives.
Makes a large pot of soup - enough for 10 servings.
Prep time: 20 minutes - Cook time: 60 minutes