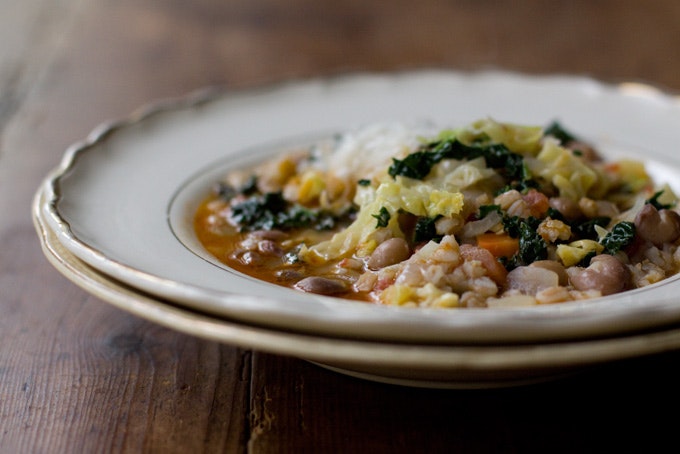 Simple Farro & Bean Stew Recipe
I spent the night at my mom and dad's house last week. I'm sure I've mentioned this before, but they live an hour south of San Francisco in Los Gatos. It's nice cooking in their kitchen this time of year because the view from the sink is quite beautiful. The hills surrounding their house are an electric shade of green and the old craggy-skinned oak trees are covered in moss and lichen. They say coyotes have been out recently, but when I was growing up it was mainly deer, skunk, and raccoon, (and the occasional rattle snake). I made a big pot of farro and bean stew for them - simple, hearty, and straightforward. They both went back for seconds, and I took that as a good sign.
This recipe below ended up being quite a departure from the recipe I photocopied, folded, and slipped into my overnight bag - regardless, I wanted to mention the book the inspiration came from - La Cucina: The Regional Cooking of Italy. I've been reading through it at night. It's the culmination of the work of the Accademia Italiana della Cucina - an organization of thousands of members who would visit villages, towns, and farms all across Italy to document cooking techniques and ingredients - in order to preserve the culinary heritage of their country. The resulting volume is 930+ pages huge.
The farro soup section has five or six recipes and I thought, a wintery soup along these lines would be something everyone would like - particularly if each bowl had a nice dusting of grated Parmesan, and threads of olive oil on top.
Update: I made another pot of this last night for a friend, we had it drizzled with harissa/olive oil and a good amount of feta cheese. Highly recommended for those of you sitting on fresh harissa supplies from last week ;). Just do about 1/3 harissa paste to 2/3 olive oil - whisk well.

Simple Farro & Bean Stew
I used Sangre de Toro beans the first time around. The second time I used Rosa de Castilla in the pot I made last night. Both were good (the pot liquor from the Sangre de Toro was intense), but the Rosa de Castilla were great - they held their shape, then melted in your mouth. Red beans are traditionally used. You can certainly experiment with other grains here - whole wheat berries, or pearled barley - just keep in mind the non-pearled grains will take longer to cook. Take a glance at the photo to see roughly how small I chopped the carrots and vegetables. And lastly...this freezes well, so you can let it cool, then bag and freeze it.
1 pound / 16 oz / 453g red beans, soaked for at least 4 hours preferably overnight, then drained

10 cups / 2.5 liters water
1/4 cup extra-virgin olive oil
1 medium onion, chopped

28 ounce / 800g can whole, peeled tomatoes, drained and chopped

1 medium carrot, chopped

3 small-med (1/2 pound / 8 oz) new potatoes, chopped

2 stalks celery
2 cups / 13 oz / 370 g pearled farro
1 - 2 cups water or vegetable broth
fine grain sea salt to taste
1/2 head / 9 oz savoy cabbage, chopped
1/2 bunch / 4 oz kale, de-stemmed and chopped

Parmesan and olive oil to serve. Or do what I did with this bowl - whisk together a bit of leftover harissa and some olive oil for a spicier drizzle.
Cook the beans in a large pot or stock pot with the 10 cups / 2 1/2 liters of water. When the beans are cooked, remove a generous scoop of them from the pot, place in a bowl and mash them well. Return to the pot.
In a separate pan, saute the onion in the olive oil over medium-high heat. Just when it begins to color add them to the bean broth. Stir in the tomatoes, carrot, potatoes, celery, and farro. Bring to a boil again, then dial the heat down to a simmer. Cook, stirring occasionally, until the farro is cooked through, 20 - 30 minutes. Be sure the vegetbles are cooked through as well. If you need to stir in more water or broth do so one cup at a time until the stew is the consistency you like. Taste. You are going to need to salt quite a bit. Start with a teaspoon and go from there until the flavors become bright.
Stir in the cabbage and kale, and cook a few minutes more, until they collapse. Serve topped with plenty of freshly grated Parmesan and a generous drizzle of good olive oil (or alternately harissa oil/feta).
When you go to reheat leftovers you may need to add water to thin the stew out, and then readjust the seasoning.
Serves 12.
Prep time: 240 minutes - Cook time: 90 minutes