Holiday Favorites List 2007
A list of some of things I'm excited about (or inspired by) this 2007 holiday season.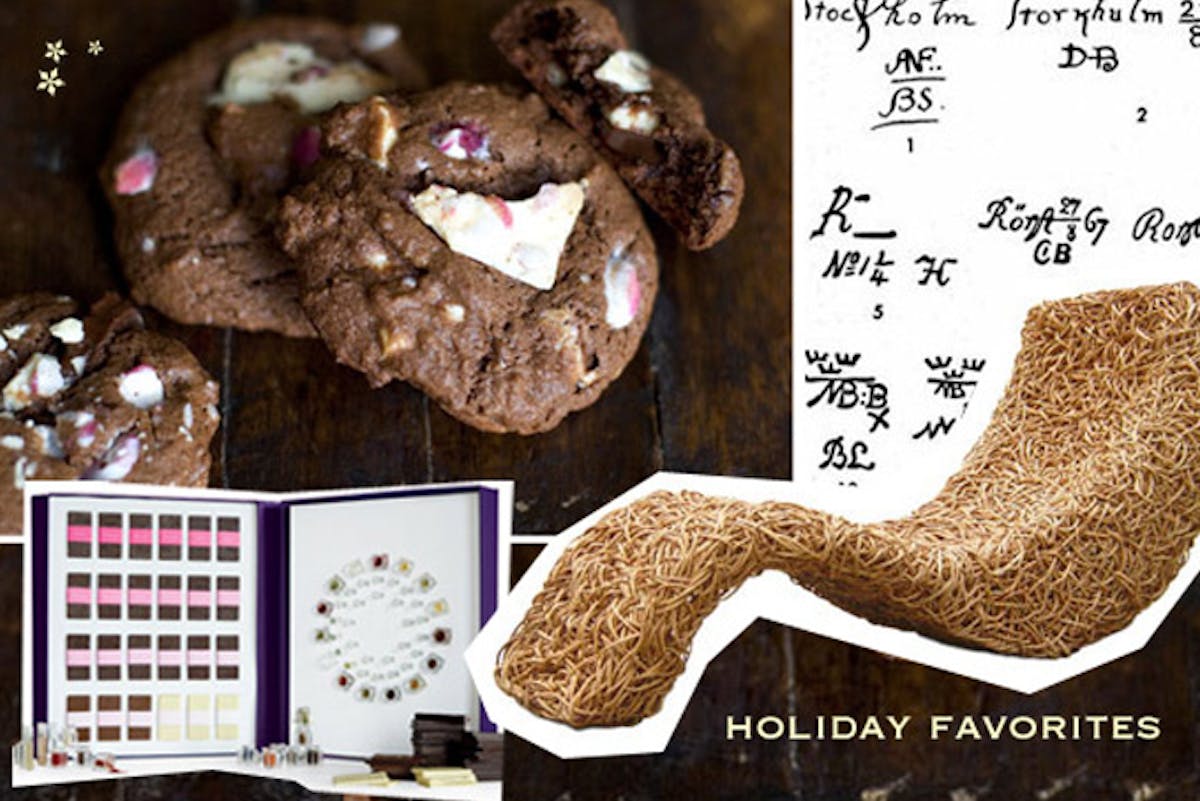 No recipe today, just a quick list of some of things I'm excited about (or inspired by) this holiday season. A list of favorites ranging from cashmere, coffee makers and cookie cutters, to socks, sea turtles and scents - with lots of tasty bits and eye candy in between.
- O Ruby Grapefruit Olive Oil: It started with a drizzle on this White Bean Salad - I've been hooked on this tangy, intensely flavorful oil made with organic ruby grapefruits ever since.
- I've long been a fan of Brooklyn-based Grace Bonney's Design*Sponge, but I'm experiencing a whole new level of fascination with the site because of the launch of a new section called "in the kitchen with"...It's a weekly cooking section produced by Grace's good pal Kristina (of three layer cake). Kristina takes us into the kitchens of some of their favorite designers. Recent entries include Cranberry Scones with phenomenal quiltmaker Denyse Schmidt, Shelly Klein's Apple Bundt Cake recipe, and lentil soup by another favorite design blogger of mine, Karin Eriksson.
- Another design, food, lifestyle site I like to frequent - Apartment Therapy. Check out their newly remodeled "Kitchn" - with a shiny, new dedicated URL, thekitchn.com
- B.Ella Cashmere Socks: Keeping my toes warm this time of year.
- And the perfect compliment to my cashmere knee-highs...my new Bodum French press coffee maker. Just the right size.
- Waiting for more rain so I can wear my Wellies!
- Vosges Sensory Collection ($375): I'm _so_ tempted to splurge on this.
- Spoon Liana Vine Chaise: Hand crafted from liana vines.
- These ocean-themed cookie cutters, available when you make a donation to Oceana's ocean conservation Adopt-A-Creature fund (whales, sea turtles, sharks, polar bears, sea horses and penguins)
- A neat ceramics and typography feature at Uppercase.
- Corey Arnold's ARTIC-NESS photo series.
- Charles Chocolates Deluxe Boxed Assortment ($90): Classy and beautifully packaged, three smaller boxes (Classic Collection Assortment, Handmade Truffles, and Fleur de Sel Caramels) are contained as a collection in a larger gift box. 101 Cookbooks readers get 15% off any purchase at Charles Chocolates through 12/17 (promo code: COOKBOOKS).
- Great shot by Brenda Ann Kenneally for Newsweek. Ran as part of an article on why many rural Americans can't get nutritious foods.
- Anyone who has been reading this site for any length of time knows how much I love lists. Here are a couple that caught my attention recently:
The Joy of Cookbooks: Slate Magazine asks notable chefs, food editors, and cookbook store owners to share their thoughts on inspiring cookbooks and reference books that inspire them - Dan Barber, Melissa Clark, James Oseland, Mimi Sheraton and many others weigh in.

Not Martha's Guide to Gift Guides
And last but not least, the Pinenut Rosemary Shortbread Cookies I'll be featuring later this weekend. If that's too long to wait, I encourage you to don your aprons and dive into some of the cookie recipes from years past: Peppermint Bark Cookies, Triple Chocolate Espresso Bean Cookies (as featured in this weeks Washington Post), Chocolate Peppermint Bark Cookies, Hearst Castle Shortbread Cookies, Minty Chocolate Christmas Cookies, or Gingerbread Cookies.