Triple Ginger Cookies
These are the ginger cookies you want to make. A special triple ginger cookie made with three kinds of ginger and a hit of lemon zest. Cracked and sugar-crusted on the outside, dense and moist within.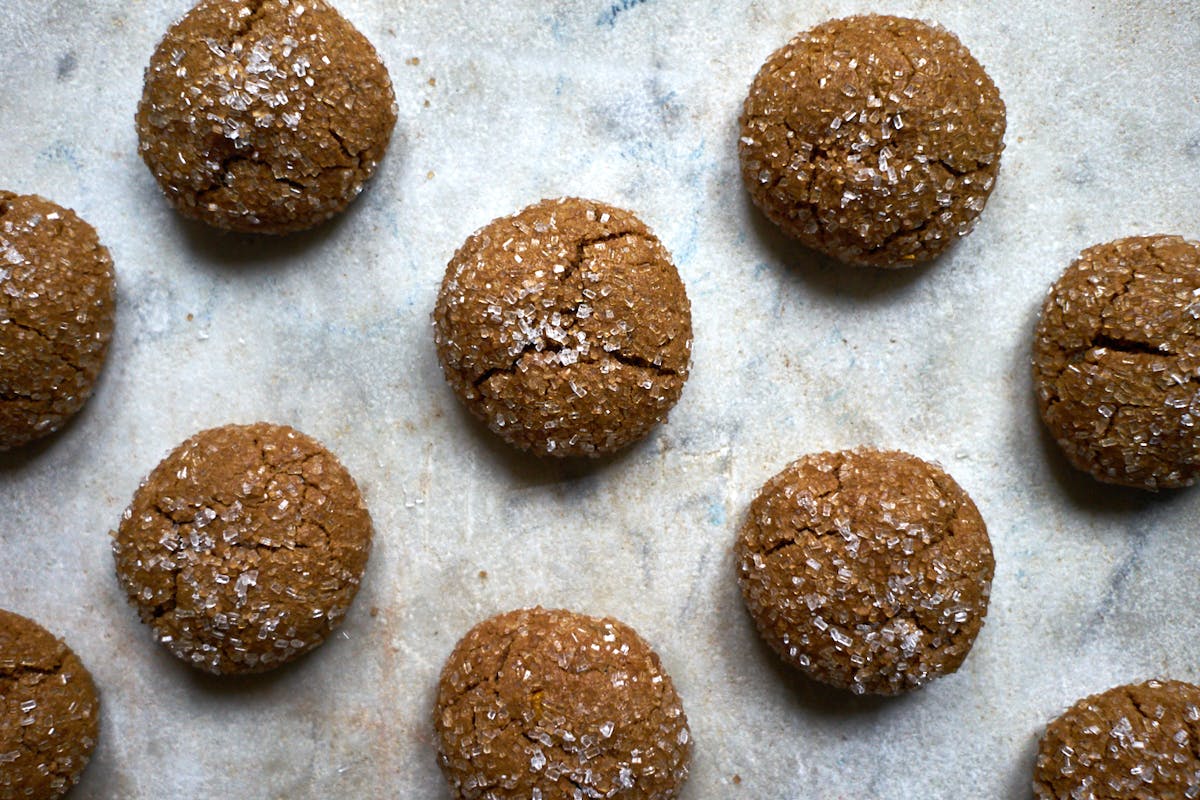 These are the ginger cookies you want to make. Little cookies spiked with lemon and three kinds of ginger. I can't get enough of them. Cracked and sugar-crusted on the outside, dense and moist within, these chewy, tender ginger gems invigorate the senses with every bite. Helped, no doubt, by the lively combination of freshly grated ginger, powdered ginger, AND minced crystallized ginger.


Texturally they are far from being ginger snaps, but calling them ginger puffs wouldn't accurately describe them either - they maintain a certain heft that belies their tiny size. They pair nicely with cold, blustery afternoons. They pair nicely with hot tea.
I should also mention, these are the types of cookies I like to make for parties - the perfect grab-and-go sweet. I say this in part because they deliver a single bite of spicy deliciousness without being too-much - too sugary, too big, too fussy, too ornate, etc. And if that wasn't enough, the smell that emanates from the oven while they are baking is enough to make one swoon.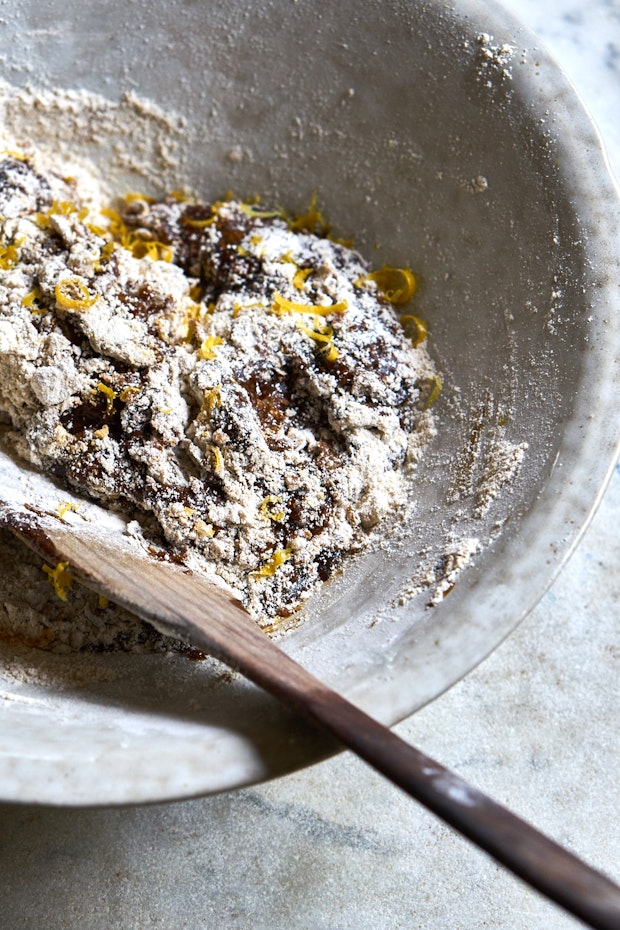 It took me a while to get this recipe right where I like it - and I've found using one of two flours works best. I had great results using spelt flour, and great results using whole wheat pastry flour. The version you see in the photos is the whole wheat pastry flour.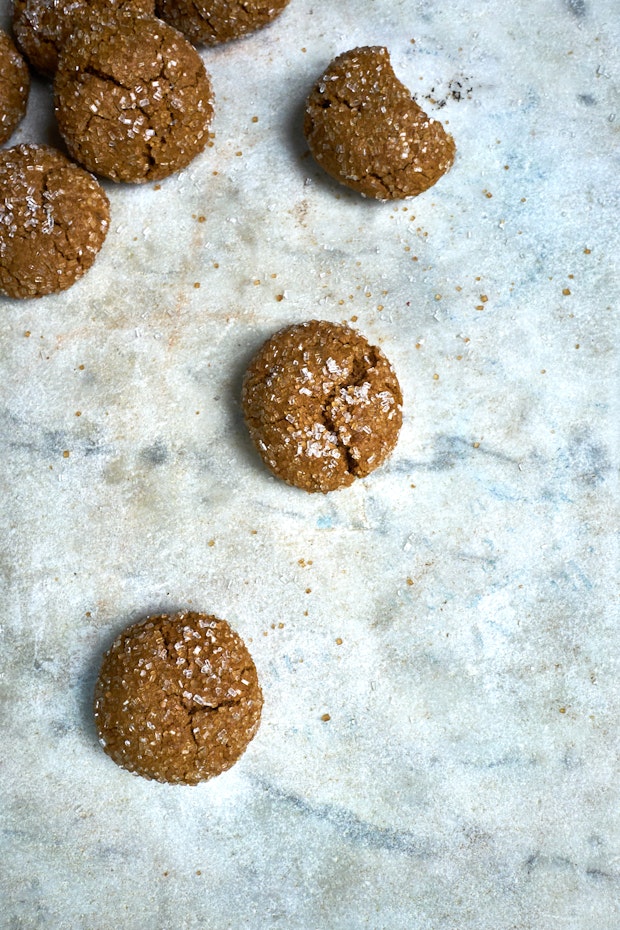 Technique (A Little Secret)
And for those of you who read this to the end...my little secret when it comes to making these cookies is this - I mince the crystallized ginger to death. I go at it like I'm trying to turn it into some sort of paste. Some ginger is moister than others, so you'll have varying results, but really go at it. A dramatic mince.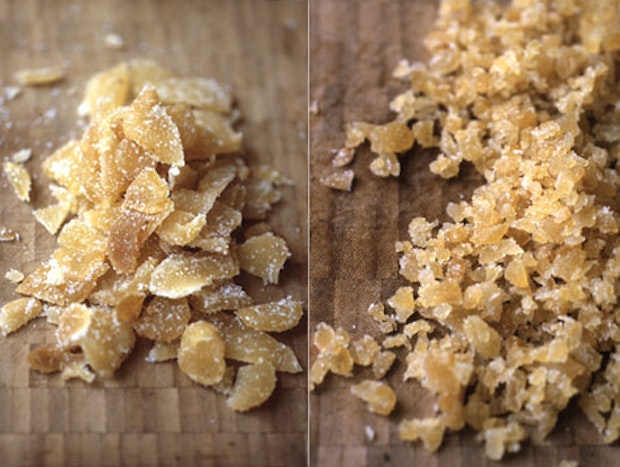 I love these alongside classic shortbread cookies. And there are dozens of cookie recipes to explore beyond that! Happy baking all.
Triple Ginger Cookies
Feel free to use all-purpose flour if that is what you have on hand. Again, in regards to the ginger - mince it as if you were trying to turn it into a paste. Two sugar coating. In my most recent batch of these I used a big, flaked, smoked sea salt along with sugar to finish the cookies, so that is something to experiment with as well, but totally optional. I grind whole star anise in my spice grinder and then do a bit of sifting.
Ingredients
1/2

+ cup large-grain sugar (i.e. turbinado)

2

cups

spelt flour OR whole wheat pastry flour

1

teaspoons

baking soda

1

teaspoon

ground star anise (or allspice)

4 1/2

teaspoons

ground ginger

1/2

teaspoon

fine grain sea salt

1

stick (1/2 cup) unsalted butter, room temperature

1/4

cup

unsulphured molasses (I use Wholesome Sweeteners brand)

2/3

cup

fine grain natural cane sugar, sifted

1 1/2

tablespoons

fresh ginger, peeled and grated

1

large egg, well beaten

1

cup

crystallized ginger, then finely minced

2

lemons, zest only
Instructions
Preheat the oven to 350F degree - racks in the top and bottom 1/3 of the oven. Line a couple baking sheets with unbleached parchment paper or a Silpat mat, place the large-grain sugar in a small bowl, and set aside.

In a large bowl whisk together the flour, baking soda, star anise, ground ginger, and salt.

Heat the butter in a skillet until it is just barely melted. Stir in the molasses, natural cane sugar, and fresh ginger. The mixture should be warm, but not hot at this point, if it is hot to touch let it cool a bit. Whisk in the egg. Now pour this over the flour mixture, add the crystallized ginger (make sure it isn't too clumpy), and lemon zest. Stir until just combined.

I like these cookies tiny, barely bite-sized, so I scoop out the dough in exact, level tablespoons. I then tear those pieces of dough in two before rolling each 1/2 tablespoon of dough into a ball shape. From there, grab a small handful of the big sugar you set aside earlier and roll each ball between your palms to heavily coat the outside of each dough ball. Place dough a few inches apart on prepared baking sheets. If you like a slightly larger cookie, use 1 tablespoon of dough for each. Bake for 7-10 minutes or until cookies puff up, darken a bit, get fragrant and crack.
Related Recipes
More Recipes
Popular Ingredients