Easter Brunch Recipes Worth Making Year Round
A collection of all-star Easter brunch recipes ranging from a favorite breakfast casserole to the best waffle recipe I know.
I know many of you are on the hunt for good Easter brunch recipes right now. Here are a few favorites. I'm highlighting them here for Easter, but they're all a part of my year-round repertoire if I'm being honest. For brunch I love family-style dishes like breakfast casseroles and frittatas equally as much as a DIY set-up for things like waffles, omelettes, and pancakes. I mean, who doesn't love a toppings bar? So you'll see a mix of all this down below along with some favorite drinks and a handful of menu ideas. Have fun planning!
Easter Brunch Recipe Ideas
I tried to limit this list to long-time favorite recipes. Real go-to options instead of sharing a long list of recipes I like-ish. Be sure to browse the list of menu ideas down below if you need inspiration on that front!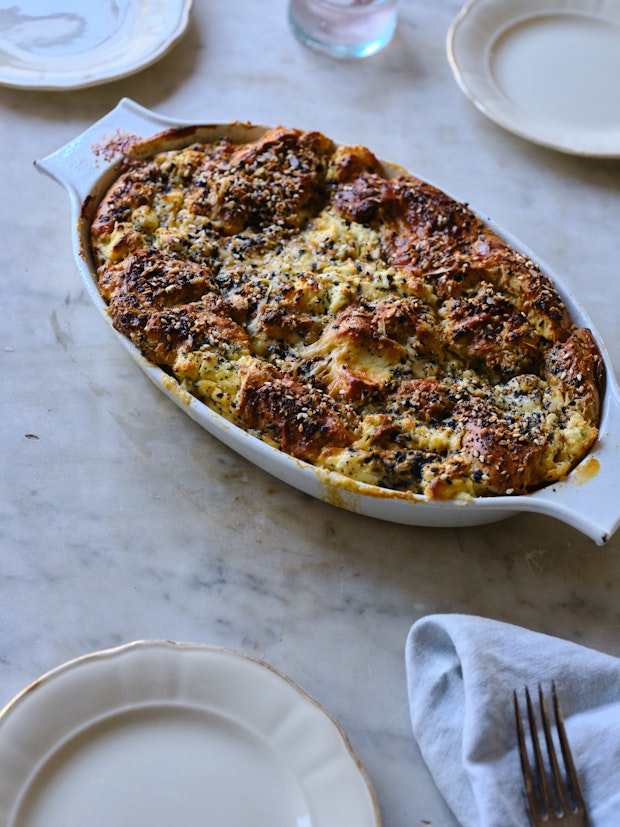 Everything Bagel Breakfast Casserole: A top contender for Easter brunch. Breakfast casseroles are a thing for good reason. You can prep them the day before. They're great for serving a crowd, and they're endlessly adaptable. This is my take on the popular Everything Bagel Breakfast Casserole. It's a deep-dish merging of grated cheese, bagels, eggs, plant-based sausage along with the crunch and savoriness of everything bagel seasoning. The bagels that break through the top get beautifully crunchy and kissed with oven-toasted cheese. Give it a try!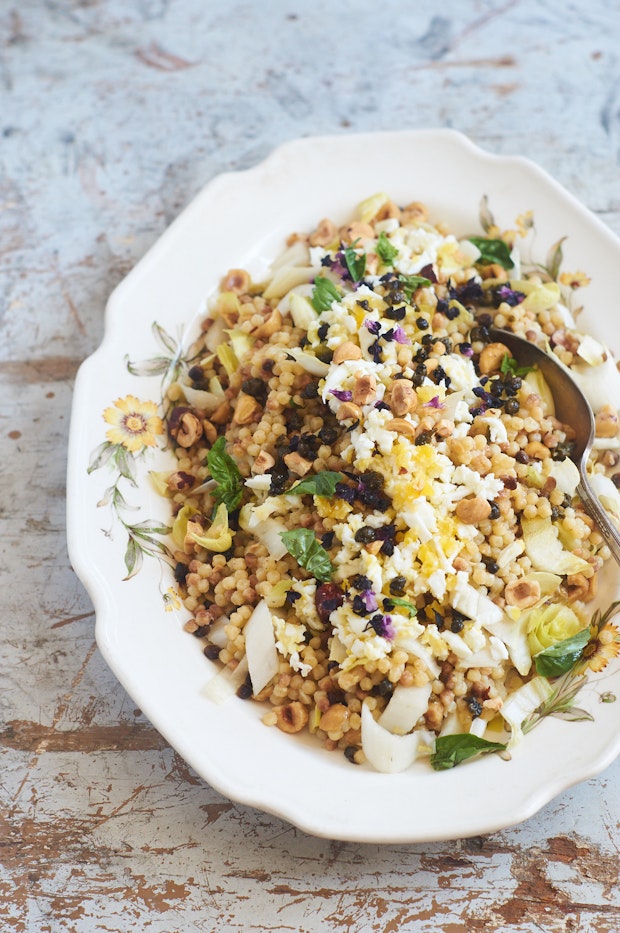 Fregola Sarda: One of my favorite recipes from Near & Far. It's the perfect lunchy, brunch dish, and it's made with fregola. Fregola is a beautiful, tasty Sardinian pasta made from hard durum wheat flour - rolled, sun-dried, and toasted to a mix of shades of yellow, gold, and brown. The pasta is rustic and nutty, each grain with a raggy surface adept at catching flavor. So good!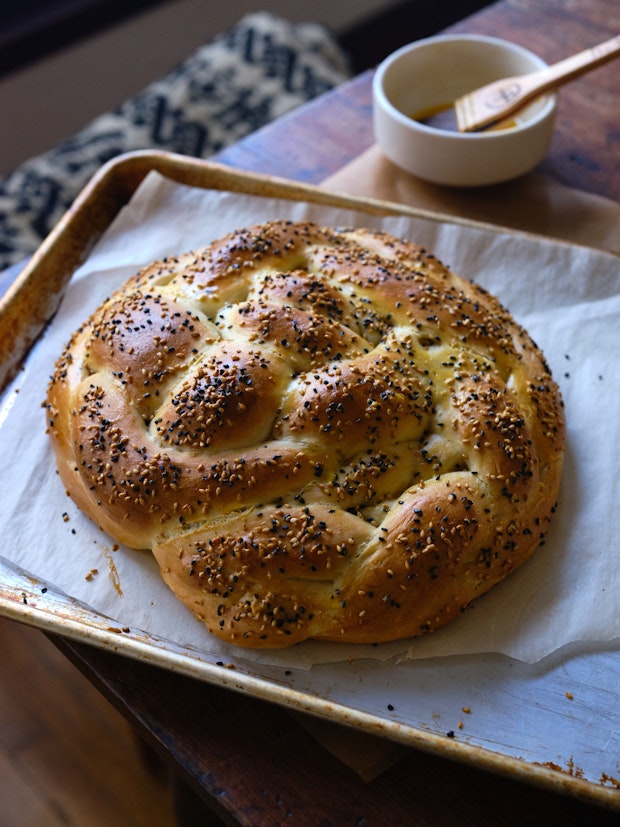 Braided Onion Bread: Every Easter brunch spread welcomes a statement piece. This is one of my favorites. Made with a rich, buttery, yeast-based dough, each of the four strands in the braid is stuffed with a caramelized onion and grated cheese mixture. If you've never baked a braided loaf before, I'll admit that stuffing the strands adds a layer of complexity, but the whole process is incredibly forgiving if you commit and keep going. Give it a try!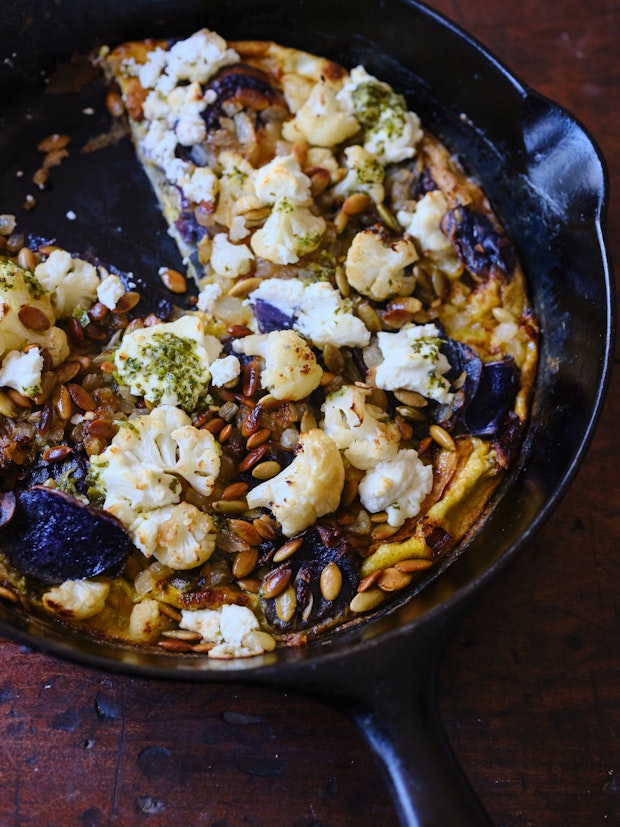 A Tasty Frittata: I love a good frittata as part of a brunch spread. You can pre-bake them a bit ahead of time which opens up the oven for other dishes if needed. This is a tasty, super adaptable frittata recipe made with potatoes, onions, and eggs drizzled with a cilantro chile sauce. Don't skimp on the sauce!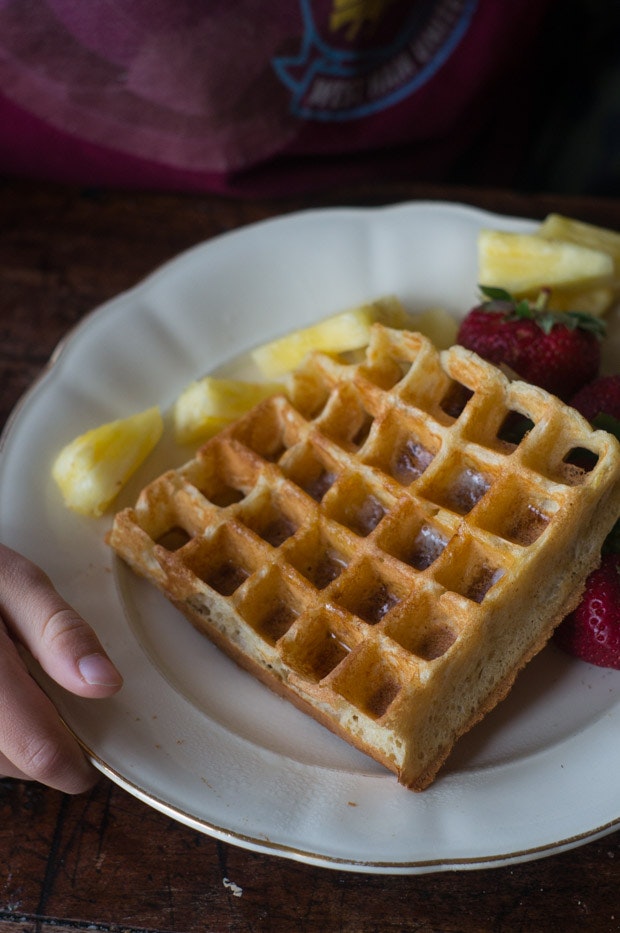 The Best Waffles: You're looking at the waffles I make for (literally) every family brunch, and they're perfect for an Easter brunch gathering. You can set up a toppings bar, and let people make their own, or pre-make them and hold in a warm oven. If you're a waffle fan, please give these a try. Everyone needs a solid waffle recipe in their back pocket, and I'm quite sure these are the end of the waffle conversation for me. Enjoy!


Red Fruit Salad: Red fruit salad, and arguably so much better than old-school fruit salad! It's perfect as spring rounds the bend into summer. A simple, seasonal fruit salad made with plump strawberries, sweet cherries, lemon zest, and coriander brown sugar. Five ingredients. So good. If cherries aren't quite in season where you are, go with 100% strawberries.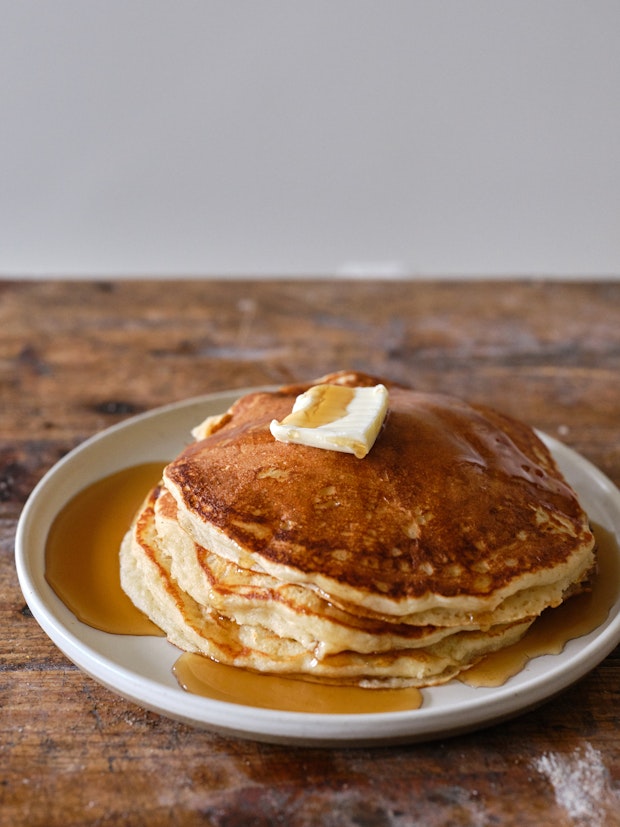 Classic Pancakes: If you're more of a pancake family, this is a classic pancake recipe that delivers a beautiful, classic stack with impossibly tender crumb and golden edges. It has been a favorite go-to since I first posted it in 2006. The pancakes have lightness and lift, and good color. The recipe is also endlessly adaptable based on what you have on hand.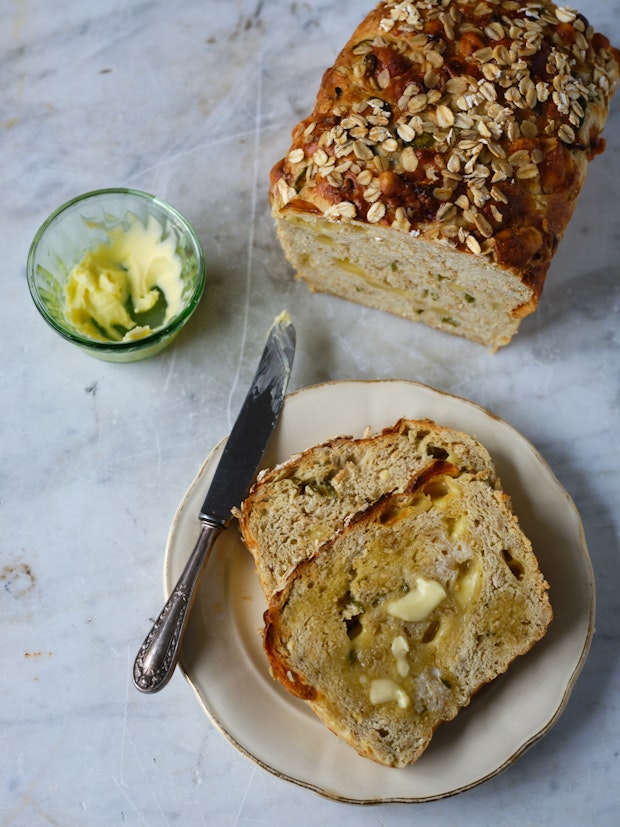 Cheddar Jalapeño Oatmeal Bread: This oatmeal bread wins the award for best toast. It's a hearty oat-flecked loaf with a buttermilk base studded generously with melty cubes of cheddar cheese and punctuated with thin slices of jalapeño pepper. Where the cheese touches the pan it turns to golden-crispy perfection.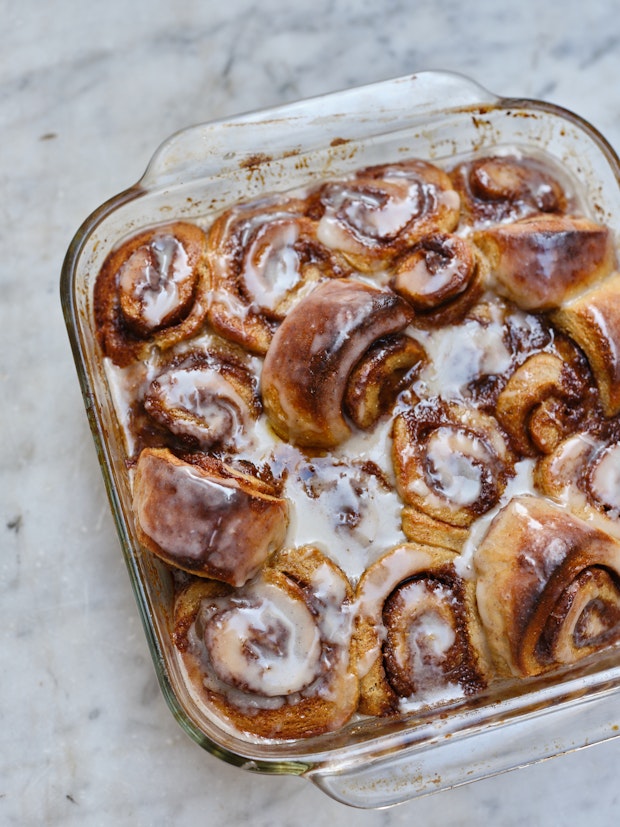 Cinnamon Rolls: If making these cinnamon rolls for Easter brunch, I'm going to make a suggestion. Swap out the cinnamon for citrus. Like, use the zest of a lemon or two in the filling and a tablespoon or so of lemon juice in the icing along with the heavy cream called for as the liquids in the icing.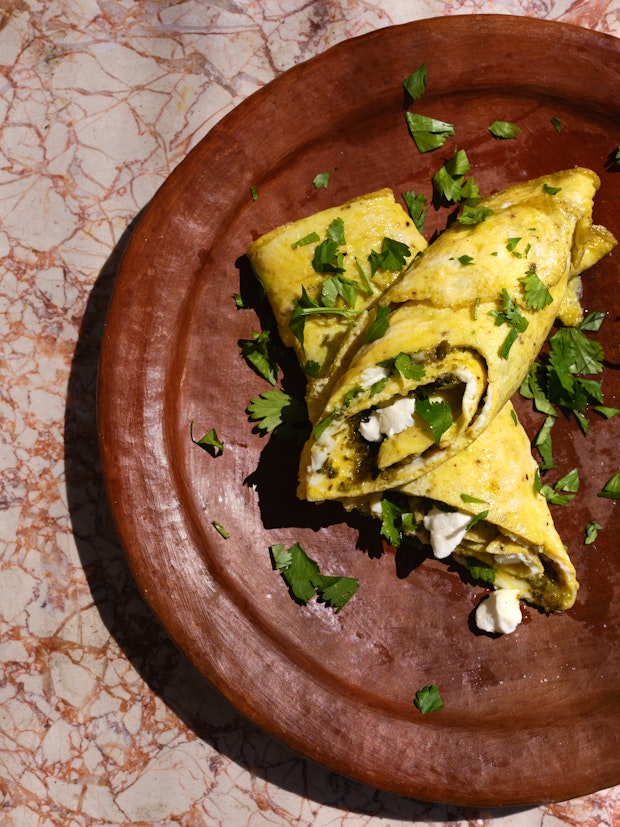 Skinny Omelettes: Setting up an omelette "station" with a range of toppings works great if you have a casual brunch situation. People can make and customize omelettes to their liking with fillings like caramelized onions, pesto, herbs, choice of cheeses, etc. These omelettes are made with eggs cooked crepe-thin and stuffed. A delicious and lighter alternative to heavy, cheese-stuffed omelette recipes - great for lunch and brunch.
What To Make with Extra Eggs
If you find yourself with extra cartons of eggs after Easter, here are some ideas.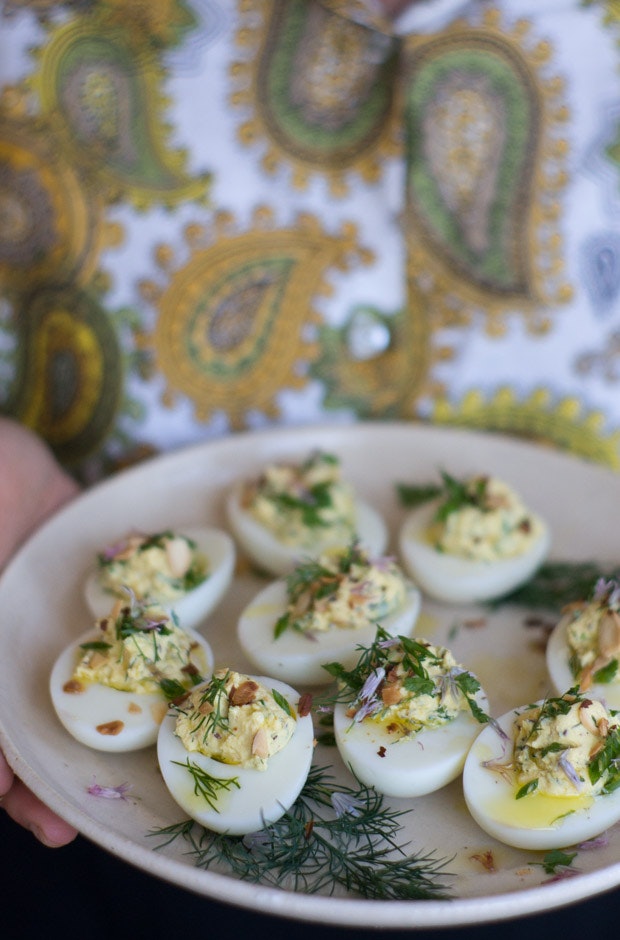 Deviled Eggs: I love these so much - beautiful and delicious deviled eggs made with an herb-flecked filling and topped with toasted almonds.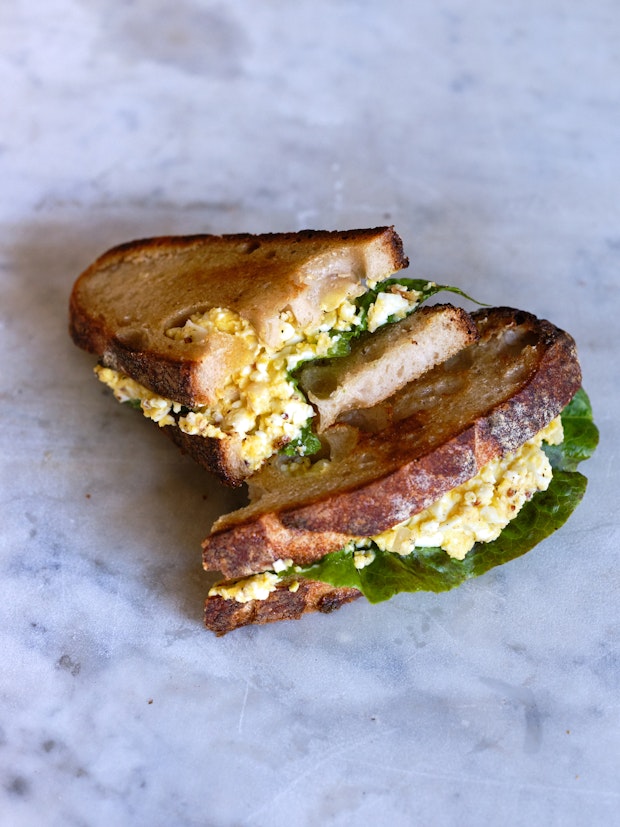 Egg Salad: My go-to egg salad, and what I turn to when craving an egg salad sandwich. This post talks you through all the little tweaks and tips that go into making the perfect egg salad sandwich. Served on garlic-rubbed toasted bread with chopped celery, onion, and whole-grain mustard.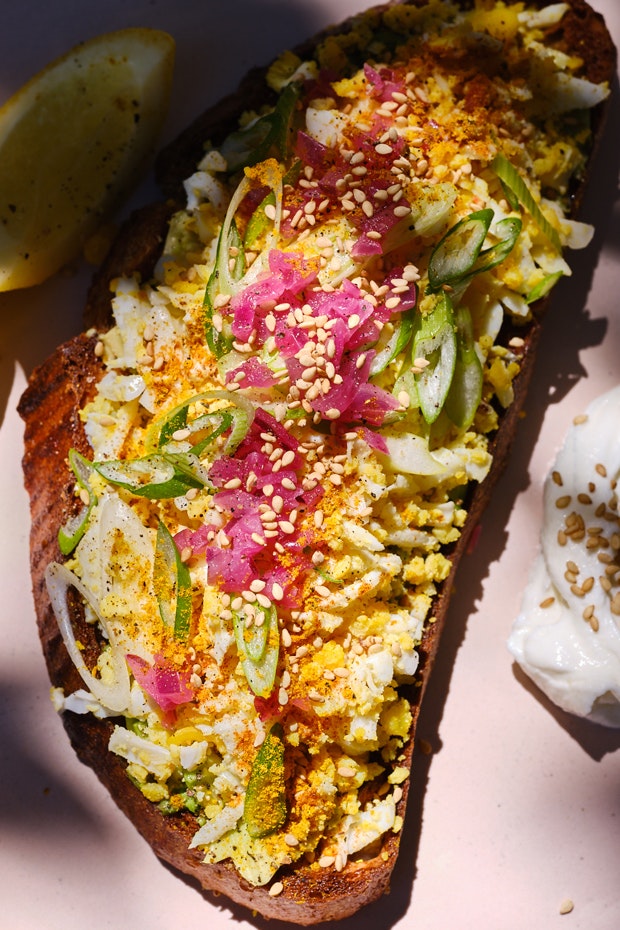 Shredded Egg Salad: A fun alternative to classic egg salad (above). This one is made by shredding hard-boiled eggs on a box grater. The resulting shredded egg salad is light, fluffy, and bright. Pictured here on avocado toast with scallions, pickled red onions, a pinch of curry powder and sesame seeds.
Easter Brunch Menu Ideas
Here are a few sample menus to start with. When I say toppings bar, I just mean putting out a range of different topping options. It's a great way to let everyone make omelettes or waffles exactly the way they like it.
- Everything Bagel Breakfast Casserole
- Strawberry Salad
- Paloma Rosa

- Cheddar Jalapeño Oatmeal Bread
- A Tasty Frittata or Skinny Omelettes with Toppings Bar
- Iced Green Tea

- Breakfast Bruschetta + Toppings Bar w/ Herb Cream Cheese Scrambled Eggs
- Pineapple Coconut Water

- Waffles with Toppings Bar
- A Tasty Frittata 
- Homemade Strawberry Almond Milk
Easter Brunch Drink Ideas
Freshly squeezed juices, or homemade drinks are an easy way to make a brunch menu feel extra special. Here are a few favorites from past brunches.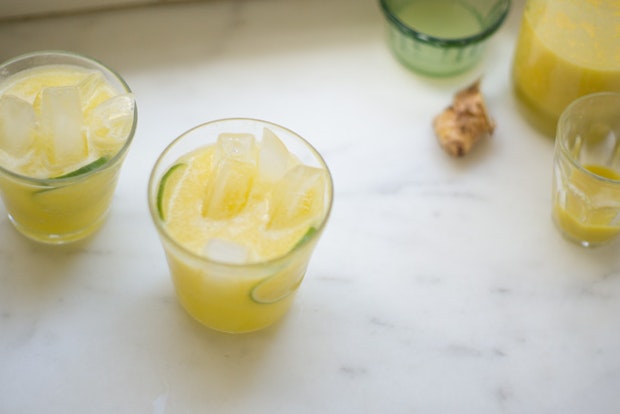 Pineapple Coconut Water: A beautiful shade of Easter yellow, this beauty is always first to go at any brunch spread. Freshly juiced pineapple is at the heart of this quencher - made with coconut water, lime, and straight ginger juice. It's invigorating, fragrant, hydrating, and that pure, intense shade of yellow that somehow tips us off to its strength and vitality before ever picking up the glass.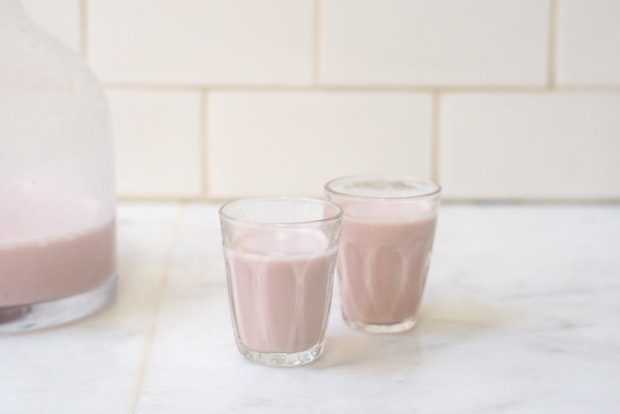 Homemade Strawberry Almond Milk: As good as it sounds. Ripe strawberries plus fresh almond milk were made for each other. And yes, you can use frozen berries!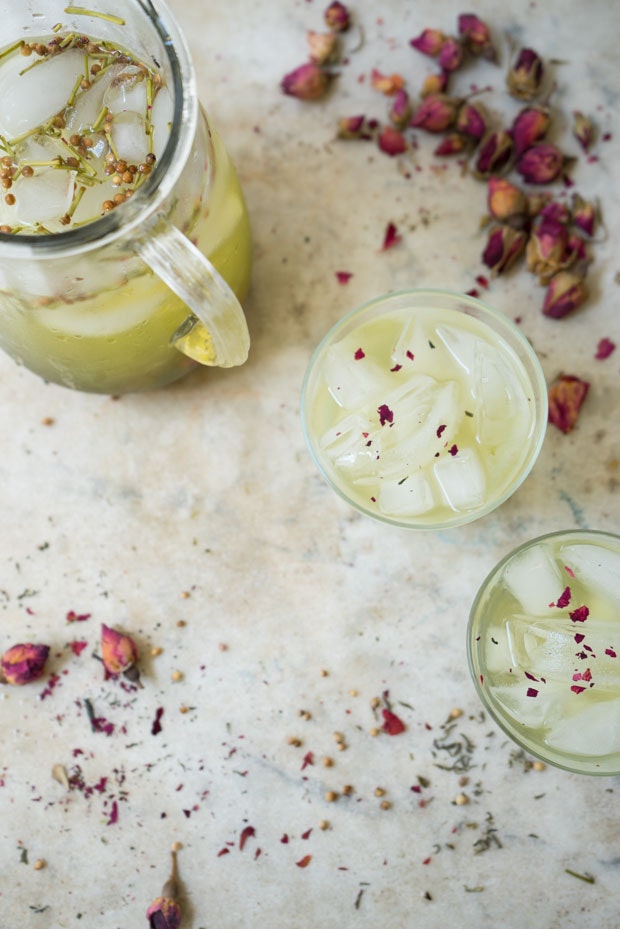 Iced Green Tea: As good as it sounds. Ripe strawberries plus fresh almond milk were made for each other. And yes, you can use frozen berries!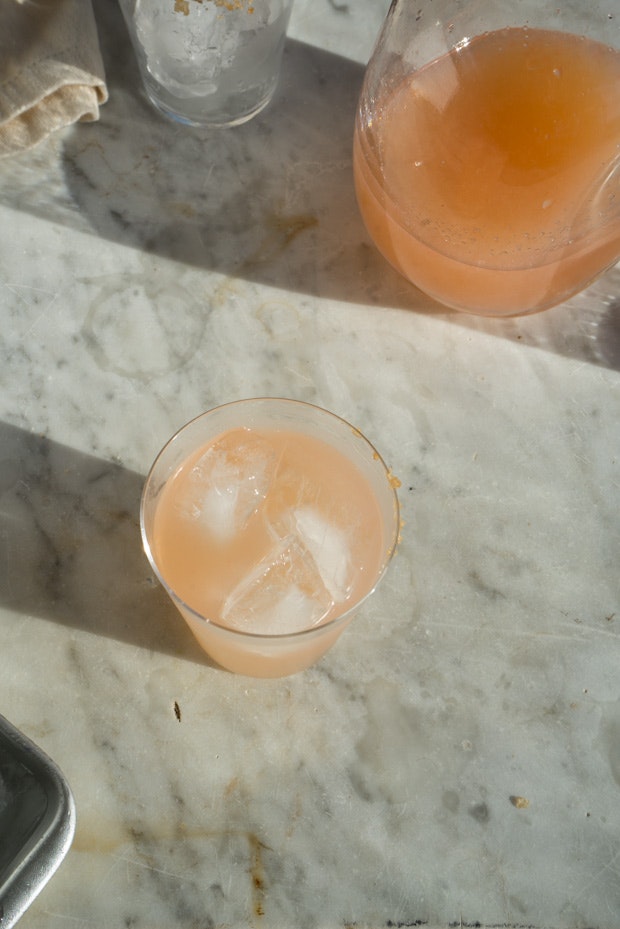 Paloma Rosa: (recipe below) If a boozy brunch is in the cards, consider the Paloma Rosa. I'll post the recipe down below. Palomas push all the buttons - bright, refreshing, tart, with a kiss of sweet and salty. So pretty, and they also couldn't be simpler.
Paloma Rosa
One of our favorite cocktails, Palomas push all the buttons - bright, refreshing, tart, with a kiss of sweet and salty. They also couldn't be simpler. Combine the juices and tequila ahead of time, and mix in a flash. You can play around with the tequila you choose, for this batch we used a tequila blanco.
Ingredients
1

cup

fresh grapefruit juice

1

cup

tequila

1/4

cup

fresh lime juice

1 1/2

tablespoons

sugar

smoked salt or flaky sea salt

lots of ice cubes

1

cup

club soda
Instructions
Combine the grapefruit juice, tequila, lime juice, and sugar in a container. Stir, wait five minutes, and stir again.

To prepare each drink, run a lime wedge along the edge of half of each glass, and dip rim in salt. Pour 1/2 cup of the grapefruit mixture into each glass filled with ice. Top off with about 1/4 cup of club soda.
Related Recipes
More Recipes
Popular Ingredients