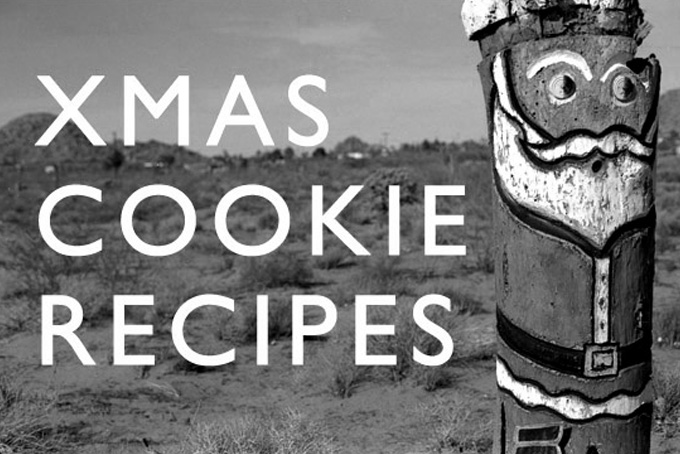 Christmas Cookie Recipes
Break out your baking sheets, dust off your mixers, and fire up those ovens - it's Christmas cookie season - I didn't want to drop the ball on this one. I suspect it is going to be a big baking weekend, so I thought it might be helpful to wrangle some of my favorite holiday-esque cookie recipes into one spot, in a single list. There is a pretty wide range - from gingerbread to shortbread to chocolate...
Sante's Hermits - My friend Sante shared his hermit recipe with me. A simple drop-style, spice cookie loaded with tiny currants, chopped walnuts,and finished with a bit of icing.

Swedish Rye Cookies - Powder-kissed and pretty, these Swedish Rye cookies are perfect for holiday cookie enthusiasts who are after a not-too-sweet, shortbread-style butter cookie made from a Rye flour blend.

Triple Ginger Cookies - This ginger cookie recipe is made special with three kinds of ginger and a hint of lemon zest. Cracked and sugar-crusted on the outside, dense and moist within.

Itsy Bitsy Chocolate Chip Cookies - The perfect bite-sized chocolate chip cookie. Tiny, thin, golden, crisp, a bit nutty with plenty of shaved chocolate.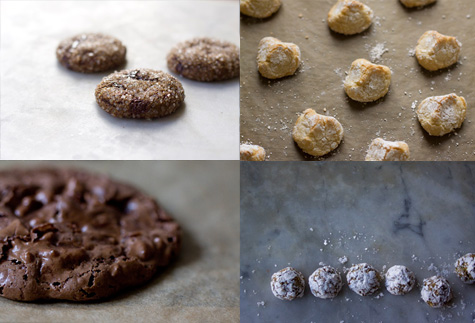 Sparkling Ginger Chip Cookies - I made these for Lottie & Doof's 12 DAYS OF COOKIES last year. They are tiny, bite-sized holiday cookies made with two kinds of ginger and lots of shaved chocolate. The turbinado sugar crust gives them a bit of crunch which is a nice contrast to the ooey-goey chocolate.

Limoncello Macaroons - A nice alternative to all of the peppermint and chocolate flavors this time of year. These are golden-crusted, powder-coated, almond-citrus gems spiked with limoncello liqueur.

Chocolate Puddle Cookies - I came across a cookie when I visited Portland, it was a crackle-edged puddle of chocolate with a texture that made me think of the collision between a soft meringue and a fudgy brownie. They are amazing. Downsize them a bit for a holiday cookie plate.

Biscotti al Pistaccio - Charming little bite-sized, powder-coated pistachio cookies inspired by a visit to Mona Talbott's kitchen and the Rome Sustainable Food Project at the American Academy in Rome.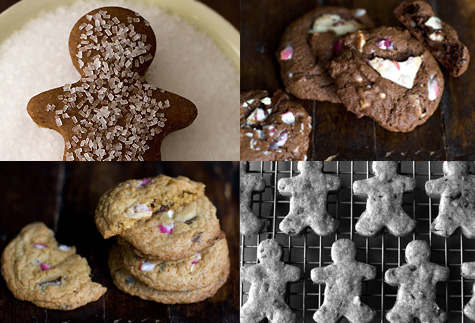 Gingerbread Cookies - A delicious, traditional tasting, yet healthier gingerbread cookie recipe that includes white whole wheat flour, more assertive spices, and less refined sweeteners. You wont miss the traditional version. They are very cute on popsicle sticks.

Chocolate Peppermint Bark Cookies - Super decadent. A rich chocolate dough punctuated by generous amount of chopped peppermint bark and mini chocolate chips.

Pine Nut Rosemary Shortbread - A twist on the shortbread recipe I included in Super Natural Cooking -perfectly golden pine nuts and just enough rosemary and lemon zest infuse a buttery sweet dough with fragrance and flavor. I also posted a more traditional shortbread recipe years back - the recipe was the one made in the Hearst Castle kitchen.

Peppermint Bark Chocolate Chip Cookies - A great peppermint bark cookie recipe using one of my favorite cookie doughs along with a generous amount of chopped peppermint bark.
I'm going to leave the comments closed - with the idea that this is more of a reference post. I'll keep adding to this list in the future in case you want to bookmark it. And lastly, on an unrelated note, to those of you who wanted the recipe for the soup/stew at the top of my last favorites list - I made it again this week, and I'll write up the recipe over the weekend. I haven't forgotten.
Photo taken in 2001 while driving near Joshua Tree, California.
For new recipes & inspirations